The RadioShack at 938 Market St. in San Francisco is just another standard-issue RadioShack– one of thousands that are going to close in the very near future, now that the venerable electronics retailer has declared bankruptcy and is winding down its operations. But it also happens to be the one nearest my office. And when I walked by the shop on Tuesday after a meeting and found that it was down to its last week of existence–it closes at the end of the month–I couldn't not go in.
Herewith some photos I snapped of the store's going-out-of-business sale. As such liquidations go, it wasn't completely humiliating. (Five years ago, I when I made a similar visit to my local Circuit City, they were even selling partially used cleaning supplies.) But it still felt like the place had been stripped not only of most of its products but also its dignity.
Here's the exterior of the store, making clear that the sale was in its last throes. Note the mention of hilcoffe.com: The liquidation is being handled by an arm of Hilco Global, a company that specializes in working with brands that have seen better days. (Besides helping retailers such as RadioShack go out of business, it also owns part of Polaroid, Halston, and Miss America.)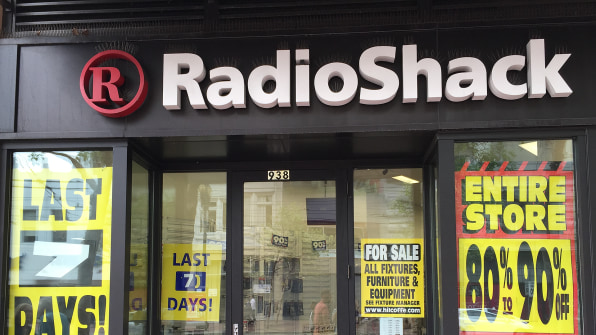 This is the front of the interior, where almost everything left for sale–as you can see, not much–had been consolidated. The lack of merchandise suggests that the ongoing liquidation has been, in its own melancholy way, a success: Most of the goods had apparently already found buyers at smaller discounts.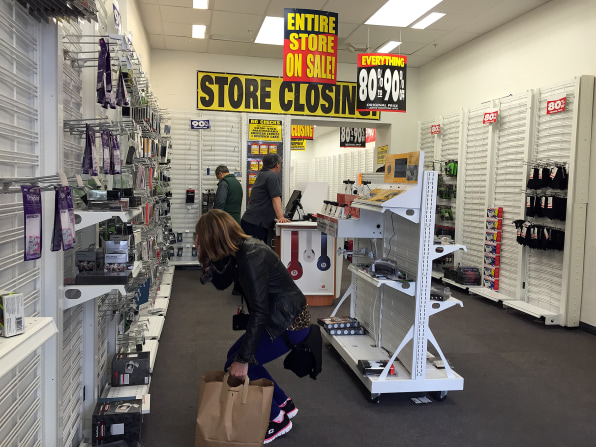 So what was left? Well, iPhone cases. Lots of them. Pink ones, especially.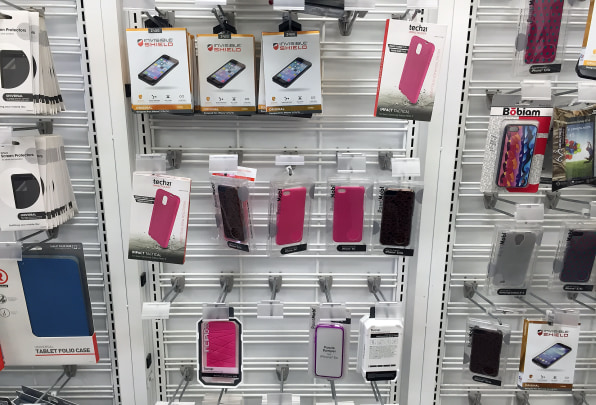 Also random components from the LittleBits design-your-own-gizmo system–some of the few items in the store that felt fresh and new rather than part of technology retailing's past.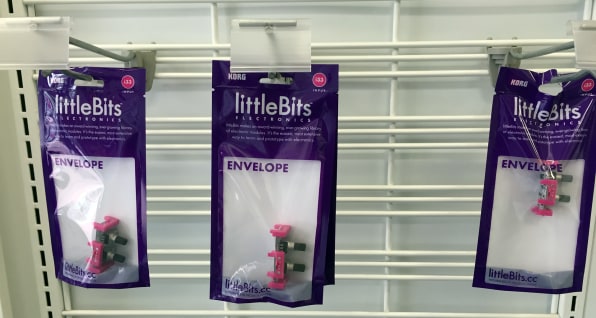 But really, mostly stuff with a decided Isle-of-Unwanted-Accessories vibe, such as RadioShack-branded generic tablet cases.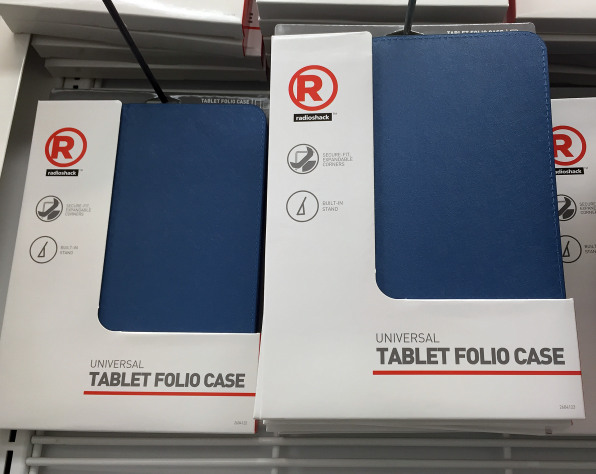 RadioShack-branded touch-screen-friendly gloves were still available in vast quantities.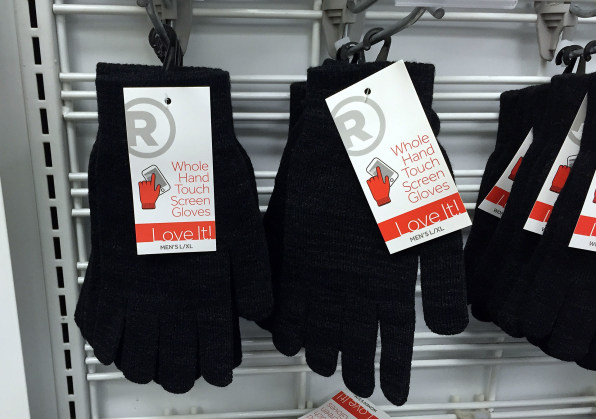 I didn't see any signs that the products mentioned on these tags–including a Nokia dumbphone marked down to $8.97–were still on hand.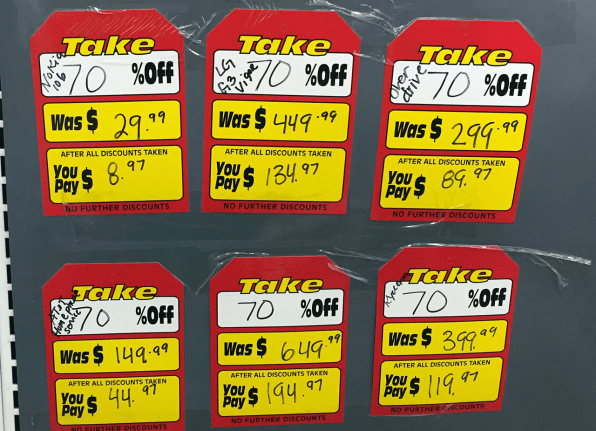 I'm not sure how long this particular RadioShack had been in business, but as I entered it, I wondered if the sale might include any entertainingly ancient technological detritus. Not really–except, maybe, for this VHS cleaning cassette.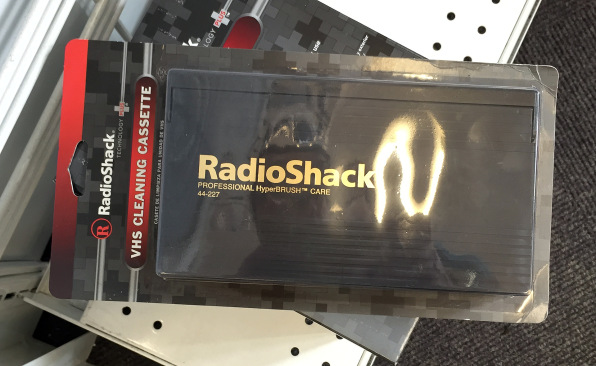 Remarkably, the liquidation didn't quite have an all-sales-final policy. If you bought something with a latent defect–whatever that is–you could return it and get your money back. I tried to envision a customer buying alligator clips from these baskets for pennies on the dollars, finding them unsatisfactory, and demanding a refund.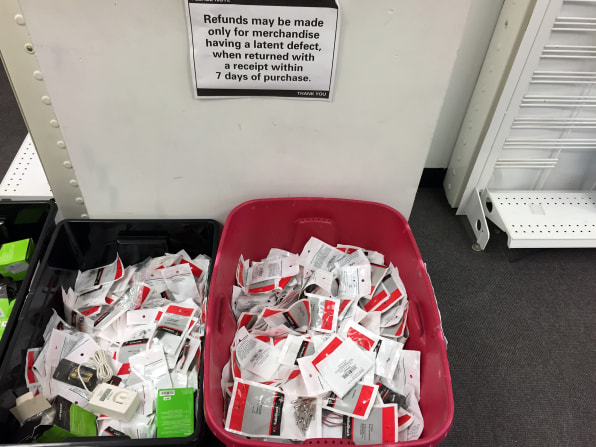 Just about everything that was selling for more than $12 or thereabouts was secured in this case. Those products mostly consisted of lenses for SLR cameras (a product line I didn't know RadioShack carried) and outdated phones (such as HTC's original One).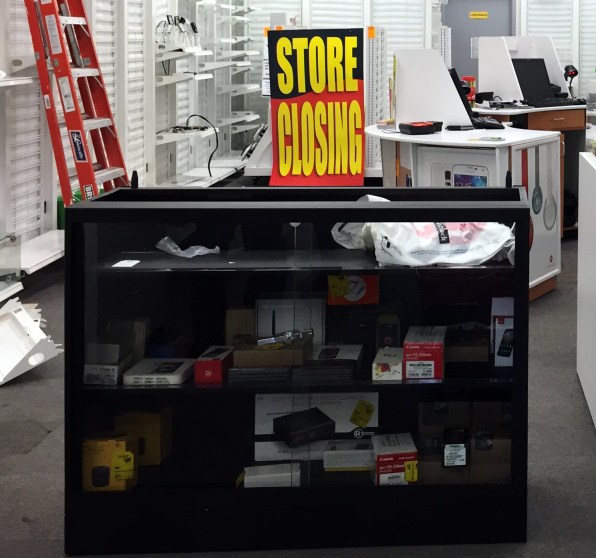 I'm not sure what the best practices are for managing a liquidation sale of this sort, but the people running this one didn't try to put on a brave front. There were reminders of RadioShack's downfall everywhere, such as this empty digital-camera display, complete with an offer–presumably no longer in effect–to order any models not in stock.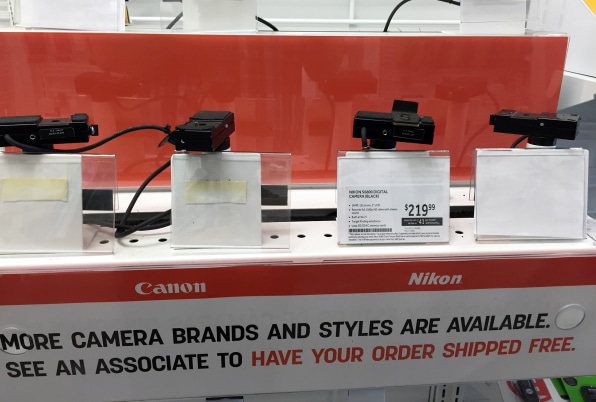 Here are some of the fixtures that were for sale–maybe the most valuable items left on the premises.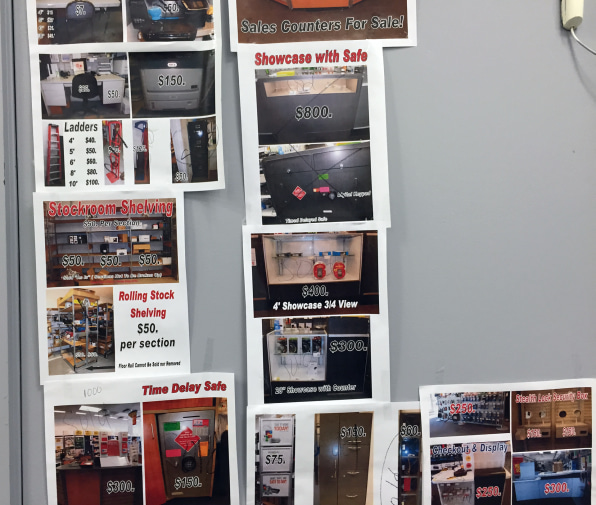 After wandering around the store blithely snapping photos, I decided that it would be disrespectful not to buy something. I considered picking up this weather radio, just because the product category and packaging was so…well, RadioShacky.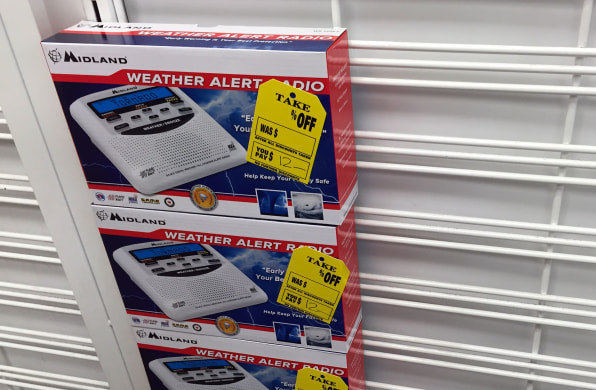 But then–hung next to a doleful Apple 30-pin-to-VGA adapter–I spotted something I actually needed. AAAA batteries, which the stylus for my Surface Pro 3 tablet requires, are tough to find. Indeed, they're exactly the kind of thing I go to RadioShack to buy.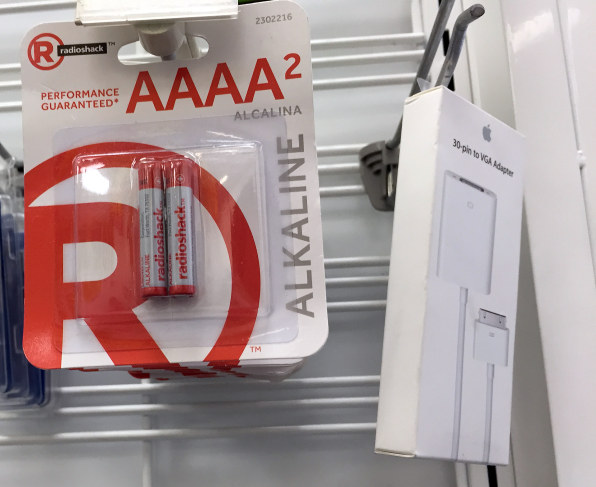 In a perverse touch, the AAAAs were locked up with one of those hooks that requires assistance from a store clerk, as if fear of shoplifting remained a major concern. When I asked the guy running the register to help me, he was skeptical that I actually needed any AAAA batteries. When I assured him that I did, he sounded irritated that I only wanted to buy two packs. I bumped my purchase up to three packs, which didn't mollify him.
Normally, these batteries go for $5.99 a pack. With my 80% discount, I paid 98 cents for three packs–including tax.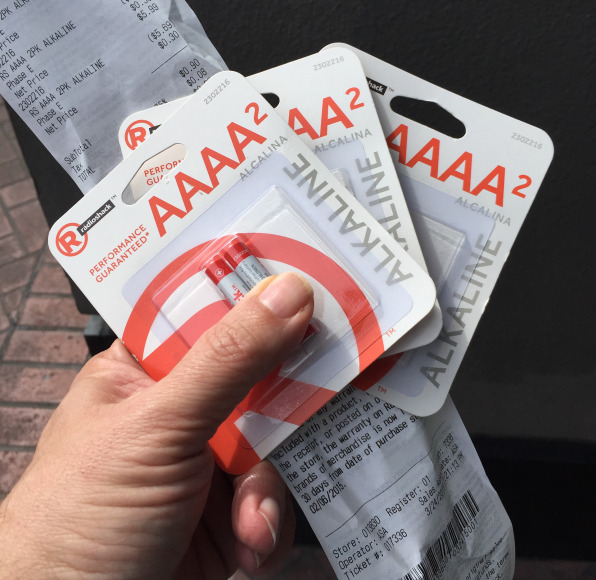 Odds are that I won't get back to this store before it finishes this sale next Tuesday and calls it quits. But the chain is closing stores in batches, and the Shack that's about a half mile from my home remains extant and hasn't marked anything down. So my final goodbye and last chance to buy a few more packs of dirt-cheap AAAA batteries are still–sniff–yet to come.