The demographics of the world are changing–fast.
By the end of 2016, Caucasians will no longer be the majority among children under the age of five. By 2043, Caucasians of any age bracket will be in the minority. Since the consumer base is changing, it only makes sense for companies to build teams that reflect the consumer base of the services and products they're producing.
This is the thinking behind by the IT services and solutions provider UST Global, which is committed to training and employing 1,000 inner-city women in 10 of America's largest cities through its Step It Up America program.
Only 34% of the technology workforce is made up of women, and when it narrows down to minority females, the numbers really start dropping. African American women make up 6.8% of the U.S. population, but they only hold 1.4% of all tech jobs in the country. When help and support desk jobs are taken out of the equation, the amount drops below half a percent. This much disparity isn't only disempowering for minority women; it's bad for business. So UST Global is stepping in to bridge the gap, and so far it's working.
Launched in November 2013, the Step It Up America accelerator has placed 187 graduates in IT and computer science jobs. The program currently runs in Atlanta, Philadelphia, Detroit and Chicago, and classes in New York are planned. UST Global Chief of Staff BG Moore says the idea for the program came as result of a significant problem UST was facing it its own staffing process.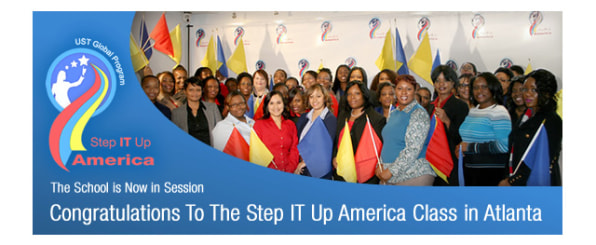 "When we started out we were recruiting college grads to come on board," says Moore." As they came in we realized they had a very broad overview of technology, but they didn't understand what it would take to actually be put onto an assignment. So we developed our own version of an accelerated training program for our own uses, and we truly believe that's one of our secret sauces."
While visiting a number of Fortune 500 corporate IT department, Moore and his team saw the lack of diversity first hand. The corporations were looking for solutions to diversify their workforce, but they couldn't find the talent.
"If you look at people who are studying computer science as an undergraduate degree right now only 4% are either Hispanic or African American, and that's male or female," says Moore. "We saw that there was a need there."
They also saw a need internationally. Four years ago, UST Global went to Mexico, and with the help of President Vicente Fox, cut a deal with the Mexican government to train 30,000 of their college graduates and hire 10,000 of them to make Mexico a nearshore delivery center to the United States. Up until that time, UST Global had only hired people who majored in computer science or IT.
Mexico wasn't producing enough computer science majors for the company to fulfill the contract that was written to guarantee the training of 30,000 graduates. But after the students went through UST's accelerator training program they performed just as well as any IT or computer science majors.
Moore says high performance levels aren't the only advantages that come with Step It Up America.
"If you look at starting salaries for college graduates from 2014, those that came out with an IT engineering major are making $68,500 average starting yearly salary," shares Moore. "Those that come out with a liberal arts major are making $34K-$37K a year, and those with an associates degree are making $31K-$32K. If you can pick someone up in that $30K-$40k range and put them through an accelerated training program, and have them be just as productive as someone coming out of university with an IT degree, there's a huge cost saving."
But all of this is moot unless the people being educated are served properly. Step It Up America graduate Christa Brown, a former freelance writer, now works as a business analyst for data and information management at a Fortune 500 company. She says that having technology skills has been nothing short of life-changing.
"It's a survival thing now, more so than just a field that someone may be interested in," says Brown. "Having these skills has literally transformed my life. I moved to a different state. I'm more independent, and I think more pragmatically from being around engineers every day. I've learned how technology is created inside and out and how it's constantly evolving."
When asked what advice she would share with her peers who may have an interest in learning IT or computer science but are afraid to take the leap, Brown's words were worth their weight in gold.
"Honestly, I would tell them to think about how they felt when they became mothers and when they became wives. It's something that you can never be ready for. It's scary. It's big. It's exciting, but you really don't know what you're capable of until you're in it. And one of the highest accomplishments you can ever achieve is overcoming fear."