It's no secret that the tech industry isn't very diverse. But when Kathryn Finney and her team at Digital Undivided starting digging into the numbers, the picture looked worse than they thought: When searching for black, female founders who have raised $2 million or more in funding, the tally was not encouraging. They could only find three.
It was this lack of industry diversity that inspired Finney to launch Project Diane, an offshoot of Digital Undivided. The goal of Project Diane is, in their words, to "disrupt pattern-matching in tech by identifying black women founders of tech-enabled companies." It's a noble goal, but with such a massive disparity in the tech industry's demographics, will this be enough?
"Project Diane's purpose is to document the black women founders out there, promote them, but more importantly find out why they're successful–or not successful–and to turn this data into an evidence-based, data-driven approach to building successful black companies," explains Finney.
At its core, Project Diane is made up of two components: the first one, still underway, is an extensive data-gathering operation designed to identify black women founders in the first place. Second, the campaign will raise the profile of these founders through promotion on Facebook and Twitter and qualify them for inclusion in Digital Undivided's FOCUS Fellowship, an accelerator and incubator that aims to provide support and crucial networking opportunities to the founders of budding startups.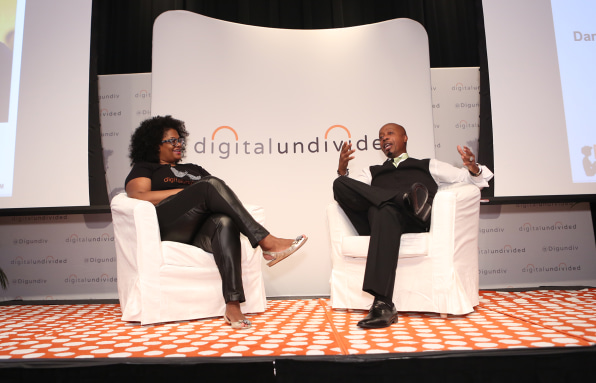 The data part is Finney's speciality. As a Yale-trained epidemiologist, she knows a thing or two about how drastically hard data can change things. "Data, what it says, and what we do with it means a lot to me," says Finney.
To gather that data, the Digital Undivided team have been scouring sources like CrunchBase, Mattermark, and AngelList to get a more complete picture of which companies are founded by black female entrepreneurs and what kind of funding those startups have received. They're also asking people to submit founders by name on the Project Diane website, lest the existing databases overlook any potential candidates.
To date, 138 founders have been submitted to Project Diane, only 11 of which received more than $100,000 in investment money. Finney stresses that the data-gathering process is still in its early stages, but nonetheless acknowledges that the findings thus far are "extremely troubling." According to her initial math, less than .1% of all venture funding deals involve startups founded by black women.
To Finney and her team, this data-gathering phase is actually the easy part.
"The most challenging part is that we're finding that many well-meaning companies and individuals are focusing more on optics than outcomes when it comes to diversity," says Finney. "As a result there's a ton of events, summits, conferences, and coding classes, but not much movement in terms of structured programs with proven metrics."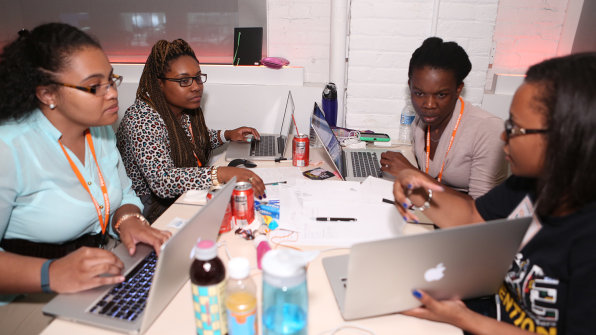 One exception, she's quick to boast, is Digital Undivided's FOCUS Fellowship. The founders identified through the Diane Project are automatically considered for inclusion in the program, which has been in place since 2012. After starting out as a scholarship for black female entrepreneurs, the fellowship has blossomed into something much more comprehensive: This year, the fellowship will take the form of a 16-week incubator and accelerator program with a hefty dose of hands-on education and mentorship from experienced entrepreneurs. Oh, and the introductions to investors don't hurt, either.
"Lots of investors say they want diversity, and maybe they do, but there's only a handful of investors who have actually invested in diverse founders, and we have strong relationships with all of them," says Finney.
It may be small and relatively young, but the movement spearheaded by Digital Undivided has already yielded tangible results for some founders. Just ask Brit Fitzpatrick. The CEO and cofounder of web-based mentor-matching service MentorMe–think OKCupid for tech entrepreneurs seeking mentors–met Finney at SXSW in 2013 and the two immediately hit it off.
"I was immediately interested, because there aren't a lot of programs that are focused on black women with technology startups," says Fitzpatrick. "I remember thinking when I went to San Francisco in 2013, 'Where are all of the other black women?'"
Intrigued by what Finney was working on, Fitzpatrick applied for –and received–the FOCUS Fellowship, which enabled her to travel to New York for a week to attend Digital Undivided's Focus 100 tech conference. In the days leading up to the conference, Fitzpatrick was mentored by members of Digital Undivided and others from the New York tech scene. Among other things, this mentorship helped Fitzpatrick fine-tune her ability to pitch her startup to investors.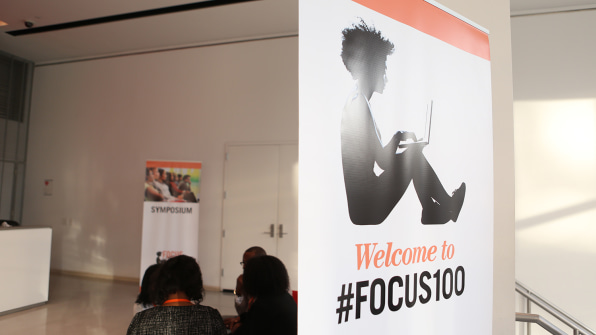 "I won the pitch contest at Focus 100, which was a direct result of the feedback I had received throughout that week," Fitzpatrick says. "Thanks to that experience, I've been able to connect with potential customers, partners, and some great mentors within the VC community."
Over time, Fitzpatrick became more and more fixated on tech's diversity problem. Eager to find more female founders of color like herself, she decided to start keeping a list. "I felt it was important that we all know and support one another," says Fitzpatrick of this small coterie of founders. When Finney caught wind of this list, she wanted to formalize it and bring it under the Digital Undivided umbrella. And thus Project Diane was born.
The project, which is named for 1960s civil rights leader Diane Nash (who Finney tells me is a fan of the campaign that borrows her name), is expected last until the summer, when the next class of Focus Fellows will get started.
"It's not like there's a group of black women startup founders hiding out in Harlem or the South Side of Chicago," says Finney. "Black startups exist, but in extremely small numbers. We know this because we're actively looking."