What does one do after making dry science facts fresh by removing them from the stuffy confines of textbooks and turning them into a YouTube hit? Apparently, turn that YouTube hit into a book.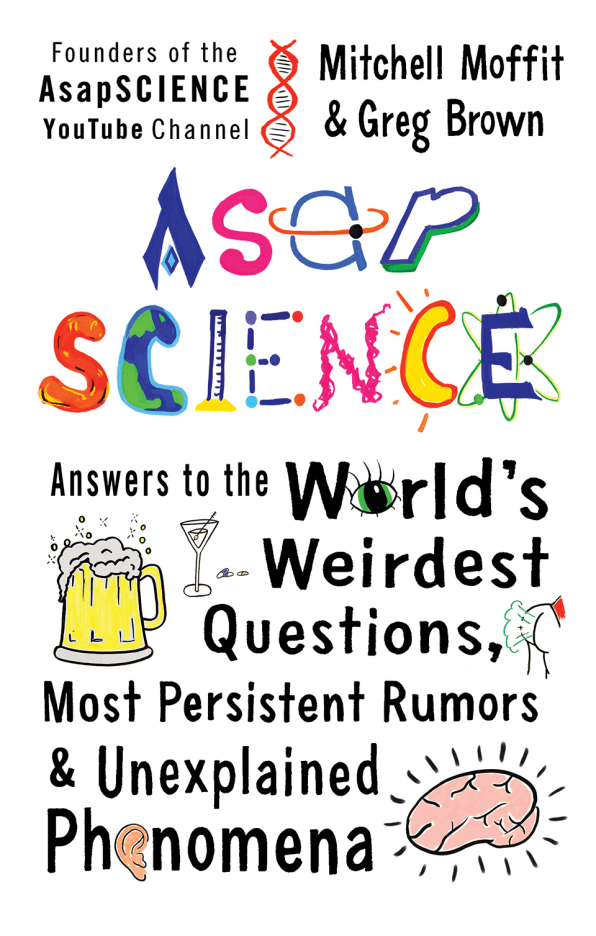 When Co.Create last spoke with Mitchell Moffit and Greg Brown of AsapSCIENCE, they were six months into their new pop-sci side project, and with a respectable following to show for it (130K subscribers and 9M total views). In the two and a half years since, the duo, who are partners both professionally and personally, have accrued over 3M subscribers, their individual videos routinely hit upwards of 10M views, and more importantly, the side project has become a full-time job. Recently, a lot of their hours have been spent taking the same kinds of ideas that made the channel popular and applying them to writing a book that might be just as popular.
"We always kind of thought about writing a book," Moffit says, "because we approached the videos as if we were writing these little chapters of amazing information that we eventually would have to cut for video."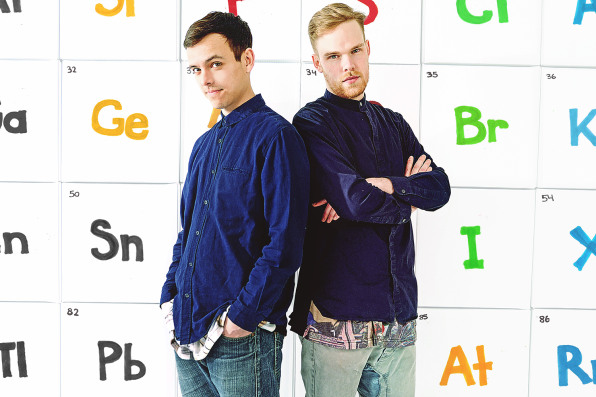 When the pair actually sit down to write scripts for their videos, they often write them a lot longer then the eventual two- to three-minute final product. Part of the appeal of the videos–aside from their knack for plucking topics out of the backs of everybody's mind, and the charm of their deceptively simple drawings–is their easy digestibility. The videos are tantalizingly brief but thorough, with not a moment wasted. Some of the ideas they'd eliminated along the way to synthesize topics down for a video lent themselves to the format of a book. Meaning there was a giant reservoir of material to draw from at the outset.
The book is not merely composed of prose versions of past videos, but includes material the pair had decided could not work on YouTube and saved for just such a medium.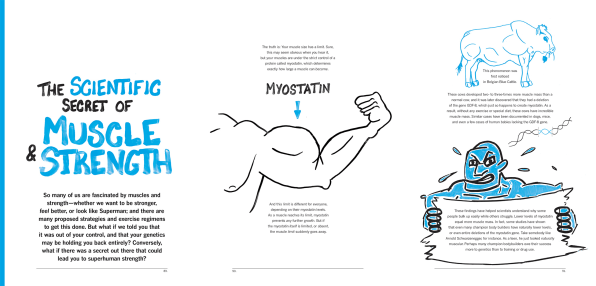 "We started to home in after a while on what was working best and shy away from other ideas, even if they were interesting in some way," Moffit says. "Early on, a lot of the titles were very vague, like we didn't necessarily realize we needed to make specific titles representing very relatable topics to people. We started experimenting with other things, like How Old Are Your Ears, where we actually give viewers an experience by playing different frequencies and then they get to figure out how old their ears actually are and get educated. If you can give a viewer an experience and then educate them on something they just went through, that's really successful. There are things that work better on the page, though."
One example is the "science of swearing," something that Moffit and Brown could never really figure out how to make into an episode that would work on YouTube. (The explanation of why people like to curse doesn't fucking lend itself to a visual representation, it turns out.) From the beginning of writing the book, the pair was armed with a series of similar never-made episodes that couldn't work as YouTube videos but fit snugly into the context of a book.
Other ideas emerged through AsapSCIENCE's ongoing fan interaction. Moffit and Brown routinely ask their audience for questions, and these questions often ended up fueling private brainstorming sessions.
"Some of the questions we get are great and some of them are not so great," Moffit says. "But even the ones that maybe aren't a clear question can really spark something in our minds. Then we try and correlate them to people's lives."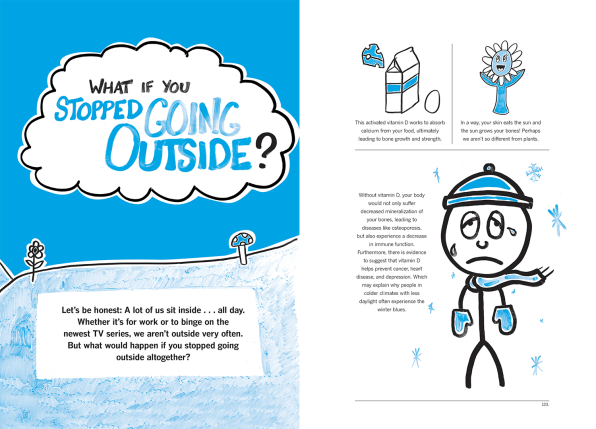 One example is vitamin D. A lot of people had been asking about how vitamin D works. It works like this: We actually take the sunlight, synthesize it through our skin, and create vitamin D for ourselves. It wasn't immediately clear how this information lent itself to age-old unanswered questions, though. Something like the science of vitamin D might end up only appealing to the hardcore vitamin aficionados who'd suggested it, but not anyone else. After mulling it over some more, Moffit and Brown decided to focus the video on what would happen if a person went permanently sans-sun. Lo and behold, What If You Stopped Going Outside was born, and earned 5M views. Now they just had to apply this kind of reframing to ideas that had never made it to video.
After about two years of gathering ideas and figuring out how they best worked on the page, the pair worked with their editor and started to see that there were themes throughout different sections. They subsequently decided to completely rearrange the format of the book to help orient the reader. Now, similar ideas are grouped together into enticing sections like "Hot Sex," "Getting to the Bottom of Bad Behavior," and, of course, "Dreaming, Waking, Napping, Sleeping." The organization ultimately provides an enormous idea buffet that hopefully leaves readers with the same feeling as viewers.
"What we try and do is, even if a specific science concept isn't necessarily something everyone feels like they experience, we try and figure out what is the experience that everyone has around it," Moffit says. "Then we frame it that way so that people are educated without really even knowing it. Like, we're entertaining them and then they're realizing when the episode has ended that they've actually learned a lot about science."