Jared Gutstadt likes to paraphrase a quote he heard about the nature of randomness: "You hope to bump into a genius, and if you're lucky, that genius will make you a lot of money."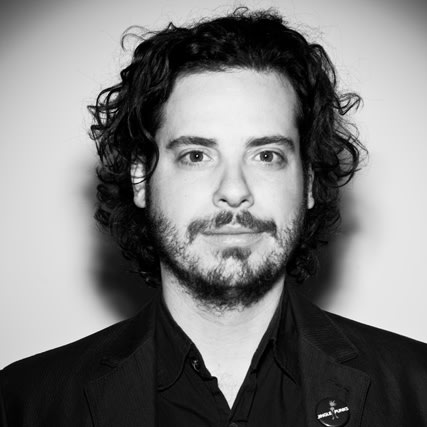 Gutstadt knows that business succeeds for a lot of reasons, hard work and big ideas chief among them. But a central reason Jingle Punks–a music composition and licensing service–has succeeded has little to do with work or ideas. It has to do with meeting the right business partners at the right time–collisions that often came down to chance, randomness, or just plain luck. Even Jingle Punks's recent acquisition by William Morris Endeavor stemmed from a random encounter: On a patio at an L.A. club, Gutstadt chatted up a woman who turned out to be the daughter of a prominent music agent, which led to a meeting with a colleague of his, who wound up joining WME.
Sometimes, when partners ask Gutstadt about his business plan, he simply replies: "I'm going to continue to collide with people outside in the universe." Through traveling, through being open, through getting out the door, Gutstadt has continually made chance encounters that have taken his business to the next level (or given birth to it to begin with). "The lesson has been: Don't stay at home."
Gutstadt has mastered the art of maximizing a chance encounter. Interested in emulating his success? Here are just a few of his stories.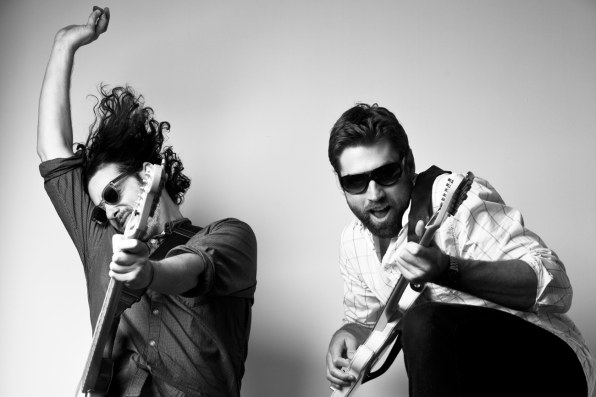 Jingle Punks wouldn't exist at all were it not for a chance run-in Gutstadt had about seven years ago. He was dating a woman (now his wife) who had a friend, who had a boyfriend, and one night–later dubbed "the Big Kahuna"–Gutstadt met this girlfriend's friend's boyfriend, Dan Demole. The night began with a few drinks in Gutstadt's yard on New York's Lower East Side. Gutstadt instantly felt a quick bond, and confided to Demole–a computer engineer–a business idea he had around a music licensing database.
The group then made their way to Brooklyn for a Black Keys concert. After, at a Mexican restaurant, he and Demole got in a playful "margarita fight" (what it sounds like; they were soon thrown out of the restaurant). Gutstadt changed, they moved to another bar, and the night ended up with Gutstadt "wiping out through a set of bar stools at Beatrice Inn." In short, he recalls, "it was one of those nights that you usually have with someone you've been friends with for five years."
The next morning, Demole showed up at Gutstadt's place. "Remember that idea we were discussing?" he asked. The next day, they wrote an informal equity agreement on the back of a napkin at a Chinese restaurant. Six months later, Jingle Punks had MTV as a client.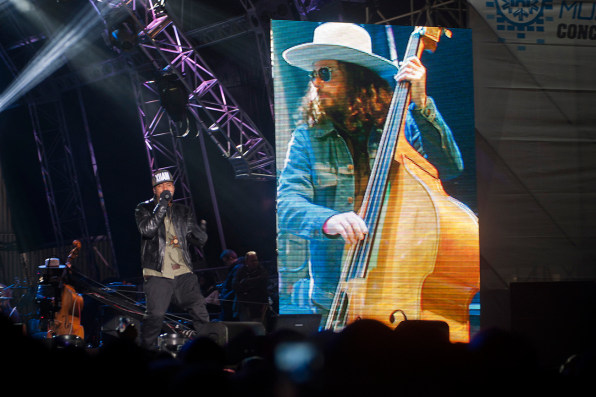 As a side project at Jingle Punks, Gutstadt developed something called the Hipster Orchestra through which he would orchestrate songs by the Strokes, Coldplay, and the like. A few years ago, at Cannes, Gutstadt went to see Nas. Swigging whiskey for courage, Gutstadt made his way near the stage, and was able to grab a quick moment with the rapper as he got off the stage. "I have an orchestra, I'm a huge fan, I'd love to work with you," he said. It was a risk, Gutstadt knew, but so are all good collisions with the universe. Nas was surprisingly receptive, giving Gutstadt the name of his manager. Gutstadt followed up with the manager, who showed some interest, but then months passed, and nothing happened.
Until the universe intervened. A few months later, Gutstadt was on a plane to Las Vegas to meet his wife for the weekend, and it turned out the person sitting next to him was . . . Nas. "I was like, Oh my God, this cannot be real." Gutstadt asked Nas if he remembered their meeting at Cannes, and Nas said yes, and that he and his manager had discussed the potential partnership. Gutstadt then gave Nas some space, turning to do some reading. Gutstadt had been making his way through the 33 1/3 book series on landmark albums and artists (he had recently read a book on Nas's "Time Is Illmatic"), and he happened to be reading the book on Celine Dion at the moment. Nas, who was reading political nonfiction, seemed to find Gutstadt's reading choices amusing. The two started talking more organically, and developed a rapport. "By the end of the flight, we were vibing well," he recalls.
In 2014, Gutstadt's wish came true, with the Hipster Orchestra accompanying Nas at a concert in South Africa. "If I had written down on paper, 'Do a concert with Nas,'" it couldn't have happened, he muses. "The way we got there was so wonky, there could never have been a plan."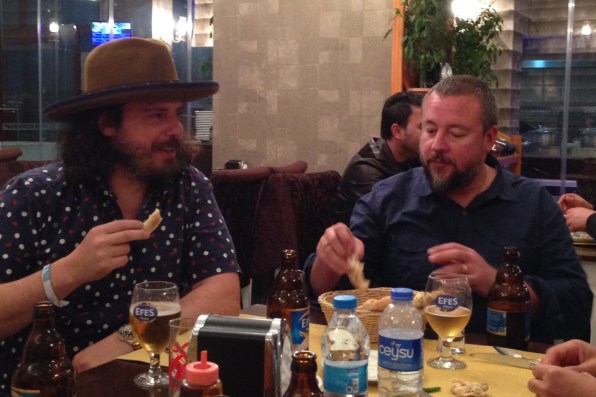 About two years ago, Gutstadt took a meeting at the "stuffy office" of an advertising conglomerate in London. This wasn't really Gutstadt's scene; his ample-haired Lynyrd Skynyrd look didn't quite fit in with all the suits. A woman who worked at the office approached Gutstadt and said, "You look interesting. What do you do?" Gutstadt told her, and she invited him to a corporate retreat that would take place a few months later in Turkey.
It didn't feel like a fit for Gutstadt. He threw the event on the calendar, but as the date approached, he felt he wouldn't go. "I kind of say yes to everything, but because I'd been traveling so much that year, I was inclined to say no," he recalls. He also gets skittish about traveling to new countries. "I have a lot of hang-ups and phobias for someone who travels as much as I do," he says.
Nevertheless, adhering to his philosophy of colliding with the universe, Gutstadt hopped a plane for Turkey. He walked into the conference, stuffed to the brim with folks in "regular-people clothing," but almost immediately he met the other person who stuck out like a sore thumb: Vice Media's Shane Smith. "We hit it off," says Gutstadt. They spent two days kicking back drinks. And while the conference organizers warned that participants shouldn't leave the site, Smith and Gutstadt snuck out, taking a car into the hills "to a bizarre bar." One of Jingle Punks's most fruitful business partnerships was soon formed: The company now supplies music for Vice's HBO show.
As if he needed it, the encounter reaffirmed Gutstadt's philosophy of opening himself to the universe. "Every time I walk out the door, something amazing happens–mostly because I'm open to it."