Other than being funny, what's it take to host a late-night talk show? Qualifications vary wildly. Jimmy Kimmel made crank calls on the radio. Jimmy Fallon impersonated other people on Saturday Night Live. Johnny Carson hosted a game show, Stephen Colbert played a fake right-winger, Jay Leno and David Letterman did stand-up, and Conan O'Brien wrote for The Simpsons,
Now comes James Corden, who becomes the first Broadway song-and-dance man to tackle the format. Three years after winning a Tony award for his mastery of physical comedy in One Man, Two Guvnors, the soft-spoken Brit on Monday launches The Late Late Show With James Corden.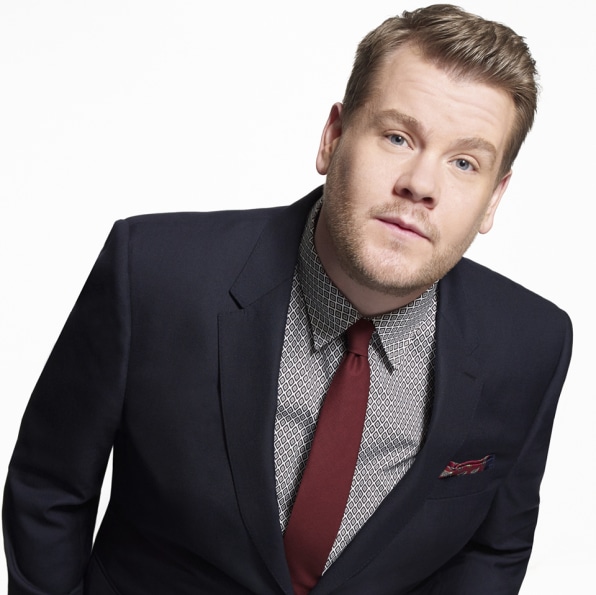 "It's not that we want the show to play to my strengths, It's more that we just want it to ignore my weaknesses," Corden says dryly. "I hope we find a way to show off a bit of the performing attributes that I have, and I hope we create a show that's worthy of people's time, you know? That's what I really hope."
Settled since January in Los Angeles with his wife and two young children, Corden's spent most of his waking hours at the CBS soundstage with sidekick/bandleader/man of many voices Reggie Watts prepping the program for late-night consumption.
Speaking from his office, Corden recounts the journey from a tiny English village through his early days singing show tunes with Eddie Redmayne, past the speed bumps and hit projects leading up to his first American network show, which he promises will be an oasis of snark-free entertainment.
Raised in the rural village of Buckinghamshire by his father, a musician, and his social-worker mother, Corden performed in public for the first time at age three, when he danced a jig at his little sister's christening. Encouragement came early. "Most of the things I've learned are from my dad, really," Corden says. "He'd tell me the difference between doing something and not doing something is doing something. You've just got to do it, and there is no reason why it shouldn't be you, and if you never quit, you'll never fail. That's the family I grew up in, and because of that, I always just go for it. I just jump. If you jump and don't make it to the other side, you'll land somewhere else, and that doesn't mean you won't eventually make it there."
When he was 10 years old, Corden enrolled in the Jackie Palmer Stage School. "That was an after-school drama club for singing and dancing and acting which also had an agency where you'd go audition for paying adverts and things you could do on the weekend," says Corden, who spent six years at the school. "Three years below me was a young boy named Eddie Redmayne. We often did revues where it would always be like Eddie singing 'We're Walking in the Air' from the Snow Man cartoon, and then I'd sing 'Sit Down, You're Rockin' the Boat' from Guys and Dolls.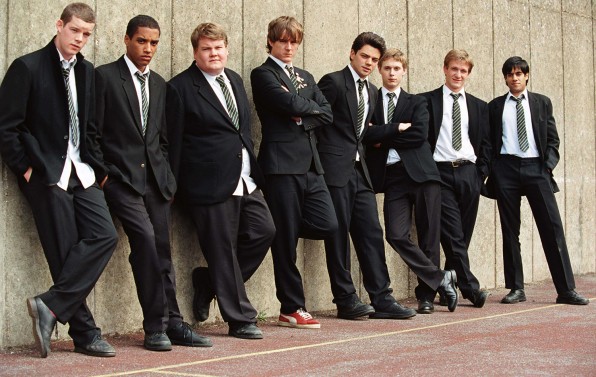 After a serious singing stint with a boy band called Insatiable, Corden scored his big break in 2004 playing a 1960s-era teenage pupil in playwright Alan Bennett's stage play The History Boys. The bittersweet comedy spawned a movie adaptation that earned star Richard Griffiths an Oscar nomination for his role as an inspirational teacher in the Dead Poets Society tradition, but failed to generate much attention for Corden. He recalls, "There was a group of eight boys in that play, and when it became a phenomenon, they all started coming in with loads of film scripts. The other boys would get the full scripts, but I would get three pages, for like 'the guy who dropped off the TV for Hugh Grant,' or the bubbly judge or whatever. I'd always hoped that I would get to do more than that."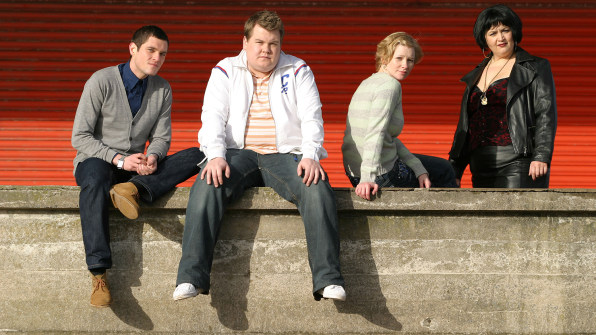 "What I took away most from The History Boys was the feeling that if I was going to do anything, I would have to write it myself," Corden says. "Alan Bennett said to me quite often, 'You need to write some of these ideas that you've got down,' and when somebody like Alan Bennett says that, you listen. So I started writing a TV series."
Corden collaborated with actress Ruth Wilson, whom he'd acted with on the 2000 sitcom Fat Friends. They crafted lead roles for conventionally telegenic title characters, but shrewdly reserved creative control and juicy supporting roles for themselves. "We handed it in on spec to BBC, never thinking it would get made." Instead, Gavin & Stacey became England's biggest TV comedy, drawing 14 million viewers and earning Corden a BAFTA Award for Best Comedy Actor as best friend and plumber Smithy.
"You just Google Earth yourself and realize none of it really matters. It's just noise, it's just dust. What matters is how hard you work on the next thing."
How did Corden figure out the transition from stage performer to sitcom showrunner? "I didn't really," he says. "I just sort of went for it. I don't really know how to do any of these things. I definitely don't know how to do the job I'm about to start next week. I'm mostly just winging it, really."
After Gavin &Stacey, Corden experienced a dry spell that included a failed sketch series and the movie flop Lesbian Vampire Killers. Corden looks back philosophically at the professional missteps. "You can't make anything without making mistakes," he says. "You just can't. The thing to remember when you're being judged harshly is that at one time, you did something that was good. You're being judged against the thing you did that was good and you have to hang on to that."
Citing Eddie Murphy as an example of great talent uncharitably maligned, Corden continues, "The trick is, when you're on the receiving end of that sort of thing, you just Google Earth yourself and realize none of it really matters. It's just noise, it's just dust. What matters is how hard you work on the next thing."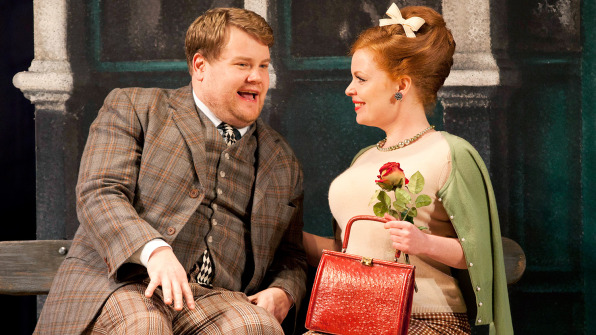 Corden came out of his slump by starring in the door-slamming farce One Man, Two Guvnors, tailored specifically to his talents by playwright Richard Bean. When the musical comedy moved from London to Broadway, CBS boss Les Moonves saw the show and decided his network needed to be in the James Corden business. Corden says, "It's a brilliantly directed play, and I was very lucky to have such a brilliant play written for me."
Corden was reminded of a key comedy principle. "You can't be afraid of looking stupid, and that's the truth on this talk show as well. If anyone's gong to look stupid, it's going to be me, not the guest. You've got to make fun of yourself first, and that helps the audience feel relaxed."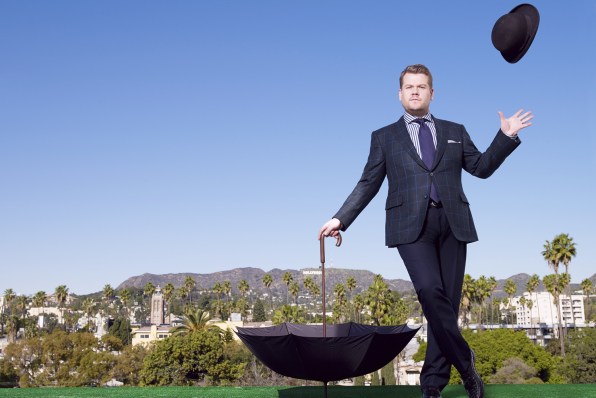 Coming off of Disney's hit movie adaptation of Into the Woods and Hulu/BBC comedy The Wrong Man, Corden views The Late Late Show as a work in progress that will take time to perfect. "Keep your expectations low," he jokes.
Working with producer Ben Winston, who directed music videos by English pop group One Direction, Corden envisions The Late Late Show as a snark-free zone: "We live in a world now where social media is such a resting place for negativity. Ours is never going to be a show that snipes at people or makes fun of anyone. It'll make fun of me. I will be the fall guy on our show, and I hope audiences respond."