On a small island at the southernmost tip of the Malay Peninsula, at the midpoint of the traditional shipping route between India and China, a bold experiment continues to unfold: the greening of an entire country. Decades before environmentalism was considered cool—in fact, it was in the mid-1960s when Singapore's first prime minister conceived of the city-state as a vibrant "Garden City"—Singapore was focused on becoming the greenest city on earth. And today, perhaps more than in any other country in the world, a spirit of eco-awareness pervades Singapore. Other nations might tout their green credentials, but Singapore is defined by them.
At just 225 square miles—about two-thirds the size of New York City—Singapore punches far above its weight economically: Its 3.5 million citizens enjoy a per capita income exceeding that of many European countries, and an astonishing nine out of 10 households own their own homes. But in some ways, those impressive benchmarks—unprecedented for a country that gained independence only 50 years ago—are overshadowed by the scope of Singapore's sustainability efforts and its environmental innovations.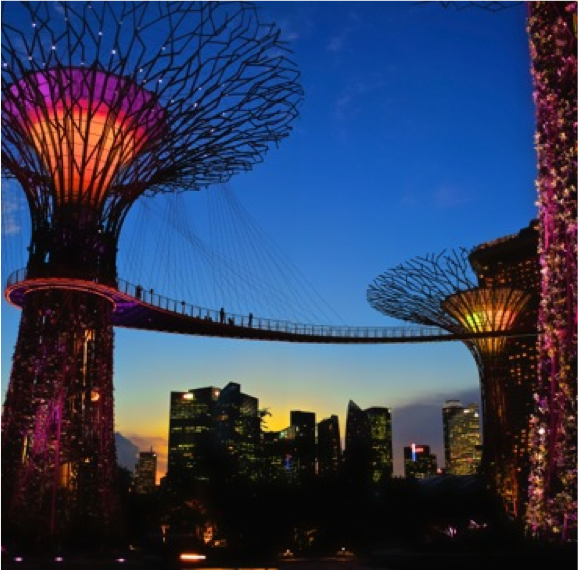 Take, for instance, its approach to a pressing issue facing any densely populated island: clean water. Sixty percent of Singapore's land (an enormous number for so small a country) is designed, to varying degrees, to collect rainfall. Meanwhile, through a bold, decades-long project dubbed NEWater, nearly a third of the city's freshwater needs are met by used and "gray" wastewater purified through state-of-the-art filtration technologies and ultraviolet disinfection. Most of that disinfected wastewater is earmarked for industrial uses—such as power generation—or as an air-conditioning coolant in commercial buildings. In an age when, for example, California finds itself in the midst of one of the most severe droughts on record, prompting rancorous debate around water-use restrictions, tiny Singapore's farsighted water-management methods suggest that smarter (and less painful) approaches to our most fundamental resources are definitely out there.
Singapore has also been highly innovative in the greening of its architecture. The country's Building and Construction Authority (BCA) set ambitious "green targets" for the year 2030, including a 35% improvement in buildings' energy efficiency, a green certification for 80% of the country's buildings, and a recycling rate of 70%. (To put that into context, even a country like Denmark— by any measure one of the greenest and most environmentally conscious places in the world—currently recycles less than a quarter of its household waste.)
But the most visible— and most visibly striking— icon of the Singaporean spirit of sustainability is Gardens by the Bay, a 250-acre green oasis overlooking Marina Bay and a tech-forward model for how cities everywhere might make wise use of limited space in hyperdeveloped, paved-over downtowns in years to come. Made up of three separate green spaces— Bay East and the largest, Bay South, are open to the public; the third, Bay Central, is still in development—the Gardens complex was born of a 2006 international design competition in which creatively sustainable tech ideas weighed heavily in the jury's deliberations.
"Gardens by the Bay isn't like any other public garden in the world," says Felix Loh, the Gardens' chief operating officer. "It doesn't limit itself to traditional botanical conventions, but reaches out to a new generation of urbanites and visitors."
A tourist attraction as well as a hugely popular park for Singaporeans, the billion-dollar complex is at once a bucolic retreat, a floral and botanical showcase, and a cutting-edge environmental laboratory. The adventurous, London-based Wilkinson Eyre Architects created a pair of three-acre, glass-domed conservatories (evocatively named Flower Dome and Cloud Forest), both of which feature sweeping, curvilinear roofs. Fitted with specially designed glass that provides optimal light for the hugely diverse plant life within while minimizing solar heat gain, the roofs also boast sensor-operated retractable "sails" that deploy automatically to provide shade for the plants, when necessary.
Meanwhile, in a thoroughly efficient and innovative bit of recycling, horticultural waste is used to power steam turbines that generate energy for the conservatories' cooling systems, helping to reduce Gardens by the Bay's dependency on the city's already hyperefficient electrical grid.
But the most dramatic, signature sights of the entire area are the soaring, man-made "Supertrees" dotting the landscape— huge, quirkily beautiful metal structures, 12 to 16 stories tall and carpeted with ferns and orchids, that help power parts of the Gardens. Solar photovoltaics installed atop the Supertrees generate electricity that lights up the behemoths at night— after the sun sets, they resemble redwood-size mushrooms from a sci-fi writer's imagination—while intake and exhaust technology shrewdly built into their steel frames helps cool both the Flower Dome and Cloud Forest ecosystems.
"In less than a decade, the Gardens transformed what was once a barren site, literally reclaimed from the sea, into a green oasis in the heart of the city," Loh says. "The concerted effort to develop a garden rooted in sustainability has enhanced the environment for city dwellers, providing not just a green space but a place that enriches the lives of Singaporeans and tourists alike."
This article was authored by FastCo Works, Fast Company's Content Studio.