Neil deGrasse Tyson would like the world to know that Charlie Sheen is a science nerd.
I ask astrophysicist and world-famous science educator what not-yet-booked guest he'd like to bring on his science talk show, Star Talk, and his choice of the beleaguered actor is the perfect example of what makes the show so accessible: It's weird, fun, and unexpected.
Star Talk is Tyson's popular radio show and podcast, which has aired since 2009. Now it is slated for an April 20 television debut on the National Geographic Channel in an interesting slot: At 11 p.m. Eastern, around when you'd normally tune into Jon Stewart or Jimmy Fallon. It'll be the first televised science talk show, let alone the first that's on during late night. Expect guests ranging from Star Trek actor George Takei to Twitter co-founder Biz Stone.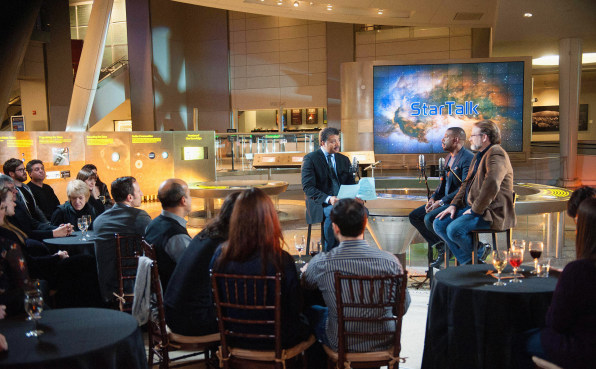 "You get to see how prevalent science is in everyday life," Tyson says. "It's not just this class you once took, and maybe you didn't do well in it and you want to step around it or over it or dig under it or ignore it or pretend like it's not there."
Tyson, who hosted the hit revival of Carl Sagan's space documentary series Cosmos in 2014, has become a celebrity space educator in his own right, but the Star Talk radio show strays to almost any cultural topic with a science aspect, such as pandemics, wine, and superheroes. He's also an ideal TV host because, like his frequent Star Talk co-host Bill Nye, his jovial, quick-witted, uncle-you-wished-you-had nature is impossible not to like. I mean, this is a man who makes it a point to wear a different science-themed tie during each episode.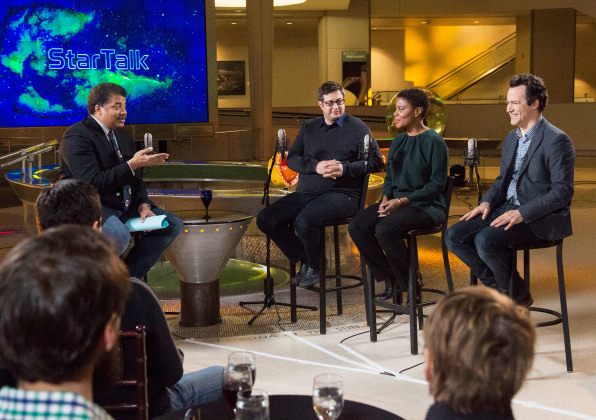 The TV show version's conversational format is mostly off-the-cuff, but the structure is actually a finely tuned recipe for making science accessible. Each show features three co-hosts–usually Tyson, plus a comedian and an expert relevant to the day's topic–who film in front of a live audience. Their discussion centers around clips from Tyson's pre-taped interview with the evening's main guest.
"It's a three-pronged approached of science, pop culture, and comedy. Each of them is a thread, and during the show we weave this thread. By the end we have a tapestry if we succeed. So it's 1 + 1 + 1 = 5, if we do it right," says Tyson. "If it gets a little slow, the comedian valve turns higher, and they provide some levity."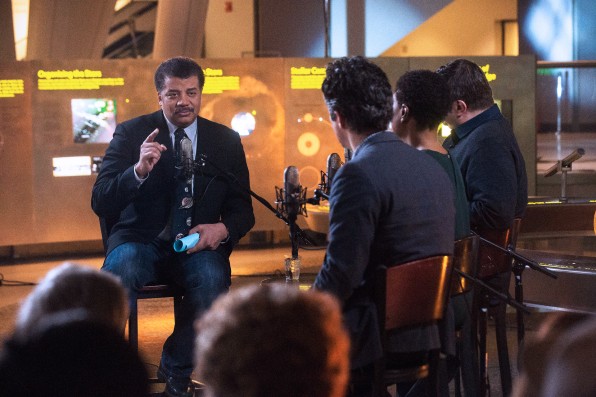 At a February taping (filmed at the American Museum of Natural History's "Hall of the Universe") of two of the upcoming TV show's episodes, the show mostly succeeded in this.
An episode about modern relationships with sex columnist Dan Savage, anthropologist Helen Fisher, and comedian Chuck Nice was thought-provoking and entertaining, though it felt light on the science, if that's what you're tuning in for.
More compelling for its mix of drama, history, and wonder was an episode about how the Hubble Space Telescope changed our view of the universe that also touched on other space topics that strike closer to Tyson's sweet spot. Hubble astronaut Charles Bolden (now chief of NASA), Bill Nye, and Michael Shara, an astrophysicist who worked on the Hubble program, were featured on the show, timed to the 25th anniversary of Hubble orbiting the planet this year.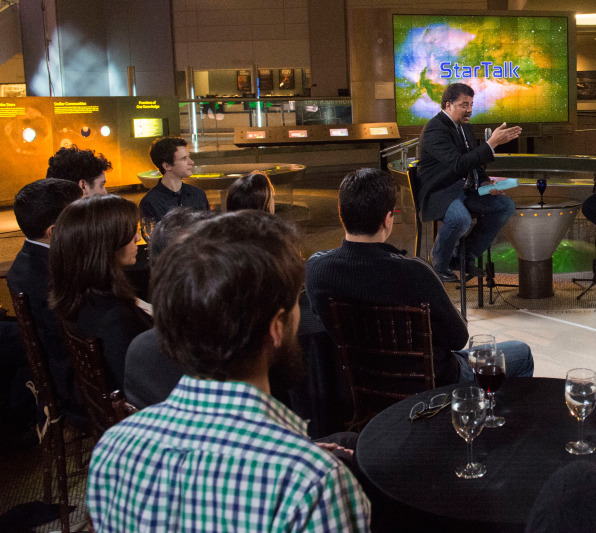 One thing the show won't be: a science-focused version of Bill Maher. While celebrities will be invited for their curiosity, their ability to enliven the show, or their participation in a project that touches on science, Tyson won't entertain ginned-up controversy from people who he says are underinformed on topics like, say, climate change. He says: "There's no place for them on our show."
So how did Tyson decide he'd like to have Charlie Sheen as a guest? That was a chance coincidence. One day, Tyson ran into Sheen and his family visiting the American Museum of Natural History, where Tyson serves as director of the Hayden Planetarium, and invited them up to his office. "[Sheen] spent the next half hour asking me questions about the Big Bang, black holes, the fate of the universe, what was around before the Big Bang, and the Hubble Telescope," Tyson says. "I said 'this is a side of him nobody knows.'"
As Tyson becomes more and more of a celebrity himself, maintaining a work balance between being a researcher, an entertainer, an educator, and an administorator is a personal struggle. He claims he's still an academic at heart, with little desire to be a TV star. But after the success of Cosmos, producers asked whether he wanted to do more television, and his existing radio show seemed like it would be easy enough to adapt for TV.
"When I communicate with the public in these various ways, it's largely because I'm asked. It's not because I start out the day saying: How do I reach the public today? No, that's never a thought," he says.
That attitude helps him keep perspective, however: "If I cease being effective, I'll just go home. I'm not twisting people's arms."