CNN's Bill Weir and filmmaker Philip Bloom barely knew each other when they embarked on a five-month adventure around the world, shooting in locations ranging from Vanuatu to Venice, the Greek Island of Ikaria to the Galapagos Islands and the French Alps to the Florida Everglades for the new CNN documentary series The Wonder List with Bill Weir, which premiered in early March.
"It's like getting married to somebody you've only been on a first date with," cracks Bloom, the series' director of photography. "We didn't take it slow."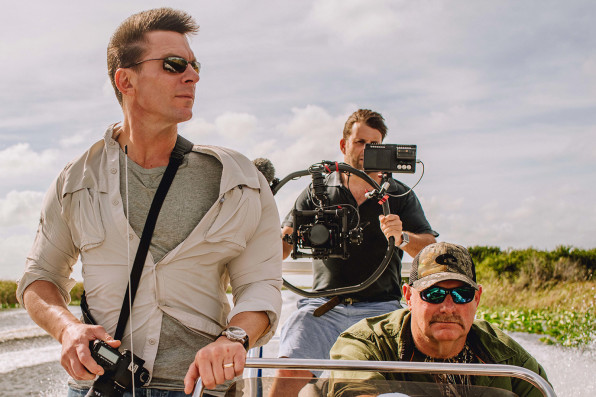 "It was a shotgun wedding," host and executive producer Weir adds, noting he had actually asked someone else to shoot the series. "The true story is I offered the job to a friend of mine who got a better offer," he explains. "We were both fans of Philip, and I said, 'I'll show him. I'll make him jealous. I'll get the man himself!' I sent Philip an email, and we were on the phone a couple of days later, and a week later we were having gin and tonics and just dreaming about where we wanted to go."
With Weir as guide, The Wonder List–airing on CNN Sunday nights–introduces viewers to beautiful, awe-inspiring places as well as people and creatures that are under threat due to everything from climate change to societal shifts. The hope is that the show will get people thinking and talking about how we can move into the future without destroying what's precious from our past.
Weir was often surprised by what he discovered in places like Venice. "I went there thinking it was going to be a story about water and rising sea level management, and it really—in the end—turned out to be a story about overpopulation," he says. "The Venetians say they can handle water—they've been dealing with it for 1,500 years. What they're trying to wrap their arms around is massive cruise ships that dump thousands of people in St. Mark's Square."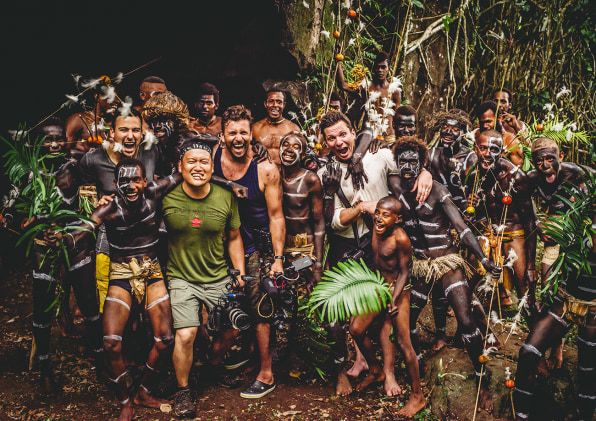 Each episode of The Wonder List focuses on one place. The idea for the series premiere, shot in Vanuatu, a group of lush islands north of New Zealand, came from Weir thinking, "I want to find a tribe in paradise."
"I wasn't sure where that would be. I talked to a lot of NGOs that deal with indigenous people, and you realize it's a real ethical thicket," he says. "There are tribes in the Amazon, uncontacted tribes, which sound like they'd make great television, but maybe not. Maybe they don't want you there."
Weir decided to go to Vanuatu, home to the Yakel tribe. While living far off the grid, these people had had at least some exposure to the outside world, and he knew they would welcome a visit from a television crew.
It was a small crew—"I was just looking for a small ninja team of guys who knew how to shoot and who had an interest in DSLR photography but could also handle themselves in the field," Weir says—made up of the host, Bloom and two other people.
The Wonder List is a CNN in-house production, marking the first time the news network has produced an original non-fiction series—shows like Anthony Bourdain's Parts Unknown and Morgan's Spurlock's Inside Man come from outside production companies. And it wasn't a big-budget production. "Part of getting the greenlight, sort of the asterisk to this amazing greenlight to get to do this dream project was that it would be an experiment in creative cost control," Weir says.
That didn't phase Weir or Bloom, who is known for pushing digital filmmaking to the limits and writing about technique and equipment on his blog. To capture the stunning visuals seen in The Wonder List, Bloom, who did most of the shooting himself, relied on a Sony F55 and FS7 as well as the Sony A7, and he used GoPros, too.
Mounting a camera to a drone allowed Bloom to get some spectacular shots, including one of Weir trekking up the side of a volcano, though he didn't use a drone as often as you might imagine. "There are lots of episodes where we just wished we could use a drone, but we couldn't," Bloom says. "In total honestly, it's a tricky one. I have been barely using them [this past year for any projects]. In most places, the regulations aren't in place yet. We're still waiting for countries to figure it out."
While Bloom knew how to get the best out of his camera equipment, he also credits good teamwork and organization with enabling The Wonder List crew to capture so much amazing imagery. "I think season two, if it happens, will be a massive notch up because of our experience," Bloom says. "We've learned what works."
For his part, Weir would adjust his workflow if The Wonder List gets a second season. "It was just a beast to go through all that footage and then for me to script it in the few days we had between trips. It became a burden," Weir says, adding, "But talk about a crash course in documentary filmmaking. Every night, we'd sit back and allow ourselves to be sort of gobsmacked by the idea that we were trying to shoot eight original hour-long documentaries in eight countries on five continents in five months, and I'm so pleased with how it ultimately all came out, somehow against all odds."