Every year in early March, organizations around the world present data on the state of gender equality in each country in honor of International Women's Day.
A very brief history: Begun in 1909 as National Women's Day, the celebration followed a march for women's rights the year prior through New York City, demanding equal economic and political rights. The day went international in 1911, joined by Austria, Denmark, Germany, and Switzerland. Today, International Women's Day (March 8) is an official holiday in countries including Afghanistan, Armenia, Cambodia, China, Mongolia, Russia, and Ukraine. In some cultures, it holds the same significance as Mother's Day.
The United Nations Entity for Gender Equality and the Empowerment of Women (U.N. Women, for short) celebrates the 20th anniversary of its Beijing Declaration and Platform for Action with a global survey, out every five years. The organization looks at three criteria when assessing policy actions and investments, according to the U.N. Women website:
Do they support women's capabilities and their enjoyment of rights?

Do they reduce, rather than increase, women's unpaid care work?

Do they embrace women's equal and meaningful participation as actors, leaders, and decision-makers?
Here's a look at their findings: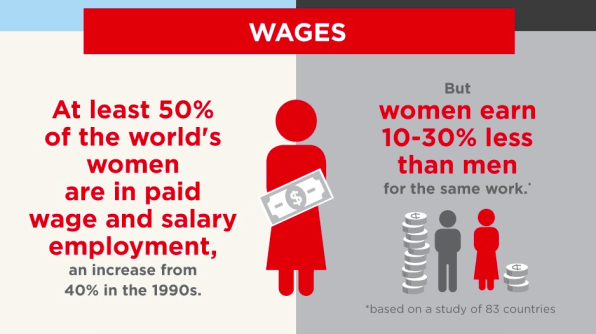 The good news: More women are in paid employment than ever. The bad: They're still not earning equal wages to men.
"Women's share in the labour force continues to rise and almost everywhere women are working more outside the household," the study states, "although there has not been a parallel lightening of responsibility for unremunerated work in the household and community." Economic pressures make dual-income parents or single working parents a necessity, and the load is landing on women's shoulders.
Related: 16 U.S. Cities Where Women Actually Earn More Than Men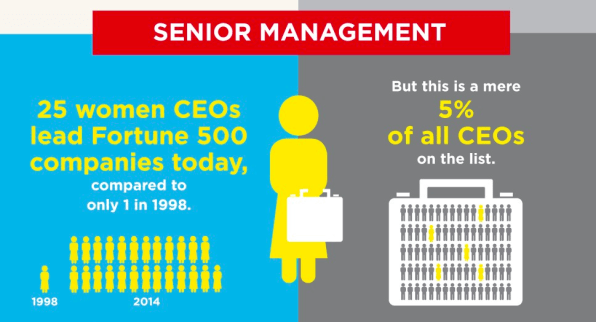 The good news: More women are making it to senior management. The bad: They still only make up 5% of Fortune 500 CEOs.
"Eliminate occupational segregation" makes the list of actionable goals in this study. Promoting and encouraging women to senior management, career development, and counseling will help get us there, as well as encouraging women to take nontraditional jobs in science and technology sectors.
They're positive numbers, but the top isn't the finish line. We've reported before that women entrepreneurs pay themselves salaries equivalent to 80% of those of their male counterparts.
Related: 6 Ways To Get Women In Leadership Positions And Keep Them There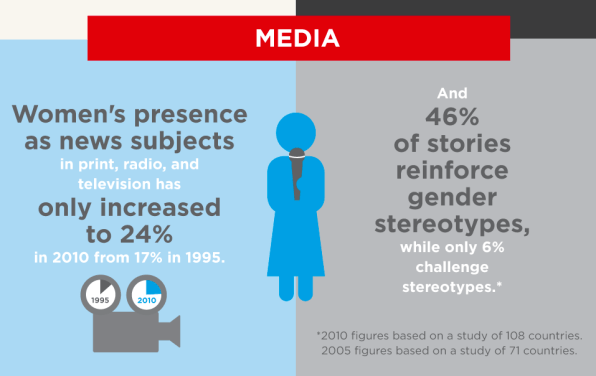 The good news: More women make headlines. The bad: It's only a small amount more–and they're still stereotyped.
The representation of women in media saw paltry improvement–only up by 24% since 1995. Only 6% of the media's messages about women challenge stereotypes.
"More women are involved in careers in the communications sector, but few have attained positions at the decision-making level or serve on governing boards and bodies that influence media policy," according to the Beijing 20 study. "The lack of gender sensitivity in the media is evidenced by the failure to eliminate the gender-based stereotyping that can be found in public and private local, national and international media organizations."
Related: Meet The Women Challenging The Media And Tech Establishments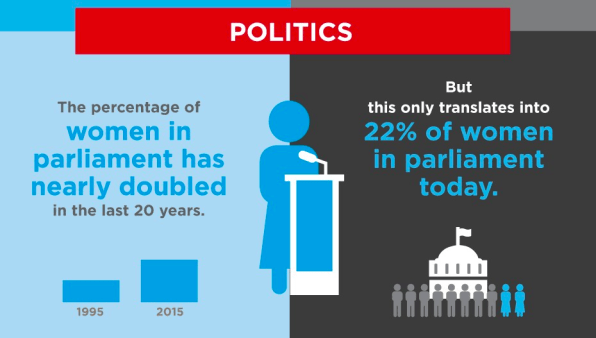 The good news: Women are breaking into the political spheres more and more. The bad: They still make up only a fraction of political leadership.
"A worldwide movement towards democratization has opened up the political process in many nations, but the popular participation of women in key decision-making as full and equal partners with men, particularly in politics, has not yet been achieved," the study states. More women are in parliament, for example, but still make up a small minority of the seats there.
Related: How A Nonprofit Is Teaching Women To Run For Office