So what have people been saying about the watch and Monday's event? We've joined forces with Emergent, a research project that started at Columbia University and is now an independent tracking platform for online rumors. This collection of published scuttlebutt may provide clues to what Apple may be about to reveal–or at least what people expect.
Foremost in people's minds has been the cost of this latest Apple gadget. The company had announced that the watch's price would start at $350. This is presumably for the aluminum Watch Sport, and possibly only for the smaller 38mm model, not the 42mm model. But with other versions, such as the stainless steel version and the Edition model made with 18k gold, and the variety of bands, there has been plenty of room left for speculation.
Much of the debate has involved the price of the model with an 18k solid-gold case. It may cost only $950, says Citigroup analyst Jim Suva. It could be $1,200, says Chad Rickicki, speaking to TechCrunch. It may be in the neighborhood of $4,000 to $5,000, according to The Wall Street Journal, the Financial Times, iGen.fr, and Piper Jaffray analyst Gene Munster. Still others believe it will be $8,000, for the 38mm version (Stephen Foskett of Grail Watch). It might even go for a whopping $10,000 (Foskett, as well as John Gruber at Daring Fireball)–a price which would not be remarkable for a solid-gold luxury timepiece.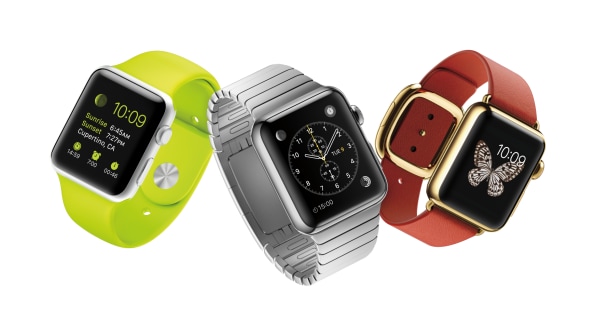 The stainless steel Apple Watch has also been the subject of price speculation. IGen.fr says a contact gave it a price of $500. Gene Munster states that the price tag may start at $500, but climb to $550. Jim Suva also believes it will be $550. John Gruber sees a $999 price point for the steel version. All of the watches, from steel to aluminum to gold, may cost you more due to the varieties of bands sold separately (Jordan Kahn of 9to5Mac). Would Apple charge more for the steel bands versus the leather bands or rubber sports band? With pictures of different colored crowns, which you may or may not be able to switch out (Dan Moren at Six Colors), and rumors of an engraving option (iPhonote), pricing could get mighty granular.
The technology inside the timepiece has also been a breeding ground for rumors, with the battery being the most fertile subject. The day after the September event, a report on Re/Code quoted an Apple employee saying that the watch would need to be charged once a day. Tim Cook later confirmed this himself. But what kind of real-world battery life does that mean?
A source reportedly told Mark Gurman at 9to5Mac the details: 2.5 hours to 4 hours of heavy application use, 19 hours of mixed use of applications and standby, and 2 to 3 days on standby. And on March 6, 9to5Mac revised that, reporting that a source has revealed that Apple has improved the battery life to 5 hours of application use, which may mean higher numbers for mixed use and standby, but will likely still require nightly charging.
Apple may have improved the battery life by limiting to the watch's sensors and related features, according to developers speaking to Business Insider. And if that extra battery isn't enough, there will supposedly be a Power Reserve mode that turns off some features altogether, letting the watch last longer, sources told The New York Times.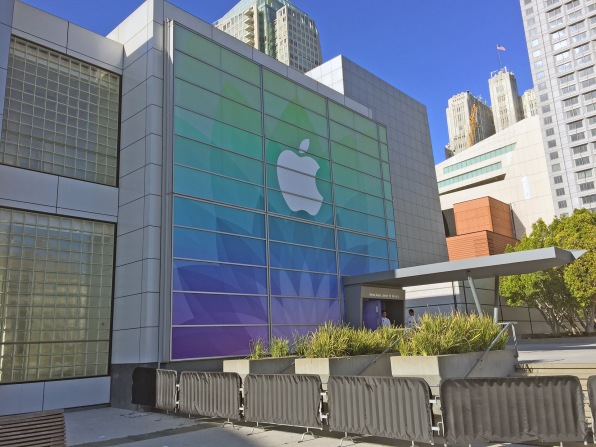 The other components in the watch have been discussed as well. Screens are being supplied by LG, but are they OLED (J.P. Morgan analyst J.J. Park) or, more specifically, AMOLED (LG sources told DigiTimes)? And will the screen update at 60 frames per second (Mark Gurman)? Samsung may have produced the chip running the whole thing (DigiTimes).
What is more pressing for consumers are the memory details stated by Timothy Arcuri of Cowen and Company. The Apple Watch will have 512 MB of RAM, as did the iPhone 4 and 4S. As for storage, according to Arcuri, base models have only 4 GB of space, with an option of doubling that to 8 GB. The extra storage could increase the cost by $50 or $100.
The components inside of the Watch may have been simplified, too. Daisuke Wakabayashi of The Wall Street Journal reported that Apple had hoped to include additional health sensors to monitor stress through skin conductivity and blood pressure, but they were removed due to being unreliable. Perhaps they may make it into a future model?
The Apple Watch's interface has simple screens to display information called Glances. The watch may have 10 default glances, including a Heart Rate glance, a source told Gurman. The watch won't have a way to reply to or compose emails, according to Gurman's report.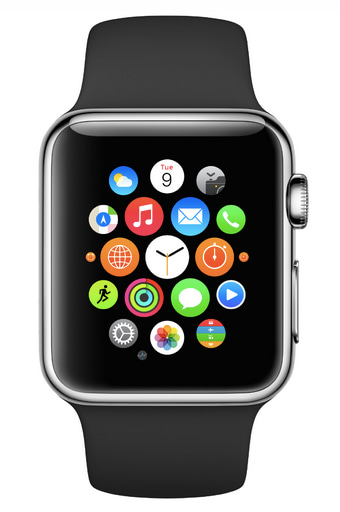 What it will have is a diagnostics port, similar to the Lighting Connector, to be used by accessories, states an article by TechCrunch's Matthew Panzarino. Such a port may also be a temporary addition for prototypes, as there haven't been signs of it in pictures. It might make the watch more susceptible to water or sweat. And according to Tim Cook's comments to Apple employees, you can wear your Apple Watch in the shower, which may mean it is fairly water resistant, claims iGen.fr.
One of the most outrageous rumors is about the watch's applications. A report by Global Equities Research analyst Trip Chowdhry stated that there will be 100,000 apps for the watch available at launch. A variety of companies have already announced apps, such as Nike's fitness app, Major League Baseball, and Yahoo News. There are also rumors of an eBay app (AppleInsider).
Beyond the watch itself, how will the public get their eager hands on it? It will launch on April 16 (Jim Suva). It will launch in Germany and possibly other countries (Gurman). Or maybe it will only be available in the United States (Suva again). The gold Apple Watch may not be sold online or by mail (Stephen Foskett). The watch may be only sold by Apple Stores and Apple's online store (Suva). Other stores and resellers will not have it at launch (Apfelpage's Philipp Tusch).
As for the Apple Stores themselves, one report from Foskett says there will be a "store-within-a-store" area for Apple Watches. There may also be safes to hold the gold watches, according to Gurman at 9to5Mac. And rumors of two pop-up Apple Stores are out there: one at London's Selfridges department store, from MacRumors; and another at Paris's Galeries Lafayette, from Gurman.
Analysts have been busy making forecasts about how many watches Apple will manufacture, ship, and sell. To begin with, the company may ship 2.8 million watches in the first quarter (KGI Securities analyst Ming Chi Kuo), which may be part of the 5 or 6 million for the first production run (WSJ).
And throughout 2015? We could see 15 million watches sold (Strategy Analytics), or 18.5 million (Evercore analyst Rob Cihra), or 19 million (analyst Keith Bachman of BMO Capital Markets). Others say it will be go beyond that, to 20 million for 2015 (CSS Insight), 24 million (UBS analyst Steven Milunovich), 30 million (Morgan Stanley analyst Katy Huberty), or even 50 million (DigiTimes).
One last thing to discuss is the unwritten rule of Apple events: One More Thing. While the Spring Forward event is undoubtedly focused on the Apple Watch, there could be other products announced. There's been a flurry of rumors around what else we will see on Monday.
The most popular rumors seem to be an announcement about a completely redesigned MacBook Air, first reported by The Michael Report, with a 12-inch Retina screen and thinner frame, dropping USB ports and SD card slots. There is also a chance that the existing MacBook Airs at 11 and 13 inches will get a refresh with newer Intel processors and other tech updates.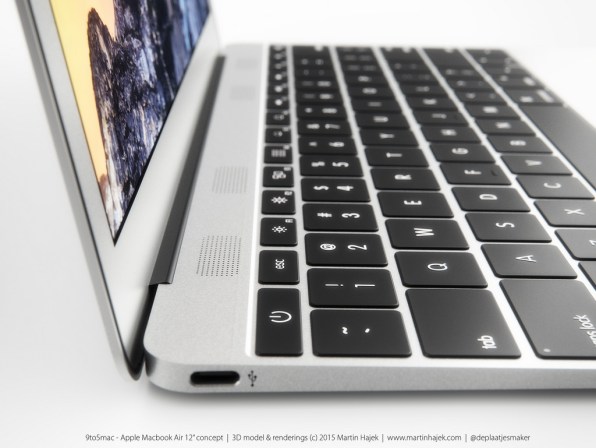 Many people have speculated Apple may also unveil a new version of the Apple TV media box, considering the current version was released two years ago. It may be smaller, it may play 4K-resolution content, and it may have some new apps, according to Ars Technica. An HBO Now subscription service could be announced for Apple TV, a source told Michael Learmonth at International Business Times.
There had been some talk about the long-rumored iPad Pro with a 12.9-inch screen and the iTunes music subscription service based on Beats Music also being revealed, but those have been supplanted by new rumors that these two upcoming products will be unveiled at Apple's Worldwide Developer's Conference in June (Gurman at 9to5Mac and Bloomberg).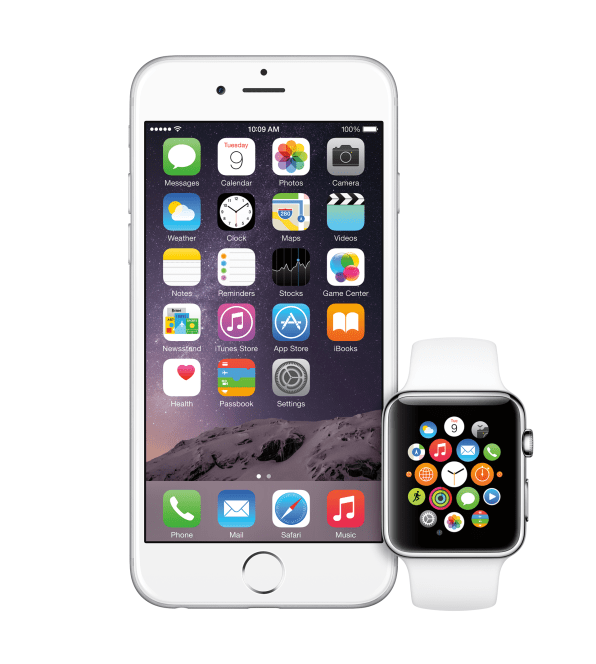 What may be a near certainty is that version 8.2 of iOS will be released on March 9 (Boy Genius Report), or at least sometime before the Apple Watch launch. The latest version of the mobile OS features the software and apps that will work directly with the watch–and which are a requirement to make it work at all.
As Fast Company live-blogs Apple's Spring Forward event, we'll update a scorecard in real time as rumors pan out–or prove to be false. Stay tuned for the lowdown.