Mad Men ad man Josh Weltman knows how to sell. Co-producer of the Emmy-winning series since its inception, Weltman advises creator Matthew Weiner on how to root SC&P's brilliant campaigns in reality by drawing on his own experience as a creative director who helped re-brand Doritos, Kia Motors, Carl's Jr., and dozens of other clients.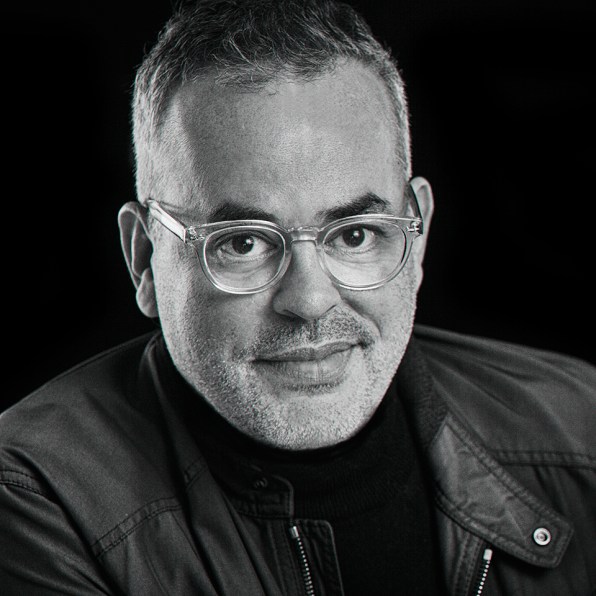 "Before Mad Men, lots of movies and TV shows took a swing at advertising but it never felt right to me," Weltman says. "In my experience, coming up with the actual ad is the last two yards of a long march filled with business problems and dead ends and red herrings and focus groups and concepts that don't sell. It's more about discovering what moves the audience to buy a product than it is about coming up with some idea to sell the product itself."
As Mad Men approaches the April 5 launch of its final seven episodes, Weltman shares insights about the art of persuasion in his new book Seducing Strangers: How to Get People to Buy What You're Selling. Weltman, who will appear at SXSW appearance on Monday, spoke from Los Angeles about the art of the pitch, the charisma of a drippy burger, and the magic of heart-felt advertising.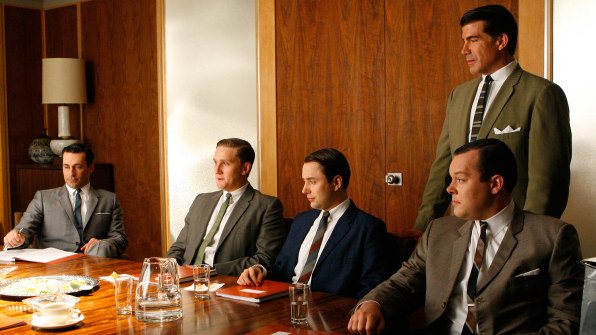 Seducing Strangers underscores the importance of a strong set-up. "When you go in to pitch a room full of clients, the people on the other side of the table have to nod in agreement with your assessment of the situation before you present your idea for the ad," Weltman says.
Mad Men episode "The Wheel" dramatizes the principle when Don Draper (Jon Hamm) pitches Kodak executives on his name for their new circular slide projector. "Don tells them 'Technology is a glittering lure,' and that's where he's trying to get the nod," Weltman explains. "Once he sets that up and everybody's agreeing with him, he goes to the idea that nostalgia can be even stronger if you do it right. He gets them to nod at this longing everybody feels to get back to a better time or a good time, represented by these slide pictures. He does all of that before revealing his name–'The Carousel.'"
Weltman's favorite "head nod" experience came when he began his pitch to Earthlink executives with a heart-rending anecdote. "I told the story of my friend's dad who'd been given six months to live by doctors," Weltman recalls. "Then he went online and took control of his destiny by finding an alternative treatment. The executives were all nodding before I even showed them the first frame of the story board."
Weltman re-engineered Doritos TV spots by ditching the company's effort to tout the snack's healthy food aspects to mothers. Instead, Weltman targeted teenagers with Jay Leno-hosted spots that framed the product as an "oral fixation," as he writes in the book. Sales exploded.
"You can't be the thing for moms, and also be the thing that kids want," Weltman says. "The takeaway is that you can't have it both ways because it's very hard to create a clear, specific promise to one type of person while making a different promise to a different type of person.
Mad Men makes that point in season three when Don Draper offers love interest Rachel Katz his take on her Menken's department store. "Rachel says she wants the store to be more 'Fifth Avenue' and Don tells her if she wants to go upscale, then she has to get rid of the bargain basement people who come there for the sales bins." Weltman says. "The more diffuse the message, the weaker the ad. You only stand a chance when you take all your media and aim it at a very tight target."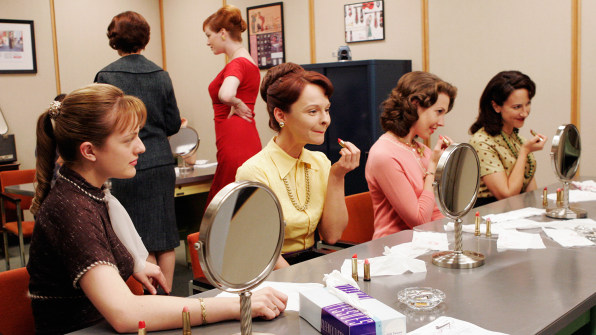 Weltman helped re-invent Carl's Jr. public image by flaunting the price of the chain's $3 burger as alternative to McDonalds' dollar meal program. More importantly, they studied how 18-to-34 male customers actually ate the food. "Focus group videos showed guys bent over the table like apes and putting their palms up as if they were catching drips coming out of their mouths. We realized 'It's the drip, the juicy thing that differentiates us from the sterile, static 'hero' burger. Carl's Jr. makes big sloppy burgers and if we make that happen in the ads, guys will respond.'"
In the Mad Men campaign for Belle Jolie's 100 shades of lipsticks, Peggy Olson (Elisabeth Moss) shifts the differentiation from sheer quantity to personalization, says Weltman. "The client sees the feature as being this huge selection of 100 colors, but Peggy turns that into the benefit of the woman buying the lipstick. You can find just your color."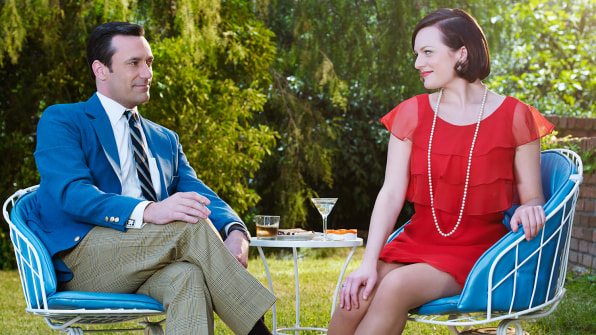 Notwithstanding creator Weiner's attention to scrupulously fact-checked detail, Mad Men ultimately needs to succeed as drama and Weltman appreciates the distinction. "Typically what goes on at an agency is that a writer and an art director sit in an office staring at each other for seven hours leafing through magazines before somebody says, 'What about this?' and then the other person changes it a little bit. Not really exciting. But in Mad Men, advertising stories let the audience see what's going on emotionally inside the characters when Don and Peggy go beyond the specifics of the product or business and strategy and really put their hearts into it."
For example, Weltman says, in Sterling-Cooper's American Airlines campaign, "They're trying to appeal to the businessman who flies. First they go down the sexy stewardess route but don't like that. He finds a little girl's face in one of the comps and draws a square around it. Then Peggy says 'What did you bring me daddy?' The scene brings her feelings about her father and Don's feelings about his family into the ad."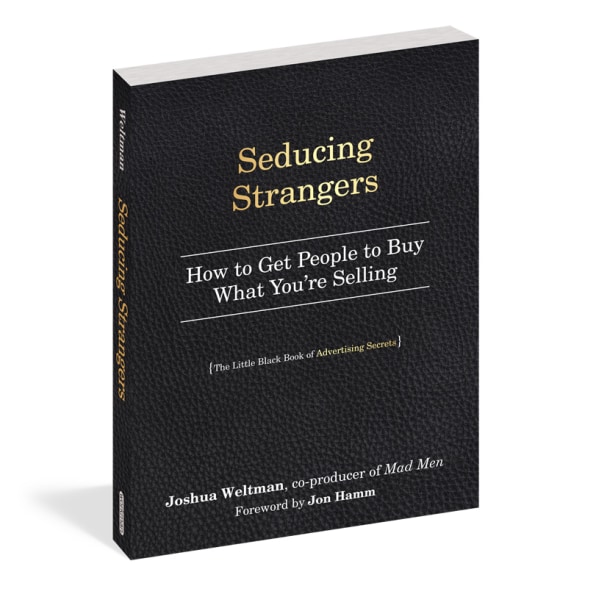 It's hard to imagine Don Draper as a 21st-century ad man obsessed with clicks and hits and viral infotainment. Weltman acknowledges that digital age advertising favors "back and forth" relationship- building over the auteur-driven ad work represented in Mad Men. "In the information economy, everybody's expected to be both the product and the shill," he says. "There's a lot of talk about platforms and technology and 'content,' but Don Draper knows how messages work. He understands the wants that drive other people. That's as useful today as it was then."