"Beautiful Dreamers is a wonderful, magical environment with beautiful and eclectic fashion, jew­el­ry, and home wares. I want my whole world to look like this store."
— Pamela Love
Designer; Fast Company Most Creative Person
"I am really inspired by these essential oils from Muji, like Lavender or Refresh, a blend of citrus and eucalyptus."
— Nova Covington
CEO, Goddess Garden Organics
"When people ask me about what it takes to start a company, I refer them to the documentary Sriracha because it exhibits dedication, pride, passion, joy, and creativity."
— Iqram Magdon-Ismail
Cofounder, Venmo
"The dynamic float table by RockPaperRobot responds to the forces you apply to it without losing its functionality."
— Kim Gordon
CEO, Depict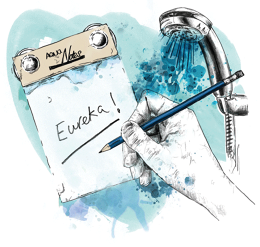 "You know how you always have the best ideas in the shower? AquaNotes are a way to capture those brilliant thoughts."
— Paula Rizzo
Producer and author, Listful Thinking
"I'm trying to cut out coffee. Yogi Tea—specifically Vanilla Spice Perfect Energy—gives me the energy I need when I've had a late night."
— Brit Fitzpatrick
Founder and CEO, Mentor Me
"Ghostly, an indie record label from Detroit, has one of the best selections of online goods anywhere, from band T-shirts to collab­or­ations with brands like Warby Parker"
— Ed Aten
CEO, Merchbar
---
1. East Jerusalem West Jerusalem by David Broza
"Broza brings together both Israeli and Palestinian musicians, most likely at great personal risk. The music is transporting and helps you imagine a peaceful bridging of that divide."
— Susan Margolin
President, Docurama
2. "When Venmo was getting off the ground, we would go to Wildlife Control concerts on the Lower East Side, and their music kept us goin' on and on and on."
— Iqram Magdon-Ismail
Venmo
3. My Favorite Faded Fantasy by Damien Rice
— Matt Galligan
CEO, Circa
4. Too Bright by Perfume Genius
— Pamela Love
Designer
---
"It's an old-school, completely manual focus camera. Unlike with a cell phone, just snapping away will produce nothing but blurred pictures. When I have my camera on me, I am so much more conscious
of the beautiful everyday details around me."
— Jason Wilson
Principal designer, Pinterest; Fast Company Most Creative Person
---
"We've been using Newsom's country hams for 10 years. Cured and smoked, then aged for over a year, the hams are salty, funky, and moody. So delicious, you'll want to use every scrap of them."
— George Weld
Chef and owner, Egg, Brooklyn
From Breakfast: Recipes to Wake Up For, by George Weld and Evan Hanczor
1 Tbsp oz Fat or oil
2 Tbsp Minced Newsom's ham
1½ cups Sugar snap peas in their shells, trimmed
Kosher salt
Black pepper
Heat the fat in a sauté pan over medium heat. Add Newsom's ham and cook gently until the fat is translucent and the ham has just started to crisp at the edges, about 3 minutes. Add peas and toss to coat with fat.
Cook over medium heat until the peas are bright green but still have a little crunch, about 3 minutes more. Season to taste with salt and pepper. Remove from heat and serve.
A version of this article appeared in the April 2015 issue of Fast Company magazine.