When I spoke with Bill Conner, the CEO of security company Silent Circle, several weeks ago, he was excited about some upcoming developments at his organization. Silent Circle makes an encrypted Android-based smartphone called the Blackphone, along with a suite of security apps. Its flagship product was dubbed "the Android for the Paranoid" by ArsTechnica, and now Silent Circle is gunning for BlackBerry's remaining enterprise users with a formidable war chest. But unlike competitors Apple and Samsung, they're a far smaller company.
At the end of February, Silent Circle announced a $50 million funding round whose details were undisclosed. The announcement coincided with the Mobile World Congress in Spain, a CES-like trade show where the global smartphone and tablet market shows off its latest wares. Part of the money went toward buying out Silent Circle's partner Geeksphone's share in Blackphone, and the rest was put aside toward future projects. Silent Circle's current user base skews toward companies doing business in surveillance-loving countries like China and Russia, intelligence agency operatives, and civilians involved in custody or financial disputes who want to avoid snooping. With the new money, Silent Circle appears to be concentrating on a newer category: enterprise consumers who want encryption for large numbers of users at a time. In other words, BlackBerry's current user base.
Last year, Silent Circle scored a separate $30 million funding round led by Ross Perot Jr. and venture capital group Cain Capital. Shortly after the funding round was announced, Conner came on board as the company's CEO. An industry veteran who was previously in leadership roles at AT&T, Nortel, and security firm Entrust, Conner was joining an unusual company. As Fast Company reported back in 2012, Silent Circle came from a quasi-partnership between the cypherpunk and intelligence worlds; founders Phil Zimmermann and Jon Callas are best known for their work on seminal privacy platform PGP, while cofounders Mike Janke and Vic Hyder are former Navy SEALs with military intelligence backgrounds.
While the company has had a few hiccups–notably shutting its secure email service in the wake of the Edward Snowden revelations and a temporary vulnerability discovered in its texting app–Silent Circle has attracted a large user base; it claims $750 million in sales in 2014.
"Our company will still be good for consumers who are bring-your-own-device users" and need secure communications, Conner told Fast Company. "But we see uses all revolving around the enterprise in some form or fashion. We are going after users who want phones because they want to be secure in China, Russia, or other places; and C-suite executives or other business leaders looking for secure communications."
"It's more of an enterprise-customer than a pure-customer play," Conner added.
Silent Circle's new Blackphone 2 (which will have a 5.5-inch screen) is scheduled for release in late Q3/Q4 2015, and a secure tablet product is planned for 2016.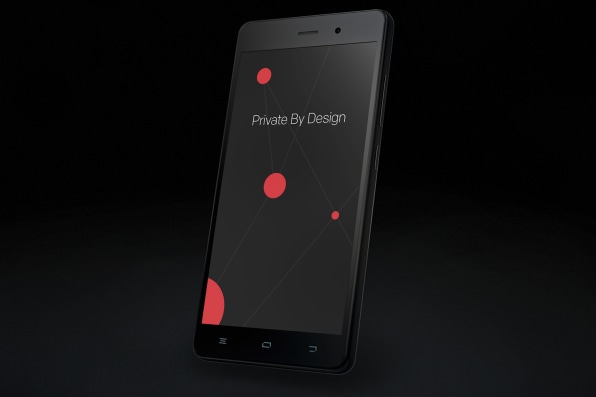 Judging from conversations with Silent Circle, corporations afraid of economic espionage by competitors, foreign governments, or hacktivists seem to comprise a large number of the company's customers. References were made to the intelligence-agency surveillance exposed by Edward Snowden, the massive Sony hack, and the lesser-known (at least in the United States) Gemalto hack, in which the Dutch maker behind many of the world's mobile SIM cards was reportedly compromised by American and British intelligence.
Silent Circle's headquarters relocated from the United States to Switzerland shortly after the Snowden revelations.
"Snowden raised everyone's concerns about who is surveilling their information; it raised awareness on capability big-time," Conner said. "It raised our profile of why an average person or an average enterprise person would have this capability in their hand. They don't just distrust the American government, but other governments as well, in terms of ability to watch or listen to what you're doing."
He added, "When we moved from the U.S. to Switzerland, Snowden was one of the contributing factors. Switzerland is one of the biggest privacy-protecting countries of the world. Most of our business is not in North America, it's in the rest of the world. Having a headquarters in Geneva was an attractive thing for the global customer base we have our lion's share of business with."
Silent Circle added that interest increased sharply after the scope of the Sony hacks was made public.
As Conner said, much of Silent Circle's business is outside the United States. However, it's not far from the border, in some cases. The company has a large customer base in Mexico, where it recently opened an office (with other offices in Silicon Valley, suburban Washington, D.C., Madrid, and Amsterdam), and throughout Central and South America. The company also confirms larger customer bases in the Middle East and East Asia. Several governments worldwide, including the United States, reportedly use the company's product as well.
With a market mix of government agencies, corporations seeking secure (or at least more-secure) communications, and other customers with money to burn looking for secure communications, Silent Circle seems to be shifting the market mix to include more enterprise.
Interestingly, they're doing it at the exact same time BlackBerry began pivoting toward becoming a software company. While BlackBerry's phones have nowhere near the security functionality of Blackphone or Silent Circle's Android apps, they have appealed to security-conscious corporate customers.
This past week, BlackBerry announced that it will start producing software (including security products) for iOS and Android. It also extended its partnership with Samsung to build enterprise security projects. Silent Circle's newfound $50 million in funding puts it in a perfect position to capture the security-obsessed enterprise customers that BlackBerry has traditionally courted.
Silent Circle's choice of the name "Blackphone" almost certainly was intentional, and BlackBerry's ongoing financial issues are well known. And in the meantime, Conner and his company are betting that BlackBerry's core market of security-worried enterprise customers will be willing to shell out for their Android-based products.
There's no love lost between the two companies, either. Onstage at MWC, Silent Circle's Mike Janke said, "We're replacing BlackBerry. . . . We're going to dominate them." BlackBerry has also published a series of blog posts claiming that Blackphone is insecure and offers a worse product than BlackBerry provides. Silent Circle declined to give specific information on the number of BlackBerry users that switched over. While BlackBerry represents only about 0.4% of the world's smartphone users, that audience primarily consists of well-heeled enterprise customers.