Anthony Bourdain shills for no brand.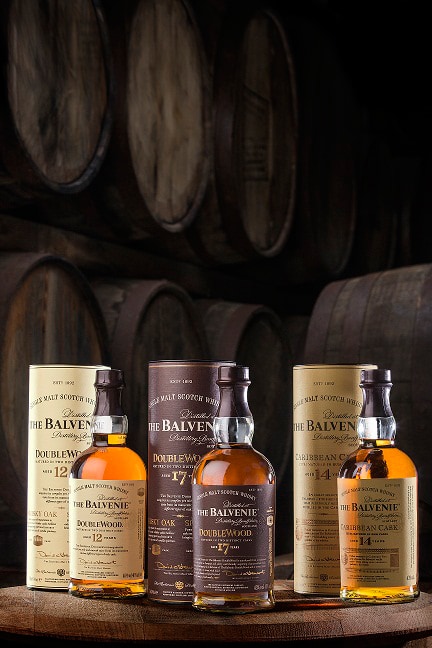 As a renegade from the culinary establishment and a critic of the food industry, brand partnerships go against his whole ethos. So it came as something of a shock when Bourdain announced last month that he was going to become the public face of The Balvenie, a Scotch brand produced by the family-owned William Grant & Sons company. "As you would expect, he was very skeptical of the proposition when we first brought it up," says Andy Weir, senior brand manager at The Balvenie. "We knew that he hadn't done an endorsement before, so we were prepared for a difficult conversation."
To get him on board, Weir and his team at The Balvenie suggested that instead of just shilling Scotch, Bourdain could focus on American craftsmanship: he could create a video series in the style of his Parts Unknown and No Reservations where he would travel around the country to meet artisans at work. The pitch worked. The first episode of this new series, Raw Craft, has already been released: in it, Bourdain hangs out with a pair of metalworkers who make cast-iron skillets by hand in Syracuse, New York. It is a painstaking process that results in only eight or nine skillets a day. "Craftsmanship is about doing things the old-school way, the slow way, the long way, the stupid way–the way that may not be the most profitable, commercial, or efficient," Bourdain tells me over email. (We couldn't chat over the phone, unfortunately, because he was en route to Beirut when I was reporting this story.)
The Balvenie is never explicitly mentioned in the episode, but when Bourdain decides to make a steak au poivre in the crucible furnace (a classic Bourdain move), he uses The Balvenie to make the reduction sauce. The video also ends with all parties involved downing glasses of The Balvenie, as one does, apparently, after a long day of iron working. It's not a particularly subtle endorsement, but then again, Bourdain is not shy about his love of Scotch. "It's a serious drink for serious moods, in my case," Bourdain says. "I tend to drink Scotch when I'm feeling sentimental, reflective, retrospective."
Bourdain represents a new generation of Scotch drinker. For centuries, Scotch was the beverage of choice for a particular kind of gray-haired gentleman who liked to sit by the fire in a smoking jacket with his trusty dog. Then, riding a nascent artisanal wave, Scotch suddenly became young and edgy. In the mid-2000s, old Scotch whiskey brands with difficult-to-pronounce names–Laphroaig, Caol Ila, Lagavulin, Glenfiddich–started showing up in the liquor cabinets of hip, urban twenty- and thirtysomethings. In Brooklyn, a whiskey and grilled cheese joint called Noorman's Kil opened in 2011; hipsters in skinny jeans pedaled over on their fixed-gear bikes to order $120 glasses of Scotch that were older than they were.
The Scotch industry was perplexed. "It wasn't a conscious decision for Scotch makers to attract a younger audience–it had to do with a change in consumer taste," explains Michael Giardina, senior brand manager at Glenfiddich, another William Grant label. Ten years ago, Scotch's youngest consumers were around 45; today, Giardina says they're as young as 25. And even though these younger drinkers discovered Scotch on their own, the Scotch makers are investing heavily in learning about this new demographic and catering to their tastes. The Balvenie partnership is a good example of this strategy at work, since Anthony Bourdain is a household name with the millennial set. But Scotch brands are doing a lot more: they're making sure their products are available at the right kinds of bars and restaurants. Brand ambassadors are inviting twentysomethings to parties where they can play ping pong while learning the difference between single-malt and blended-malt whiskies.
These efforts appear to be paying off. Consider the story of Michael Fearon, a devoted Scotch fan. In 2008, when Fearon was 25, he attended a Laphroaig tasting at a restaurant near Boston. His first instinct was to be skeptical: How the heck do you even say the name? (He points me to this video of people trying to pronounce Laphroaig, which mainly comes out sounding like "Lap Frog.") But Laphroaig's approach is to encourage new drinkers to be totally honest about how it tastes to them–inviting answers like "pee," "smoked fish," and "seagull's armpits"–which makes the whole process less intimidating. And the strategy worked. Scotch is now part of Fearon's life: he buys a new bottle every couple of months, he's bonded with other Scotch drinkers, and he even went on a tour of Scottish distilleries in November. His friends throw Burns night parties, in honor of the Scottish poet Robert Burns, where they drink Scotch, eat haggis, and recite poetry. "It's kind of like a book club, but for Scotch," he says.
The Balvenie's focus on craftsmanship is very strategic. When I spoke to Scotch experts, they agree that one of the main things that attracts young people to Scotch is its handcrafted nature. Scotch became popular at roughly the exact moment that hipsters in Brooklyn and Portland developed a fascination with artisanal food products–pickles, beef jerky, beer, mustard. In the face of big industrial food companies, these young tastemakers were searching for products that felt authentic and had an engaging story behind them. Since Scotch makers have always prided themselves on their small, family-owned distilleries, Scotch was swept up in this trend. The Balvenie, for example, has been made in the same place since William Grant built the distillery in 1892; his family still owns the company today. "This is a family that has lived out depressions, recessions, and two world wars," says Weir. "The battle cry of the Grant family is 'Stand Fast,' and it is pretty apt, because the family has stood its ground all these years."
As the artisanal food movement has grown, many companies have hopped aboard the bandwagon, claiming their products are equally lovingly handcrafted. Soon after Scotch became newly popular, American and Japanese whiskies also grew in popularity, and many have also used the language of craftsmanship to sell their products. (Old-school brown spirits have been slowly increasing in market share over the last decade, and currently make up 34.7% of the U.S. alcohol market.) While some of these other whiskies are, in fact, made in family-owned distilleries, many are owned by big corporations. Eric Felton points out in The Daily Beast that there is a factory complex in Lawrenceberg, Indiana, owned by the food manufacturing giant MGP that cranks out enormous quantities of bourbons, wheat whiskey, and rye, which is then repackaged by marketers to be sold as artisanal whiskies. There are now nearly 50 whiskey labels that bottle products from this one factory, including seemingly small-batch brands like Bulleit Rye and Hooker's House.
At the beginning of The Balvenie's series, Bourdain makes a compelling case that craftsmanship has become utterly diluted. "The term handcrafted gets thrown around a lot these days," he says. "It has become a movement–a trend–that can obscure the passionate folks that actually make amazing things by hand." With the Raw Craft series, The Balvenie is emphasizing its artisanal street cred without directly calling out its competitors that are passing off industrially produced whiskey as handcrafted stuff. "In our branding, rather than just saying we're handmade, we're saying that we really appreciate craftsmanship," says Weir. "We're using our voice and platform to talk about people that share our values–people who believe, as we do, in making things by hand, even though it is quicker to do it in other ways."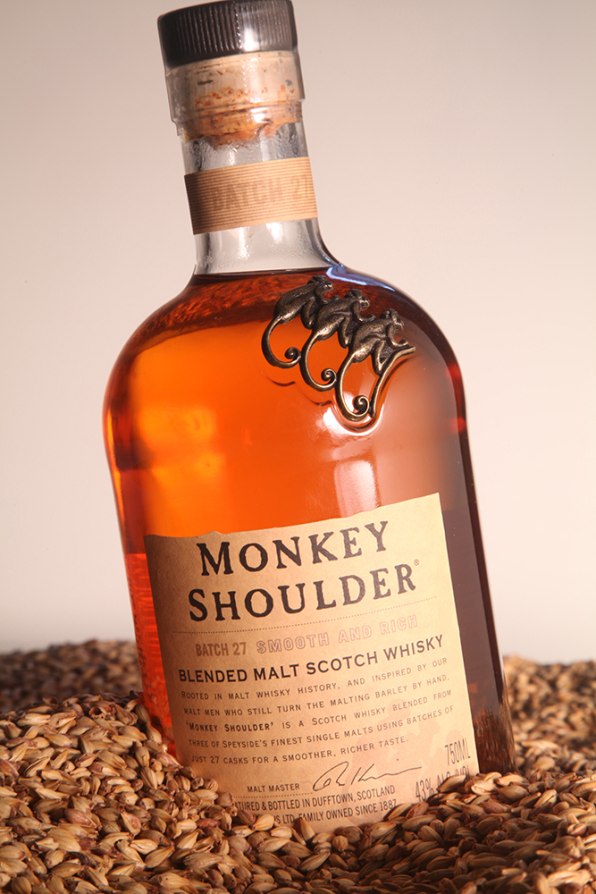 Will this focus on genuine craftsmanship help The Balvenie secure its place in the hearts and liquor cabinets of millennials? Perhaps, but William Grant & Sons is not taking any chances. It's also reaching out to younger consumers by more conventional means. Eight years ago, it launched an entirely new brand, Monkey Shoulder, that specifically targets the youngest possible Scotch drinkers, in their early 20s. "We like to think of ourselves as the naughty nephew of the Scotch category," says Tom Wade, Monkey Shoulder's brand manager. "We like to thumb our noses at the more pretentious ideas that go along with the beverage." At a price point of $32.99, it's cheap enough for recent college grads and it does not seem a waste to throw it in fruity cocktails. Wade tells me that the name is deliberately meant to sound cheeky and fun. But at the same time, it hearkens back to a specific part of the traditional whiskey-making process, where malt men would work long shifts turning the barley by hand, causing their shoulders to hang down like a monkey's. ("Don't worry," Wade says. "We now have a machine that ensures that we don't have to injure our workforce in the production of this beverage.")
While The Balvenie's goal is to target drinkers who care about the complexity of the beverage and the skill it takes to make it, Monkey Shoulder wants to make Scotch as simple as possible. "There's a lot of rules and rigmarole that go along with Scotch," Wade says. "For a new drinker, that's not necessarily the most welcoming community to get into: they don't want to worry about doing something wrong or making a fool out of themselves. Monkey Shoulder's approach is to let people drink it any way they want." The hope is that once the twentysomethings get a taste of Scotch, they will stick with it and want to explore other, more expensive, brands within the company.
In the cheeky spirit of the brand, it has marketed the product in strange and interesting ways. Monkey Shoulder invented a special extendable bar spoon that bartenders could keep neatly compressed in their aprons, but then pull out into its full length when they wanted to stir a cocktail in a shaker or tall glass. It was a wacky sort of gimmick to get on the good side of bartenders, but it worked like a charm: bartenders around the world who were given one for free have become loyal advocates of the brand. Monkey Shoulder also released a series of hilarious videos that played on the concept of spooning. There are few things that millennials like more than a viral video, and, if brands like The Balvenie and Monkey Shoulder have their way, Scotch will be on the short list of faves.