La Sera frontwoman Katy Goodman is an indie rock star equally at home among musicians as she is, shall we say, among a geekier crowd. For proof, look no further than the fact that she's gone back to college to get her computer degree, an outgrowth of her long fascination with computers and with the intellectual stimulation of programming.
Goodman has actually dabbled in coding with varying degrees of intensity over the years. The programmer side of her might not have seemed as obvious to her more casual fans, especially with Rolling Stone calling Goodman an "artist to watch" as it did a few years ago; it seemed like the stage–and recording studio–were where she was destined to call home. Nevertheless, long before fronting a group adept at big, insistent riffs and personal lyrics delivered in her dreamy, California-girl vocal style, computers were the thing she wanted to be around, a programmer the thing she wanted to be.
So much so, that Goodman found herself becoming a kind of hobbyist programmer, writing programs of her own in Visual Basic and coding her own websites for fun. She had ambitions, and she even thought about seeing where that interest might take her as she pursued higher education, but life, as it tends to do, got in the way.
Here, Goodman explains what happened next, and how she ended up throwing herself into computer coding in a big way.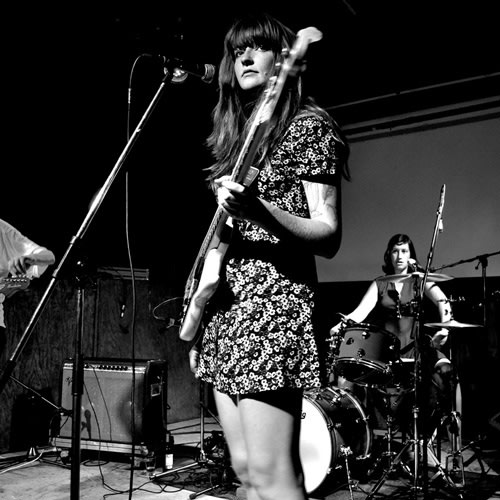 For starters, Goodman is back in school, at Santa Monica College. She's taking classes like Intro to Computer Science and Internet Programming, working toward a computer science degree.
"This is something that will run parallel to the band," Goodman tells us. "We're working hard on La Sera stuff, but that still leaves a lot of downtime, and I find programming super-fulfilling. Getting my (associate of science degree) in computer science is a nice way to fill up my empty hours and lets me use my brain in a different way. Also, it could lead to a career in the future."
During her first go-round at college, at the Rochester Institute of Technology, a bout of self-consciousness took hold. She thought the computer classes might be too hard, or that she wouldn't be good enough, or some combination of the two. She hung out with programmers instead of becoming one. After dropping out, Goodwin went back to college a year later, enrolling at Rutgers where she earned a bachelor's in physics and a masters in education of physics. Almost as soon as she'd done that, "my band did kind of well," she explains on her blog, and she spent the next seven years touring as a full-time musician (her musical experience also includes stints as the bassist with the now defunct Vivian Girls. She formed La Sera in 2010).
Along the way, she continued to dabble as a programmer. She created a text-based computer game to practice learning to code in Python. In the game, the player helps La Sera finds its way to a gig at the Echo in Los Angeles, since the band has gotten itself lost on the way to the venue.
Now, she's using her downtime between La Sera commitments to fully devote herself to getting to the next level in her knowledge of coding. She actually got started in earnest in December. She read through the book Learn Python the Hard Way, something that went fast because she'd already picked up Ruby some three years ago.
She coded an app, a Game of Thrones random deejay name generator, and went through the process of submitting it to Apple's App store. She says she learned "just enough" Objective-C to cobble it together, after which she wanted to put it online, but barring uploading it to GitHub, where she thought only the geekiest of geeks among her fans might find it, she thought Apple's App store was a better destination.
On her blog, Katy Learns to Code, she recounts her, at times, humorous experience submitting an app to Apple:
"I was like "Ok FINE, I'll pay the $100 to get the Apple Developer license to do it." I plopped down the money and went to find the upload button. Waaaaait, there's no "upload" button. Oh I have to get this certificate? Ok fine. 30 minutes later, I'm all "OK LETS DO THIS!" Waaaait…I have to archive my project and have it validated? Alright… so let's just do that then. NOPE. ERRORS EVERYWHERE. First, I had to make about 9 different sized app icons. None of them were ever the right size, and they were being denied left and right." Next, Apple informed her she needed to prepare screenshots, so she made five of those for different sized iPhones. "…Might I remind you," she practically snickers on her blog, "my app is DUMB. Like, really dumb." Fast forward five hours, and she's done. At which point she finds out it takes 1 to 2 weeks to get accepted. (Needless to say, it was denied. Apple said there was too little content, and a copyright issue over the Game of Thrones name likely would have reared its head, too.)
"The app I submitted to the app store was tiny and useless, but the whole process was fun," Goodman says. "Right now, I don't have any big personal projects, just a few online apps that don't do much. My goal right now is to learn all the tools to build anything I want, so if the moment comes when I do have a cool idea, I can make it myself."
Among the insights she's picked up since diving deep into coding over the past few months: get good at Googling. And, she says, recognize Stack Overflow as your new best friend.
Something else she likes to code from scratch every now and then is how to find prime numbers. She'll write a program that takes a number from user input, and finds all the prime numbers between 0 and the given number.
"Until very recently, I assumed that computer science classes would be 'too hard' for me to take," she says. "But what this really boils down to is that I'm pretty scared of the unknown. Now that I've actually started studying this stuff, it's not as hard as I thought it would be. I've read some articles that men tend to 'round up' their abilities and women tend to 'round down.' This tends to pop up a lot in programming because, in general, I tend to think I'm probably not as good as the people around me. But I'm slowly learning this is not the case."
A postscript: don't worry, La Sera fans. When she's not coding, she's still planning to record a new album this spring.