John Lehmann, a Vancouver-based photojournalist for Canada's The Globe and Mail who was named Canadian photojournalist of the year in 2012 and 2013, is used to seeing his work shared on a wider scale. Still, he was excited when Apple reached out to him for permission to include a photo he had snapped of a wild horse with his iPhone 6 Plus in the new "Shot on iPhone 6" campaign.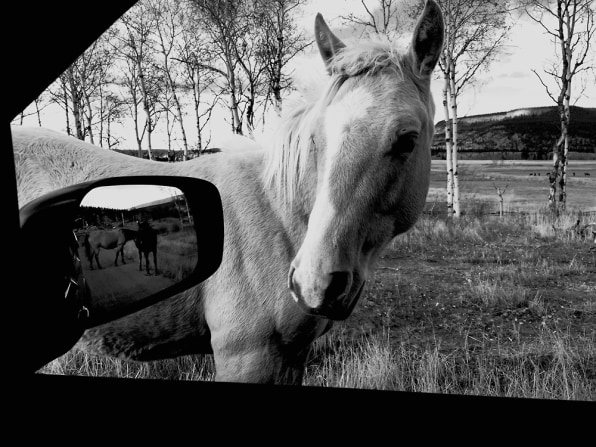 "As an artist, any time your work is recognized by another organization or institution, it's a real honor," Lehmann says. "And to be recognized by a global and innovative company such as Apple, yeah, it's a real thrill."
Apple found Lehmann's photo on Instagram. The brand has been scouring the Internet in recent months, poring through tens of thousands of photos, to find a few dozen non-commissioned images to feature in its "Shot on iPhone 6"-themed campaign, which launched just this week.
The 57 photos—taken by people from all over the world, ranging from amateur to professional photographers—are now being showcased in a Apple world photo gallery and featured in a global outdoor and print campaign that will see the work displayed on Apple's billboard space at bus stops and train and subway stations in New York City, San Francisco, Tokyo, London, Sydney, Beijing, and other cities. The images will also be used in print ads.
Giving over the brand's traditional ad space to found, user-generated content is a means of showing people that they, too, can take incredible photos with the iPhone 6–and the iPhone 6 Plus–no matter what their experience level.
Lehmann took his gorgeous photo, which he subsequently cropped, adjusted and made black and white through Instagram, while on a rugged road leading to British Columbia's Nemiah Valley.
"Just outside the First Nation village of Yunesit'in, the road was blocked by a herd of horses," Lehmann remembers. "I slowed to crawl, placed the car in park and rolled down the window. I was now looking eye-to-eye with a horse studying my every move."
Finding oneself that close to a wild horse is a rare occasion, and, not surprisingly, Lehmann wanted to capture the encounter in a photo. Given that horses can be skittish, and sensing that he didn't have time to play, he grabbed his iPhone 6 Plus off the dashboard and quickly snapped a few images before the horse walked away.
"I'm sure if I had made the decision to reach around to the backseat of my truck to grab my DSLR, I would have missed the moment," Lehmann reflects, noting that the huge increase in the capability of smartphones, notably the iPhone, has made the devices part of any professional photographer's kit these days.
"And as the saying goes," Lehmann adds," the best camera is the one you have on you."
Cielo de la Paz, a California-based UX designer, is an amateur photographer whose image of her red umbrella reflected in a puddle is also featured in the campaign.
She took the photo last December while out for a walk with her kids during the #hellastorm that hit the Bay Area at the time.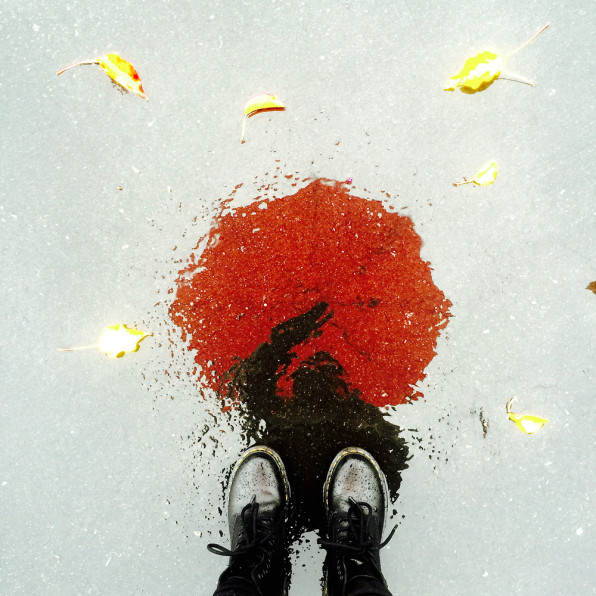 "We wanted to go see what 'the worst storm in 16 years' was like, so we went out for a walk in the morning to explore the damage and flooding," de la Paz says.
It wasn't so bad where they lived. "In fact, it was refreshing having rain. We splashed around for awhile and watched leaves floating into storm drains when I noticed that my red umbrella was casting this beautiful red reflection on the wet concrete," she recalls.
She took a selfie of the reflection, and after editing the lovely rainy day image with Filterstorm Neue, de la Paz shared it via Instagram and Flickr. Soon after, she received an email asking if she would be okay with the photo being featured in a new advertising campaign.
"I was beyond excited and honored to find out it was Apple," de la Paz says.
Have a look at more images from the campaign in the slides above.