Some people see Black History Month. To me? Just History Month.

— Caity Weaver (@caityweaver) February 27, 2015
It's graduation day here at Tabs! I'm your soon-to-be former Tabs Intern, Vicky. Rusty is still huddling in his ice cave, whimpering.
At my university graduation, the commencement speaker was a Canadian figure skater named Toller Cranston. The speech was full of notable quotables – the best one came when he implored all of us arts and business graduates to ditch academia, take a sharp left and consider, perhaps, numerology and astrology. I have few memories of school but I will always remember the sight of twenty professors shifting uncomfortably in unison.
I'm not a Cool Teen so Vine is out, and Facebook is for checking that people I dislike are less successful than me. I get all my news on Twitter now, which is how I learned that Toller Cranston died earlier this year.
A death on Twitter slides pieces of the world's chaos and heartbreak into a stream right along with the world's caprice, whimsy, righteousness, and civility. Personal grief on Twitter is amplified and circulated. Right now, many of our favorites are throwing a multimedia wake for Leonard Nimoy who lived the weird, the cerebral and the creative all through his life.  Yet to grieve on Twitter is to try to parse loss and sadness amid Buzzfeed quizzes, social commentary, pictures of animals being such animals, and screenshots of phones with very low battery life.
Recently, all the death made me want to quit Twitter. It was too sad and too sudden, especially for mid-February. But yesterday, glory halleluja, yesterday!
Men yesterday joined the other half of the population in experiencing an existential crisis over the colour of a dress. Wes Anderson released his live-action film of two young llamas that fall in love and make a pact to run away. CNN meanwhile did its part to advocate for the return of Brian Williams: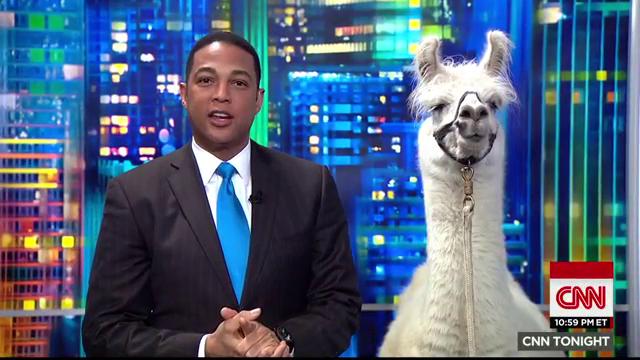 Wonder if the llama knows where the plane is?
Haters of mirth everywhere rejoiced.  The  Atlantic's Megan Garber patiently told them all not to be such downers:
The problem with attention-policing—besides the fact that it tends to be accompanied by humorlessness and marmery, and besides the other fact that it serves mostly to amplify the ego of the person doing the policing—is that it undermines the value of Internet memes themselves. Those memes, whether they involve #thedress or #llamadrama or #leftshark or #whathaveyou, are culturally lubricating. They create, and reinforce, theimagined community.
There should be a german word for waiting for a person to look away so you can roll your eyes out of their view

— dalia ☥ (@daliamalek) February 26, 2015
Buzzfeed churned out more content for their Girl Child is Now Human Woman vertical. They also launched the Girl Child in Conflict Zone is Now Human Woman Caught in Same Conflict Zone But Different Conflict section which will likely feature fewer sexpot pictures that marvel at the passing of time. Or maybe it will, what do I know? Good on these ladies for understanding that relationships are a transaction, and that boyfriends are, by definition, up for lease. I cannot decide if it is a good thing or a bad thing that KFC's edible coffee cups are not made out of chicken. Who among you will fund my Kickstarter to buy Rob Ford's crack tie? There are very few thematic overlaps between time travel and financial arbitrage so naturally the French provided.
That is only a slice of how weird and wonderful the last 48 hours have been. Of course there are problems and criticisms to be found in each story. For example: Why is Don Lemon? And is KFC making their cups edible so people can destroy the evidence that they bought coffee at KFC? Is Voldemort responsible for #TheDress? (He is. And you Black-and-Blue people might as well be Death-eaters. Just sayin'.) [Ed: The dress is black and blue.]
So, to paraphrase a legendary skater in his commencement speech to a young, impressionable future Tabs intern: Look around you, young ones, it is all a little bit bullshit so why not get a little weird?
What colors do I see on the dress? Well… *takes drag off of cigarette, stares into middle distance* regret mostly. Goddamn regret.

— ADadABeardACanal (@DadBeard) February 27, 2015
African Song Of The Day: P-Square, "Chop My Money"
Final Intern Thought: For my mom's birthday, I got her a verbal explainer of the Amber Rose-Kardashian-West feud, and she thanked me with a sigh of regret.
~To the tabs, to the highway, to the van, back home.~
Thanks to Vicky Mochama for being the best second intern I could have possibly hoped for. Thanks to Fast Company and Tinyletter for getting the Tabs to you, and thanks to you for reading them. I'll be back in April, Tabs may or may not be back in March! Stay tuned… to your email I guess? It may be time to put away that cliché now.