But the fact remains that we still spend an awful lot of time checking it, responding, and generally getting distracted by it. But it's a necessary evil according to new survey from the Pew Research Center. Six in ten (61%) American workers claimed email is "very important" to doing their job, beating out use of the Internet, which just over half (54%) ranked as important.
So what if there was a way to turn all that time spent on correspondence into something more meaningful?
That was the idea that Paul McReynolds and Alex Devkar were circling around when they decided they wanted to break free of corporate constraints and start their own company. Named Conspire, the Boulder, Colorado-based startup launched last year through Techstars and has grown to reach more than 36 million people, so far only tapping users of Gmail and Google Apps email accounts. The startup has raised about $3.5 million in seed funding and has six full-time staffers. Over the last few months the network has added in excess of one million people weekly, according to the company. Starting February 25, Conspire will be free to use by anyone with an email account that supports the common IMAP protocol.
Conspire didn't spring up overnight. McReynolds and Devkar, friends since rooming together as freshmen at Stanford, were poised for entrepreneurship even before an idea had solidified back in 2012.
Devkar tells Fast Company, "We knew a million important things go through email but they get lost there, trapped there, particularly for companies." So the initial germ was how the two could get all that content into a more usable form. It quickly became apparent that the content didn't hold the value, it was the sender and the recipient. "Who do I talk to to get the answer?" is how Devkar puts it. "That's what moves the needle."
Thinking about the relationships between connections, the two decided even more value could be added if they were to look beyond companies to any user. It's not just an enterprise problem, Devkar observes. Smashing that silo, "what you actually get is a network that spans companies and personal life," he says.
If this is starting to sound familiar, Devkar concedes that comparisons to LinkedIn have been made. But Conspire aims to tackle something that LinkedIn can't, says Devkar. "It's not good at the professional network side," he explains. All manner of connection requests turn into a huge personal network in which someone who you've worked with closely for a decade rates the same as someone you met for five minutes, says Devkar.
Rather than ranking connections first, second, or third, based on the degree of separation, Conspire mines email data and churns out a relationship graph based on the frequency, speed, and length of time two people have corresponded. If, for instance, you are someone such as a VC who regularly gets cold emails from people seeking funding, Conspire is smart enough to winnow those down based on how much–or little–interaction is actually taking place.
This goes several steps further than Shapr, the startup that is positioning itself to play matchmaker among smaller networks that users manually curate.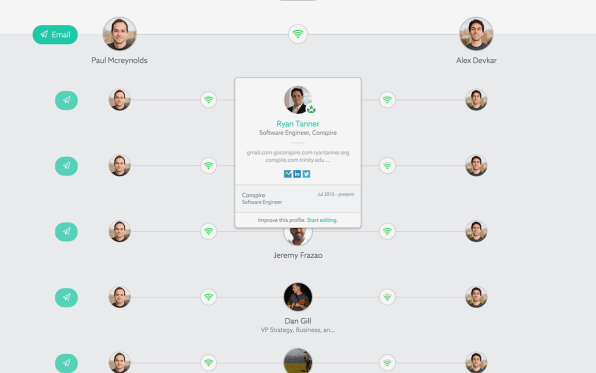 Not surprisingly, Conspire's first use cases are among the startup community, as it has been able to facilitate introductions between founders and investors. It does this by analyzing headers including the to, from, cc, bcc, and date fields of its users. This creates a "node" in Conspire's system for each user that connects to other nodes. And what about privacy, you wonder? No email subject lines or content is viewed or stored, Devkar insists.
Devkar admits this could be a challenge given that email–even for work correspondence–was formerly a private corner for most online users. Devkar maintains that there have been "no major issues" with privacy among its initial users, but the technology is so new "it has to be socialized and make sure everyone understands what [value] they are getting out, what they are adding to the system as well," he says. No actual contact information will be shared with a person who doesn't know you, he adds.
Yet even LinkedIn has struggled with such privacy issues as recently as six months ago when the company faced a lawsuit that alleged LinkedIn violated user privacy by accessing external email accounts. This is actually part of what you agree to when you sign up on the network and you are prompted to import your contacts to build up your network.
Before that shook out, LinkedIn seemed ready to offer its users something of an easier way to connect with people via email when it purchased Rapportive for $15 million. The mobile app LinkedIn Intro was shut down just four months after its debut.
Xobni, an email app that was acquired by Yahoo designed to integrate email, phone, and text contacts as well as social media updates into one smarter address book, was shuttered a year later.
Despite these failed attempts, or more likely because of them, Devkar says integration with social media channels and calendar information is on the horizon. A user's Twitter data will add @replies, direct messages, and bi-directional follower information to all of the email information to create an even more full potential network of connections. There is no firm date for this new feature, but Devkar says it's coming later this year.
Calendar data, which appears to be even more valuable than tweets and DMs, is a bit tricker, says Devkar. That's because of the different ways information is entered into a calendar, such as the use of place names for a meeting or lunch rather than person names.
As for revenue, Devkar says there is no plan to monetize the platform this year. In 2016, Conspire will roll out a feature similar to LinkedIn Premium that will target companies looking to hire, and also offer a way to search for individuals with specific titles or at specific companies or by geolocation.
Conspire's potential is only just being realized. Devkar tells a story about a group of high school students learning about entrepreneurship in Slovenia. One assignment was to find an actual venture investor and ask them a meaningful question. But how to connect? Conspire's platform enabled the students to connect to Gary Vaynerchuk, Brad Feld, and others thanks to shared connections between those running the program and the venture community in Europe. "The world of technology seems gigantic," Devkar muses, "But when you map it out in a six degrees of separation kind of way it seems like a much smaller world."