New York City is currently undergoing a thorough review of Airbnb activity in the city. Much of the debate has centered on whether the rentals violate the city's illegal hotels law, which prevents people from renting out apartments or rooms in them for less than a month unless they are also in the apartment at the same time.
Airbnb turned over data about the company's activities in the city to the New York attorney general. But it did not release that data to the public. Murray Cox, a photographer and programmer living in New York, decided to comb Airbnb's website for as much data as he could. Using the publicly available listings on the site, he wrote a program that pulled and sorted all of that information into his own website, InsideAirbnb.com. Based on that data, he found that about 16,000 listings are for entire apartments, many likely in clear violation of the illegal hotels law.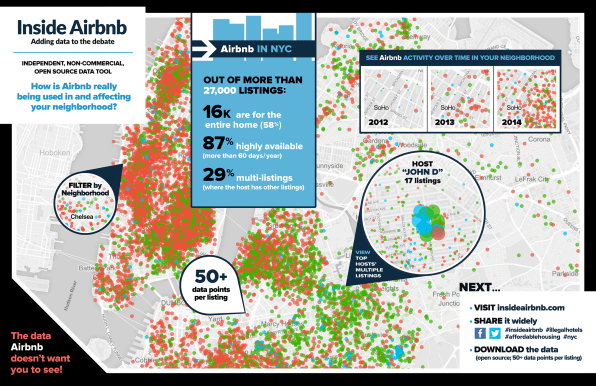 Ben Wellington, a professor of urban planning at Pratt Institute in Brooklyn, took that data a step further and ran statistical analyses on it. He posted the results to his blog, I Quant NY.
"The goal of my blog is to get people talking about public and the benefits of releasing data to the public," says Wellington. "Whenever I see a new dataset released that is part of the fabric of New York City, I'm always down for analyzing it."
Wellington's results weren't surprises, like that listings cost more in Manhattan than elsewhere in the city. But he also found that it's those wealthier neighborhoods, mainly in Manhattan, that have a higher proportion of listings for an entire apartment, as opposed to for individual rooms. The vast majority of those rentals are illegal. The map below shows the percentage of Airbnb listings for whole apartments by neighborhood.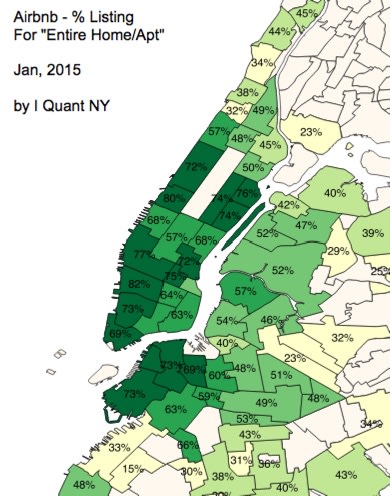 And this interactive graph plots a neighborhood's median income against its percentage of entire apartment listings. Clearly, there is a trend that the wealthier a neighborhood is, the more entire apartment listings there are. Mouse over a dot to see the neighborhood and exact numbers.
Another concern about Airbnb in New York is that it could be driving up rent as apartment owners or renters use the apartments as hotel rooms, exacerbating the shortage of affordable housing in the city. While it's impossible to isolate all of the variables that go into raising rent prices, Wellington's approach to this question was to see how many listings in each neighborhood were from people with multiple Airbnb listings. People using Airbnb as a business and running illegal hotels are by and large the ones who have multiple listings. The presence of those illegal hotels could drive up neighborhood rents. The map below shows the percentage of listings in each neighborhood from Airbnb users with more than one listing.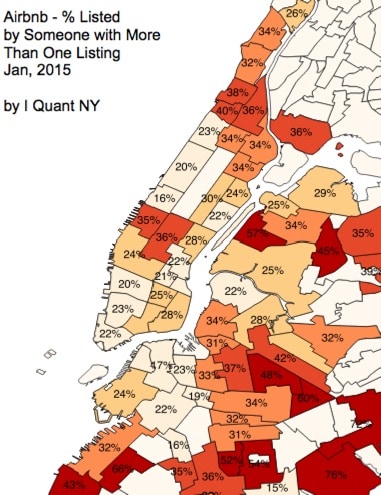 Clearly, some less central and poorer neighborhoods have a disproportionate number of listings from multi-unit listers.
Even with all of this data and analysis, Wellington is quick to point out that this was just a weekend project for him. "With data there's always a danger of over-stating things," he says. Nonetheless, he still believes in the power of open data for improving public policy.
Cox had to create an un-sanctioned workaround to pull data from Airbnb's website because the company refuses to make that data public. But open data advocates like Wellington believe that Airbnb should opt to make their data open so that the company's impact on the city can be evaluated. This is especially so, he says, when so-called sharing economy companies like Airbnb and Uber claim to be in doing a public service.
Head over to Wellington's blog to see more of his Airbnb data analysis, like the density of listings per resident and in what neighborhoods renters leave the best ratings.