Pandora is testing a service that allows artists to send audio messages to their fans, it revealed during an interview at Re/code's Code/Media conference. The feature will launch this week with a small group of artists as the Internet radio company works with them to figure out the content and delivery of these messages. They've even hinted at a "tip jar."
"We're providing musicians the chance to communicate directly in a targeted, efficient way with the audience they need to reach most—self-declared fans of their music," Pandora founder Tim Westergren tells Fast Company.
Other music services like Spotify and Apple have recently been putting more pressure on Pandora as a previously uncontested leader. Still, Westergren is confidant in the service's ability to keep artists pleased. "We have an unmatched combination of scale (over 80 million users a month), engagement (over 20 hours per month per listener), and personalized understanding of listeners' taste."
One of the first messages sent out with the new Audio Messages feature was from Lenny Kravitz, who used it to introduce one of his songs. There will be a number of different ways messages will be able to reach fans. Right now, that includes playing them when a station launches, before or after songs selected by the artist, or before or after any song by that artist plays.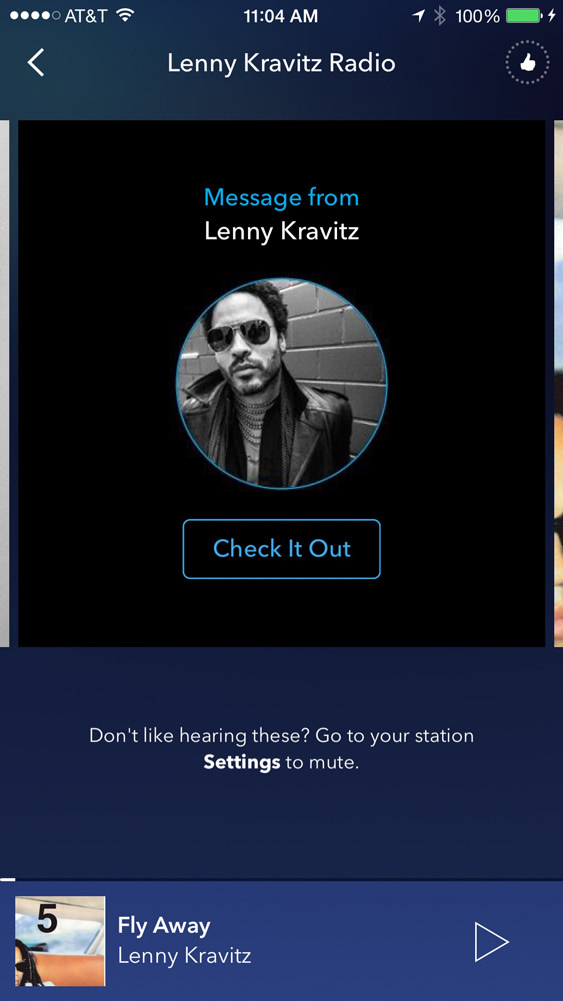 "As [Audio Messages] evolves, we can refine targeting for messages to maximize effectiveness for artists and engagement among listeners," says Westergren. "There will likely be messages that continue to be appropriate for broader audiences, like 'Thanks for listening' and more targeted ones like, 'I'm playing tomorrow night in Kansas City.'"
Audio Messages is part of AMP, Pandora's new artist platform. Launched last October, AMP has so far provided artists with relevant analytics data relating to song listens and—it's most valued metric—thumbs up and thumbs down. Pandora's 80 million listeners are generating lots of information that it can offer artists, including geographic information for determining which cities make the most sense to visit on tour.
Data generated from streaming music services like Pandora will likely prove to be nearly as valuable as the small royalties artists are amassing, at least compared to terrestrial radio. It's a trend other services like Spotify and Bandsintown are wising up to as well. It's almost become a peace offering between music startups and artists (or rights holders). That model of offering data as a form of compensation meshes with Pandora's decision not to use the new Audio Messages to generate additional revenue for itself. The company will continue to rely on ads as its main source of revenue, while limiting royalty payments.
Westergreen also said that eventually artists could set up a digital "tip jar"—an idea that's been tried before elsewhere but with limited success. "This platform will allow them to build a patronage," Westergren told Walt Mossberg on Wednesday. "An audience of patrons for them."
Pandora's effort to satisfy musicians, who have complained about low royalties from streaming services, coincides with its efforts to turn a profit. The company's share price fell 1.1% to $14.84 yesterday, and has declined 16% this year. While it made a "modest" profit last year, Westergren said that more than half of the company's revenue went to licensing fees. The service now boasts some 81.5 million active listeners—and more than 250,000 unique listeners who have created 12,000 artist stations—but user growth has slowed, which has led Pandora to seek increased advertising sales.
Even as Apple prepares to launch its own streaming service and another subscription price war looms, Pandora is betting that its artist-focused radio-style approach will pay off. "Innovation that benefits listeners, advertisers, and artists is something that has been central to our success thus far, and we will continue to invest in it," Westergren says.