Inspiration has a sneaky way of manifesting. What started as an artist off-handedly painting on his headshot has evolved into a multi-tiered celebrity-infused project on the nature of creativity.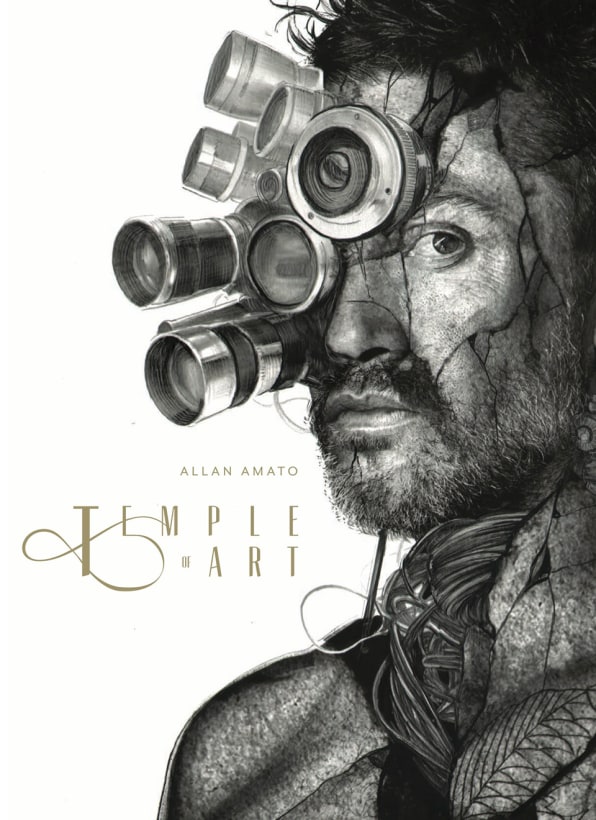 The photographer is Allan Amato, who specializes in fashion, print ads, and portraits. The artist is David Mack, known for his bestselling Kabuki graphic novel series. It all started back in 2012, when Amato took Mack's picture, which Mack then enhanced with a few brush strokes.
"He wanted the portrait to reflect what he did," says Amato. "I must have been percolating on it, because after a couple of days, I thought, 'That would be an incredibly interesting idea if I did that with multiple artists.'"
Mack introduced Amato to high-profile illustrators, like Bill Sienkiewicz and Kent Williams, who referred their friends. Over next three years, the collaborations blossomed into the Temple of Art, a multi-media meditation on the artistic experience, involving some 60 artists and writers from the U.S. and U.K., a 2014 San Diego Comic-Con panel, December gallery showing, coffee table book (out this month from Baby Tattoo), and upcoming July documentary.
But none of that was initially planned. "I begin my photo shoots with small talk to get people comfortable," says Amato. "We talk while I snap for awhile. It encourages them not to feel like they're being invaded. I asked how they worked, found inspiration, and survived financial and emotionally. They had some compelling flashes of inspiration that I hadn't thought of before."
Amato's idea to formally chronicle these thoughts crystallized when renowned San Francisco illustrator and educator Barron Storey came for a sitting. "He was so erudite and compelling, and taught me a lot about what I was doing," says Amato. "I thought, 'There is such wisdom here and if I want to hear more of it, probably a lot of current and aspiring artists do, too.' I initially thought of a short art-centric film. But as more people joined, it got bigger, and I began thinking that there's an application for anyone who uses creativity."
The elements came together in a serendipitously haphazard way. Artists recommended friends from several sectors of the art world, while Amato called former clients he'd befriended. Writer Neil Gaiman and his wife, performance artist Amanda Palmer, offered to executive produce the film, with Palmer appearing in it. Amato organized a Comic-Con panel last summer to launch a Kickstarter campaign, which would raise $80,000 towards the film, and drew donations from Gaiman and director Kevin Smith.
The edgy La Luz de Jesus Gallery in Los Angeles' Silverlake district caught wind and offered a show. Writer Grant Morrison asked to perform a spoken word piece at the opening, which was filmed for the documentary. Morrison may appear, with his words sprawled across his portrait, in a limited edition of the book. Johnny Depp purchased two pieces.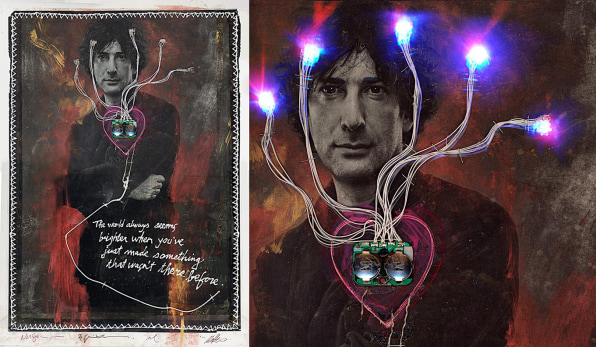 "Not only does Allan take some of the best photos of people I've ever seen, but then asking them to comment on those pictures adds to the dimension of personality and depth," says Morrison. "He makes us look like gods, very beautiful and perfect. But then the artists have gone back and added their own inner dimensions, and sense of self and time passing. It's the combination of the perfect image and the interior self-being of how these artists actually see themselves—stamped across them."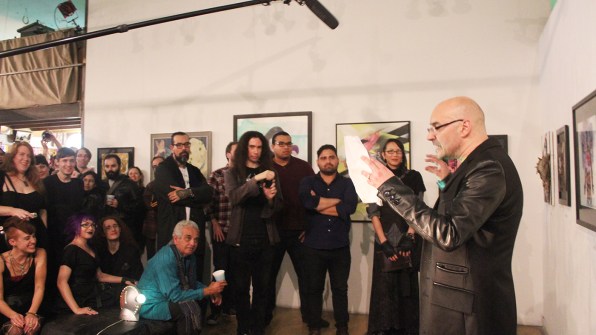 The project inspired future collaborations between some East Coast and West Coast artists meeting for the first time, and pushed others out of their comfort zones. "I normally draw in charcoal, in black and white," says artist Stephanie Inagaki. "But Allan shoots in black and white, so our collaboration was a genesis for my using collage and color. I ended up doing a solo show using collage, so it opened up a completely new avenue for me."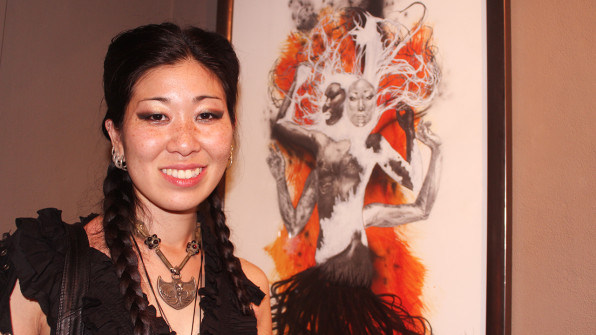 Amato's career path was equally circuitous and intuitive. ("I came from a long line of non-artists," he laughs.) He spent his first 12 years in Zimbabwe, before moving with his family to Connecticut to escape mounting civil unrest. He chose the University of California, San Diego for the climate and location. ("I didn't have an epic time in Connecticut," he says. "California was the furthest place from it.") After graduating in 1997, he gravitated toward web and graphic design, and art direction, until the dot-com bubble burst in 2000.
Demoralized by the "dot-bomb," Amato licked his wounds by bartending in New Orleans, only to be displaced by Hurricane Katrina in 2005. "All my priorities shifted," he says. "I realized life could end at any minute and that this is not what I should be doing."
Relocating to Houston and living off savings, Amato gave himself a year to figure out his purpose, during which time he rediscovered his old photography hobby. Returning to LA in 2006, he worked as an art director while honing his camera skills, until a layoff during the 2008 economic downturn forced him to fly on his own. And that, he did, with celebrity portraits of Morrison and Gaiman, actors Thomas Jane and Nathan Fillion, director Terry Gilliam, as well as print ads for TV's Justified, Miller Light, Dove, Von Dutch, and the NFL Network.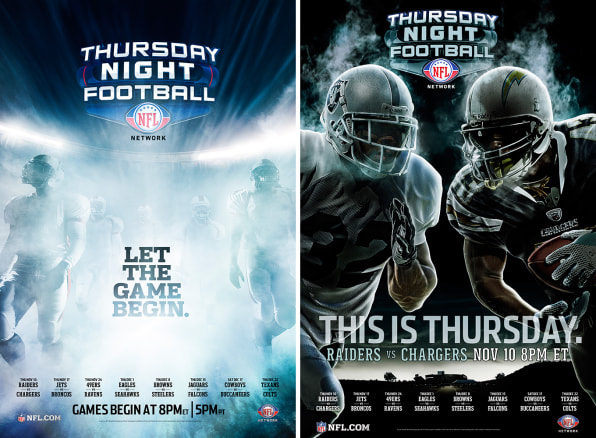 "The key was slowly building it up in a good economy," says Amato. "I developed my own style and people started to pay attention."
Despite the experience of running his own photography business, mounting the Temple of Art project proved "an extension of the art hustle on a far more intense order of magnitude," says Amato. "I like the logistical element of it—chasing down 50 artists and booking everything. That, to me, is creative and artistic.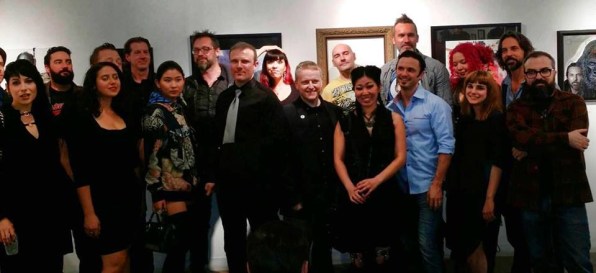 "But I have no aptitude for raising money," he adds. "Kickstarter was like pulling teeth the whole way. I never felt comfortable doing it, and it definitely hastened some male-pattern baldness."
Even the success of raising $80,000 was deceiving. "$80,000 turns into $30,000 really quickly—after you pay Kickstarter, [fulfillment provider] Amazon, contribution incentives, and taxes. Amanda Palmer [who caught flack for not paying guest musicians on tour after raising $1 million on Kickstarter] told me, 'People didn't realize I didn't get to keep the whole million.'"
Relief came in the form of his co-producer, musician Olga Nunes. "She helped immensely in pushing the boulder up the mountain," he says. "She started getting obsessed with it for the same reason I was. She said, 'This is like an art pep talk.'"
But, he adds, the business elements are something artists need to make peace with in today's landscape. "I had to produce my own project to see these ideas come to fruition and live on in the book and film," he says. "A lot of it is staying optimistic and focused while pursuing a creative life. It's a difficult path; you're hustling forever, and it never really gets any easier."