Digital eye tracking technology is used to striking effect in "Fight for Attention," a new interactive online experience from Skoda which goes live February 12.
The concept is simple: you spend 90 seconds watching two films played simultaneously, split screen, then Skoda tracks your eye movement, analyzes it then presents back to you which film you paid more attention to–in real-time.
The technology behind it is anything but simple.
Conceived by London creative agency 18 Feet & Rising, "Fight for Attention" was developed and built in partnership with production company B-Reel whose technology team adapted pupil eye-tracking technology developed by face tracking and animation specialist Visage Technologies to promote Skoda's Fabia model.
"The creative is built around the idea that the Fabia steals attention," 18 Feet & Rising creative director Anna Carpen explains.
"Skoda wanted us to use technology in a new way. So rather than produce another YouTube film, we started thinking about ways not just to grab attention but track it," she adds.

Typically, eye tracking–often used to research how website users view websites–depends on the user using downloaded software, a third-party plug in or a specialist device.
In partnership with B-Reel, the agency created a solution that integrates eye-tracking technology into the browser and uses now standard computer hardware: a web cam.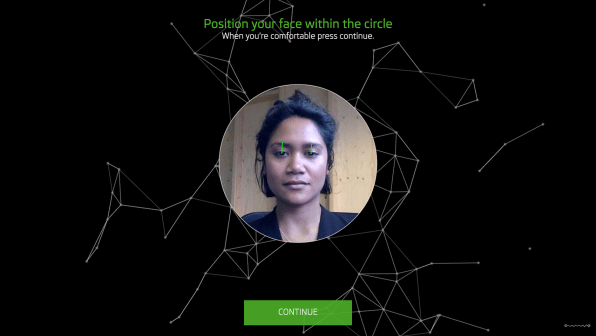 "The goal was to use the technology in a seamless fashion to offer and experience anyone could use on any computer," digital producer Brendan Marriott explains.
"The experience was built using HTML for a smoother finish than could have been achieved with Flash."
When users click on the link to the "Fight For Attention" site, they are first invited to interact via webcam so their eye movement is calibrated.
They then watch two live action 90-second films–directed by David Chvatal through production company Zoomfilms–in which two Skoda Fabias race thorough various locations, negotiating obstacles which are both real and animated.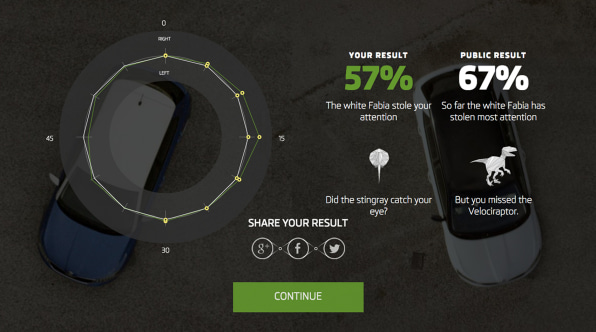 The personalized infographics which chart their unique viewing experience can then be shared on social media.
In the next phase of the campaign, due to roll out later this month, users will be offered a chance to re-cut the film using online editing software to create their own version then challenge friends to take the experience.
The most attention-grabbing user-edited films will then feature on a league table.