There's no coffee at this rave, and it's a problem. "It's hard to get people to deliver in the sixes," says the woman behind the bar, referring to the 6 a.m. hour. The coffee won't arrive until 7:30 a.m., she says, which basically sounds like never to me. I've been up since 6 a.m., and haven't had my usual cup of warm, milky, caffeinated joe. She suggests a green juice instead.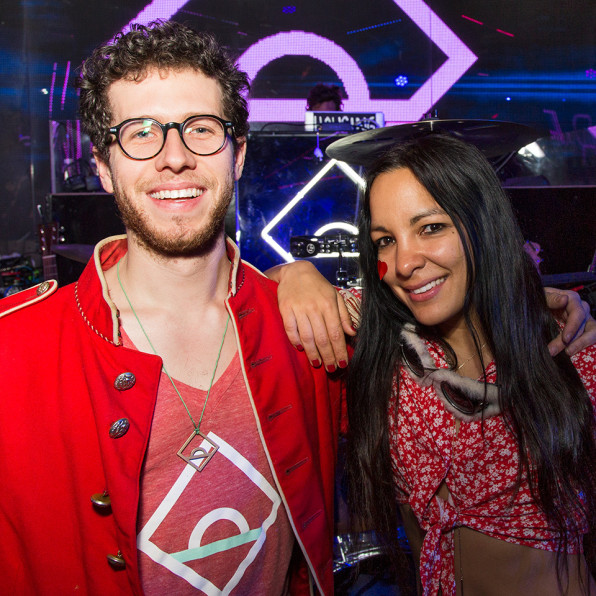 Caffeine isn't the usual drug of choice at a techno dance party, but it's the only sanctioned mind-altering substance at Daybreaker, a twice-a-month sober rave in the too-early-to-function (let alone dance!) hours of 6 to 9 a.m.
Daybreaker started as a social experiment. Longtime friends Matthew Brimer and Radha Agrawal were bored with New York's nightlife scene. "Nightlife can be exclusionary. It can be judgmental. It can be dark," says Brimer, also a cofounder of the tech vocational school General Assembly. "What if we turned it on its head and turned it into a different experience–create something that was really positive for people, almost tribal in its euphoric experience," he wondered. The two invited 300 of their friends to a morning dance party at a Union Square club, sans drugs or alcohol. More than 150 people showed up and danced out of the wee hours of the morning. It was so successful, the two kept it going, throwing parties every two weeks in a different venue.
Now, a year and a half later, at $25 or $40 a ticket, Daybreaker attracts between 400-600 people for each event. The parties have spread across the country to San Francisco and L.A. with events coming to Sao Palo, Tel Aviv, Washington, D.C., Sydney, and Amsterdam soon. In March, they're launching Daybreaker dusk, a happy hour dance party on Friday evenings from 6-9 p.m. They're calling it Apres Week.
Clubbing is a strange, disorienting thing to do before work. After a woman with a flower crown and fairy wings welcomes me into the cavernous Meatpacking district spot, I trip over a step. Despite the time and day of the week, Daybreaker feels like 3 a.m. at a Bushwick warehouse on a Saturday night. The vibe is Burning Man meets SoulCycle. Lasers bathe hundreds of people, mostly twentysomethings, hopping up and down, as a glowing character wearing a jellyfish costume floats by on stilts. A DJ pumps up the crowd: "Living is a choice. We choose to be happy. We choose the life we want to live. Now dance!" Attendees oblige, thrashing up and down to an "Ain't No Mountain High Enough" remix.
Although it's more music festival than Jazzercise, both Lululemon and American Apparel make strong showings. Others come dressed in slacks and business appropriate attire ready to head straight to the office, which is where most of the ravers will go after dancing the morning away.
If it feels weird to walk into a dance party at that hour, how does it feel to go from club to the cubicle? "I get so much done," says Andrea, a 23-year-old marketing manager with a high ponytail. This is her second Daybreaker. "Everyone is like, 'She's extra happy today.'"
All of the dozen people I spoke to alluded to increased productivity and general warm and fuzzy feelings throughout the day after a morning at the club. "Everyone says, 'You got lucky last night,'" says Mike, a 23-year-old chef with a huge grin on his face. "No, I got lucky this morning."
Multiple studies have found that exercise makes people happier because when active, our brains release various chemicals, such as endorphins. But dance heightens this effect, argues Agrawal. "You release different chemicals that you can't get from exercise–you get that from dancing, and in community, sober." Agrawal might be onto something: A study published in the New England Journal of Medicine found that dancing, more than any other activity measured, improved cognitive acuity, protecting against dementia.
"You begin your day feeling incredible," added Brimer. "You take that into your day. No matter what you're going to do, you're going to have that new spirit, new energy."
The post-Daybreaker glow is not necessarily about productivity, says Mona Elsayed, a senior strategist at Redscout, who attended Daybreaker on a company-wide outing with 15 coworkers. "If by 9 a.m. on a Wednesday you have danced on a banquet next to your coworkers, it sets a totally different tenor for the day," she said. "We definitely felt a difference in the energy of the office when we got back to work." Later that day, Elsayed hosted a naming brainstorm session that went better than ever. "Honest to goodness, I felt like the ideas were looser, more adventurous. They were a little more offbeat than normal, more abstract and experimental," she says. "Doing something strange together can change team dynamics and creative dynamics in a really positive way."
Of course, to get the benefits of Daybreaker, you have to set aside any judgments and dance. For jaded New Yorkers, this could be tough–but didn't seem to be a problem for those who self-select into Daybreaker. For most of the morning, the floor is packed vacillating between rowdy and solidly bumpin'. Sprinklings of people linger on the perimeter. For those who need a dance break, there's a photo booth or on-demand haikus by a duo of typewriter-wielding poets. A few just stare into the glows of their iPhones. In general, the mood is upbeat for that early in the morning.
To keep the energy levels up without the aid of drugs or alcohol, every 30 minutes or so a new pump-up gimmick is rolled out on the dance floor, starting with Bar Mitzvah-type dancers. Just as the crowd starts to fade, a brass band blasts its way through the throngs of dancers. The crowd surrounds the trumpeters, pulsing to their beat. Next up: human-sized plush vegetable characters bounce onto the floor. The crowd bounces with them. Then comes the finale, a choreographed line dance, a techno version of the Electric Slide.
Still, the party can only go so far on green juice. Coffee is imperative. In the 8 o'clock hour, the DJ chants: "More coffee has arrived; more coffee has arrived." The women in front of me go nuts.