Whether you believe Adnan is guilty or innocent, the podcast Serial put a clear spotlight on failures of the criminal justice system, and how hard it can be to know for certain if the right person is going to jail.
At 17, Jeffrey Deskovic was the same age as Syed when he was coerced into a false confession and sent to prison for a rape and murder he didn't commit. After being released on DNA evidence in 2006 (only after the real killer had struck again) and receiving the largest jury award ever for a wrongful conviction in 2014, Deskovic is now on a mission to help others avoid the same unimaginable experience he suffered. He is working to free innocent people and help them adjust once they're released.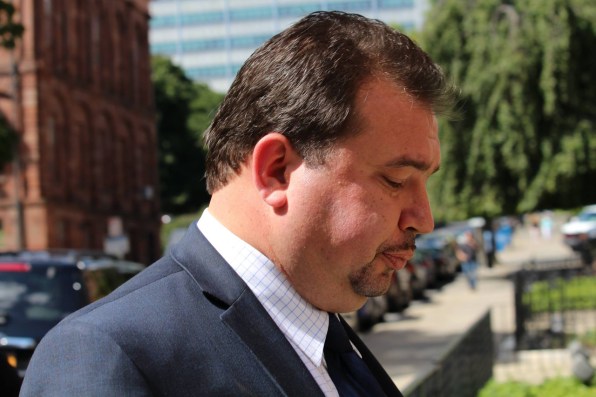 "A wrongful conviction is something that can happen to anybody. I wasn't living a life of crime. I wasn't a high school dropout," Deskovic says. "If this can happen to a Caucasian middle class teenager from Westchester, it can happen to anybody, and a lot of minorities are definitely more affected." (According to the National Registry of Exonerations, a record 125 people were cleared of crimes in 2014 alone, and the rate has been rising in the last few years.)
His path to starting the Jeffrey Deskovic Foundation for Justice wasn't a given at first. When he was released at age 33, he had never set foot outside as a free adult before. He had no job skills and nearly ended up in a homeless shelter. Because he was released innocent, he didn't even have the benefit of a parole officer to connect him with social services, and his situation fell outside the mandates of most nonprofits who work to serve former inmates.
The idea to start his own foundation came as he started to do speaking engagements, which for a long while was the only source of regular income for him. But not everyone who invited him to speak could afford to pay him. Then, about five years ago, his first settlement came through, a $6.5 million award from Westchester County (minus millions for various fees) and all of a sudden he found himself in an unexpected position of being able to actually launch something.
"Having keys to places is still kind of a new concept for me," says Deskovic. "It was surreal having employees work for me."
The foundation, which has four full-time employees today including a lawyer, is doing work in a range of areas that might seem to stretch its small staff thin. Deskovic still makes speeches, lobbies elected officials, and advocates for policy changes, such as ending the "innocent prisoner's dilemma," which forces innocent prisoners to express remorse for a crime they didn't commit to have a shot at parole or a reduced sentence (Adnan, from Serial, faces this issue too). It's also working currently on eight cases to free people who maintain their innocence; already it's been successful once, assisting existing lawyers in the case of William Lopez, who was freed after 23 years in jail for murder in 2013.
Deskovic says he now has a backlog of 300 cases waiting to be screened.
The last aspect of the work is about reintegrating exonerees into society, taking a cue from the challenges Deskovic faced upon his own release. The organization rents a two-bedroom apartment in Manhattan's Washington Heights neighborhood to house exonerees while they look for jobs and permanent housing. The apartment has housed people like Eric Glisson, a man who served 18 years in prison for murder and but was released in 2012 when others confessed to the crime (he's since started his own business, Fresh Take Juice Bar in the East Bronx).
Today, Deskovic is living a modest life that is still far above and beyond what he ever dreamed of while in jail. He bought a two-family home in the Bronx, and lives alone with his best friend in the upstairs unit. He's had to grow up emotionally, and says dating isn't easy with his backstory. In addition to being an entrepreneur, he's also become an investor, helping a friend start a home heating oil company and another friend launch a card game that helps families discusss the issues faced by former inmates in their midst.
He's also learned many lessons as a social entrepreneur–and those might sound familiar to anyone who has a passion and pursues the startup path.
"I definitely experienced a learning curve. I realized now in hindsight I really should have had a development team. I was only thinking about the advocacy," he says. "My naive thought was that I could just have a program staff around, and I could meet with potential donors, and they would see the quality of our work and just write checks. I needed a business plan." (He's using $1.5 million from his original settlement to seed the work, but says that him being the sole donor is not sustainable).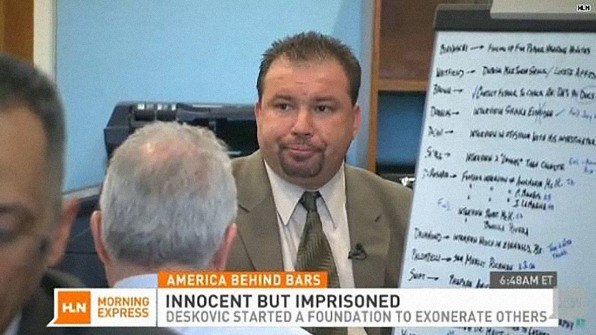 Another lesson also sounds familiar to any entrepreneur–that he couldn't do everything and needed to trust others. Today, the foundation is still looking for its first large donor or grant, and recently completed an only modestly successful Indiegogo campaign that raised about $5,500. The hope is to raise more funds to hire more staff. "It becomes a chicken-and-egg. Once you get your first large donor or first large grant, it's easy enough. But no one wants to be the first in," he says.
Would he recommend the entrepreneurial path to all his exonerees? Probably not. "You have to have the drive and ambition, and you have to be able to put in work." He's experienced it so far as a validation for himself as an exoneree–that he's "more than just his experience."
And for the record, if it's not already obvious, Deskovic is on Team Adnan.