Laura O'Neill and Ben Van Leeuwen make excellent business partners.
Since starting their business the day after they got married (with Van Leeuwen's brother Pete) in the spring of 2008, Van Leeuwen Artisan Ice Cream has grown to include six ice cream trucks (four in NYC, two in L.A.), and three brick and mortar storefronts in the East Village, Greenpoint, and Boerum Hill. By the end of February, a West Village location will open its doors and in March, a Williamsburg one will follow. Later this year, the operation is expected to open two shops in L.A. and a cookbook, titled The Van Leeuwen Artisan Ice Cream Book, will be released.
Plenty of couples start businesses together, but what makes O'Neill, 33, and Van Leeuwen, 31, unique is that they've been separated for nearly three years, yet Van Leeuwen Artisan Ice Cream continues to successfully expand. O'Neill says the trio is such a "a great team," the stress of the breakup didn't impact the success of their Balinese restaurant Selamat Pagi, which opened after O'Neill moved out.
Couple-run businesses are common with 3.7 million businesses owned by a husband and wife, according to a 2007 Census estimate. But most married business partners don't continue to run the business together once the relationship dissolves. O'Neill and Van Leeuwen are making it work.
"We're sort of a family business, but sort of not … we're kind of a modern family," she explains to Fast Company. "[After the breakup], neither of us wanted the other to walk away from the business and we didn't want to walk away either. When it's your own business and you put so much into it, it's a big part of you."
The two met in London in 2006 when O'Neill, originally from Melbourne, Australia, was visiting her father and Van Leeuwen was studying abroad for a college semester. After spending a few days together, Van Leeuwen visited O'Neill in Australia and a long-distance relationship soon blossomed. The next year, Van Leeuwen graduated from college and convinced O'Neill to quit her job as an event producer and move to Brooklyn with him and Pete to start some kind of business together.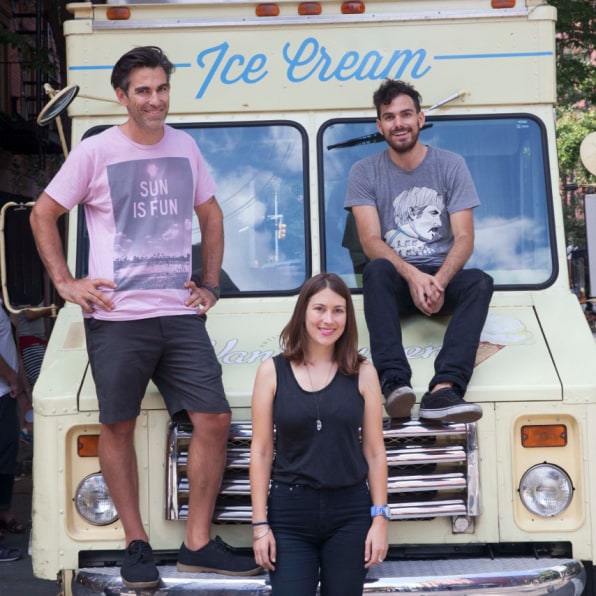 During Van Leeuwen's last semester in college, he realized that although there are tons of ice cream trucks in NYC, none served high-quality ice cream. The more research the team did, the more they learned that standard ice cream is made with "stuff it doesn't really need"–such as gum and corn syrup–"mainly to cut costs and cut corners," explains O'Neill. That revelation became the driving force for the trio to create old-fashioned ice cream with natural ingredients such as hormone-free milk cream, cane sugar, and nuts, fruits, and spices from small producers.
While their business experienced much success, O'Neill's relationship with Van Leeuwen took a turn for the worse and she moved out in June 2012.
"Working with a partner, it's definitely a make or break," she says. "We got married really young and there were other contributing factors. When you're living in each other's pockets, that's going to play into it as well." Despite the separation (the two are still legally married), neither wanted to leave the company they had worked so hard to build. They continued to work together and today, O'Neill says their professional relationship is better than ever.
Here's how she thinks her business has survived her breakup.
Respect is a must because you need to communicate openly and honestly, but, at the same time, have respect and compassion for each other's feelings, says O'Neill.
"We talk about the business all the time," she says. "We're very much still in the 'head-down' phase to grow the business into something that can sustain the three of us … no one is getting rich right now. It's all about all of us working really hard and being really respectful of each other and making it a very good work environment."
She describes her and the Van Leeuwen brothers as "family" who can be really frank with one another no matter how difficult the conversation.
Whatever happens in their personal relationship, O'Neill says the trio is always on the same page about where they want the business to go. She advises couples thinking about starting a business together to be really clear from the beginning about what they want so that nothing comes as a surprise later on down the road.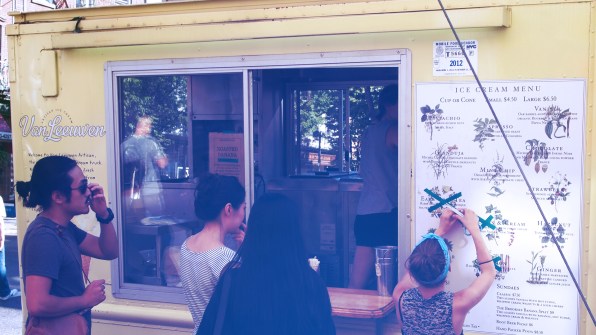 Even though it may seem counterintuitive to spend more time with your ex outside of work, O'Neill says it's important to have a relationship with each other outside of work because that's how you strengthen your bond. She says she's close friends with Van Leeuwen first and foremost, and while they gave each other space after the breakup, it was really important to both to rebuild their relationship even if they weren't involved romantically. Today, O'Neill says their friendship is so strong, there's little the two can't openly share with one another. Van Leeuwen is supportive of his ex and even attends her shows with her bandmate and current boyfriend.
While O'Neill admits that her situation isn't the norm, she says that ex-couples in similar situations should get to know each other again, because a strong relationship is needed if you're going to run a successful business together.
Honestly ask yourself, "Is this a good partnership?" advises O'Neill because if there are any cracks in the relationship, it will come to light after experiencing something as stressful as starting a business together.
"Take a look at the relationship just like you would any business partner," she says and really ask yourself if your partner is the absolute perfect one you can have for this kind of business.
One of the best pieces of advice O'Neill says she's been given is to wait 24 hours before responding during conflicts because it prevents you from saying something you'll later regret. Typically, the trio will discuss the conflict together and make a decision or "take some space and revisit later."
As the Van Leeuwen operation proves, it's possible that exes can push aside their personal feelings to focus on their business. Most people won't be as close as O'Neill and Van Leeuwen, but as long as you are capable of showing respect and communicating openly, there's a chance you'll be able to separate your business from what happened in your relationship.