London "funk poet" James Massiah performs an eclectic mix of original poetry to the accompaniment of no less than the Royal Philharmonic Concert Orchestra in a new campaign for U.K. juice brand J2O running throughout February.
"There's Joy in the Blend" is a social campaign conceived for the brand's owner, Britvic, by digital agency TH_NK involving the online release of a new piece of original filmed performance by the collaborators each week day until Friday, February 27.
The strategy builds on a new platform for the brand launched last November with a quirky TV ad by BBH London that combined hip-hop with traditional Irish jig music to demonstrate the power of blending contrasting elements.
In the new films, the spoken word poet explores a diverse array of subjects through a range of different poetic styles–including limericks, haikus, sonnets and rapping–accompanied by the RPCO's original arrangement of musical pieces including Elgar's Land of Hope and Glory.
The campaign is a metaphor for J2O's blended fruit juices, according to TH_NK creative director Phil Wilce. "Our brief was to extend the concept which is all about blending different art forms to create something even better into the digital space. But we were determined from the outset to do more than just another digital advertising campaign," he says.
So the agency set out to create beautiful, original content people would want to share–20 original blends between spoken word poet and orchestra, to be released one at a time over 20 days.
The idea was to tackle a range of subjects to appeal to different audiences, some addressing specific interests, others subjects with a more universal appeal, Wilce explains.
"We hoped some of the poems would target key influencers and get their buy-in and social endorsement, while others would be more personal and reward individual fans," he says.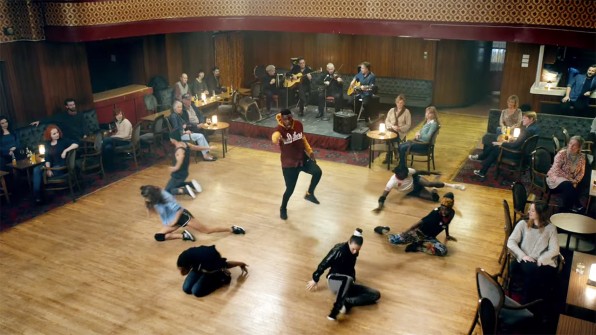 Britvic bought into the idea after seeing a mocked-up a piece of demo footage combining a piece of performance poetry from YouTube with a classical track from Spotify. The next challenge was to secure some actual performers.
The BBH ad had brought together Junior's Crew of dancers with Old Irish beats, so the names of the next set of performers had to include Js and Os. Which is one reason why they shortlisted young poet James Massiah–an upcoming talent who had already been nominated to be Young Poet Laureate.
"We made it clear from the outset that this wasn't about telling him what to write or how to say it, that we wanted him to be himself," Wilce insists.
"The hope was that he would address a range of subjects with wide appeal, but that these would be subjects he felt a real connection with. Rather than be proscriptive, we wanted to see what might happen in the hope that what came out would be populist and accessible."
In need of some orchestral accompaniment, TH_NK then approached the RPCO. "With little idea of whether they'd be interested let alone what it might cost, we decided to pitch high," Wilce admits. "But like James, they too were excited and intrigued. Everybody just wanted to make this work."
Key to the resulting performances was giving both parties the creative freedom to collaborate. So Massiah and arranger/conductor Benjamin Pope worked closely to modify words and music to suit each other, ensuring both elements would perfectly blend rather than seem to have been bolted together.
The first ten films–which include poems about the city of Manchester, the BAFTAs and magician Derren Brown–were shot in a single day in London's Rivoli Ballroom. The director was music video and brand content-maker Zaiba Jabbar through production company Partizan.
The first three poems – The Big Blend Theory, Magic Man and Northern Smoke–can ben seen now on the campaign's dedicated Facebook page where all 20 will eventually sit. Thursday's film, A Haiku for Mo, is an address to a fan.
The films are also being distributed via YouTube and Twitter.