If dealing with a single wireless router in your home is a pain, then wrangling multiple ones bridged together for extended range can turn into an exercise in self-loathing.
While simplified range extenders and more powerful routers have somewhat reduced the need for overly complex wireless systems in recent years, Wi-Fi still often remains a plug-and-pray type of situation for those with interference issues or large homes. It's the type of problem that can justify technology-adverse people driving to Starbucks for wireless Internet instead of actually dealing with the issue.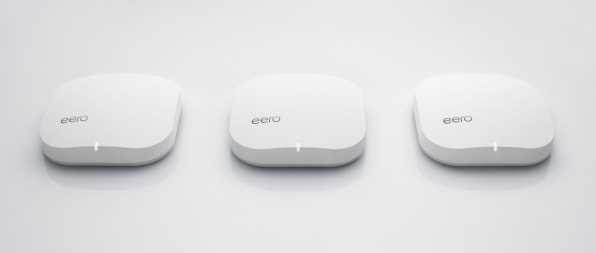 There's a chance all that heartache changes with the release of Eero, a new wireless system designed to cover your entire house and do the job without any hassles. The new wireless router is up for preorder today and should ship by the summer.
At $125 for each unit or $300 for three, it might be a tough sell to get people to replace existing wireless solutions, but Eero has a few aspects that make it a compelling purchase–especially for less confident technology users.
Eero is a complete system that relies on specific hardware and custom software to relieve current pain points. The micro-sized unit supports all the latest wireless protocols from 802.11G to 802.11AC. It also includes Bluetooth 4.0 (Low Energy), which lets you set up the unit from a mobile app, and also helps additional units configure themselves. It's one of the first routers on the market to feature this capability.
Eero also houses a cloud controller that allows better control and also keeps the unit up to date. "The cloud controller makes our networks much more intelligent," says cofounder Nick Weaver. "It helps to set our Eero network up automatically, push software and security updates, and power our mobile experience so people always know what's going on their network."
The ability to patch security problems is important. Last year when the Heartbleed vulnerability became known, it posed lots of problems for software embedded in hardware that might otherwise be left insecure.
Another important feature that sets the device apart is its design, something the founders were particularly focused on. "Design is a core focus of our company–from the hardware to the user experience," Weaver explains. "We've essentially simplified the entire home networking category into one single device. This focus allowed us to really invest in the design of the hardware and create a product that anyone can be proud of having in their home."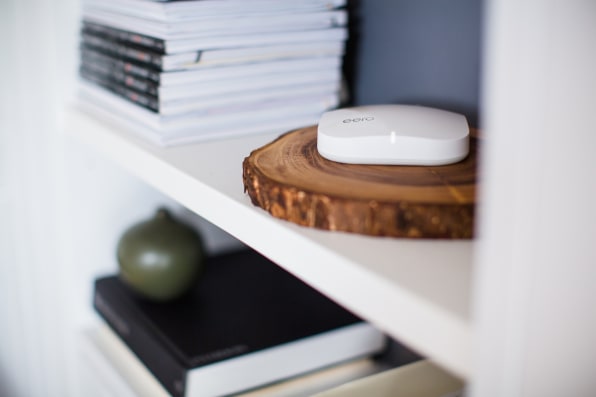 Aesthetically, Eero aspires to be fashionable and sleek enough that it doesn't need to be hidden away for fear of a Wi-Fi antenna poking a house guest–a distinct contrast to most other wireless routers. To accomplish that, Eero enlisted the help of Fred Bould, the designer behind the Nest thermostat. Bould has also designed products for GoPro and Roku.
The Eero has a smooth and curved top, for a shape that's gentle, while the sides are a matte finish as not to cause lots of glare. On the bottom is soft rubber so users feel like they can set it anywhere, on any surface.
Even if Eero lives up to its promise, it will likely be a long road before the company's products are welcomed into a significant number of households. Starting with a preorder period is a way to fully gauge demand as the company begins building its hardware. However, it's not conducting a crowdfunding campaign to raise funds: The company is backed by Yahoo cofounder Jerry Yang's AME Cloud Ventures, First Round Capital, and Initialized Capital. Jon Rubinstein, who helped develop the AirPort Wi-Fi line for Apple–as well as the iPod–is also an advisor to the company.
It might take a little bit of time before you start seeing Eero at retail locations and in people's homes, but it's easy to see why the company and its backers see a business opportunity in tackling the most egregious problems facing Wi-Fi users.