"If you want to talk about water, you ought to make beer."
Those words of advice–from Oregon's godfather of craft brewing, Art Larrance–launched a local wastewater treatment plant on a new mission a couple of years ago. In order to help Oregonians see wastewater as a valuable resource instead of, well, waste, they decided to partner with home brewers to turn the former sewage into tasty beer.
Clean Water Services, a utility near suburban Portland, already has unusually clean effluent. Because their treatment plant dumps into a very small river, the wastewater goes through a thorough process of ultrafiltration, reverse osmosis, disinfection, and advanced oxidation.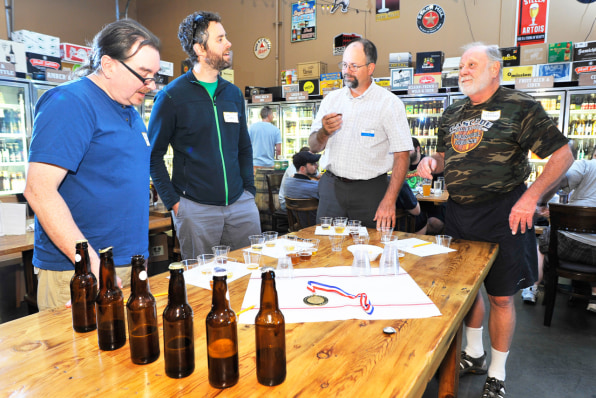 "When it's done, it meets and in most parts exceeds all drinking water standards," says Mark Jockers, spokesperson for Clean Water Services. "It's very similar to how potable drinking water is being made from wastewater right now in places like Texas and California."
Last fall, inspired by the suggestion from Larrance (who happens to be one of the utility's commission members) to think about beer, the organization invited local brewers to a small competition to make beer from the Tuolumne Tualatin River, using water directly drawn from directly behind the wastewater treatment plant.
It turns out that the ultra-purified water is actually ideally suited for brewing, because the water has a "blank" taste, similar to distilled water, that brewers can tweak as needed.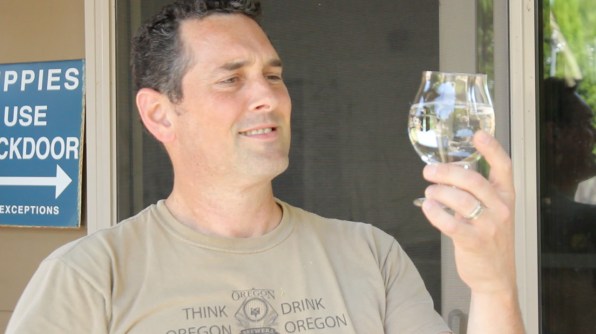 "They take this blank water and then they add minerals to it to create a certain profile," Jockers explains. "So if they want to make a Pilsner beer, they're going to try to get a profile that's similar to the Pils River. If they want a beer that's closer to a Bass, an English beer, they do a Burton-upon-Trent chemistry."
The small competition was a success–and now the utility hopes to launch another pilot using 100% wastewater (last year's experiment, diluted with the river water, was only about 30% wastewater).
It's all to prove a point–that maybe we need to start reframing how we think about wastewater.
"The challenge we have is for years we've always seen this product that we produce–which is clean water out of our treatment plants–as waste and how to get rid of it," Jockers says. "And increasingly, particularly given drought and water shortage issues, we're coming to realize that it's a resource."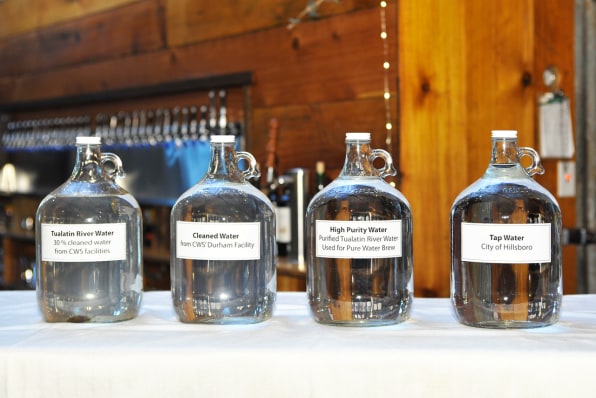 Drinking "used" water is actually not new, he points out. "We're trying to start the conversation that all water we consume has been consumed before, and will be consumed again," he says. "It's a closed system. We've kind of been in willful denial that this water we're drinking probably used to be sewage anyway. Ever since the first city built downstream from another city, from their waterway, this has been happening."
The utility will have to get official approval for the pilot, because the state has a prohibition against producing drinking water from wastewater. The Department of Environmental Quality will hold a public hearing on February 12, and then the utility will face more hurdles. But if they succeed, they hope to change perceptions of wastewater.
"You get a yuck factor," Jockers says. "People are judging water on its history. It used to be sewage. What we're trying to get the public to understand is we should judge water on its quality. So when this water comes out of this high-purity water system does it meet drinking water standards or does it not?"
Eventually, the utility believes that the state will have to change its regulations to adapt to a changing climate. "California, Texas, Australia–some of these places that have been faced with drought have already made changes to the regulatory process that enable more options," Jockers says. "So we're trying to get the Oregon regulations at a place that when we do run into the inevitable drought, we'll have the structure in place that will allow us to meet it in a more sustainable way."
Cheers to that.