Ever need something in your hands today but know a friend could get it to you cheaper and quicker than a shipping company? In Roadie CEO and founder Marc Gorlin's case, it was floor tile he had left in Birmingham, Alabama–tile he needed so his shower wouldn't flood his apartment in Perdido Key, Florida. Why, he wondered, couldn't he give someone in Birmingham already headed his way $20 to throw that tile in the back of their car?
Thus the idea for the Roadie app was born last February–and today, Gorlin and his crew are launching the app out of beta. Need a pair of skis you left back at your parent's house? Buy something too big to carry home by yourself on the bus? Users can get a certified Roadie to haul anything from a thumb drive to a grand piano (anything that will fit in a car) for a unilateral base fee plus mileage. Unilateral means that no matter how valuable the item, the base fee is the same.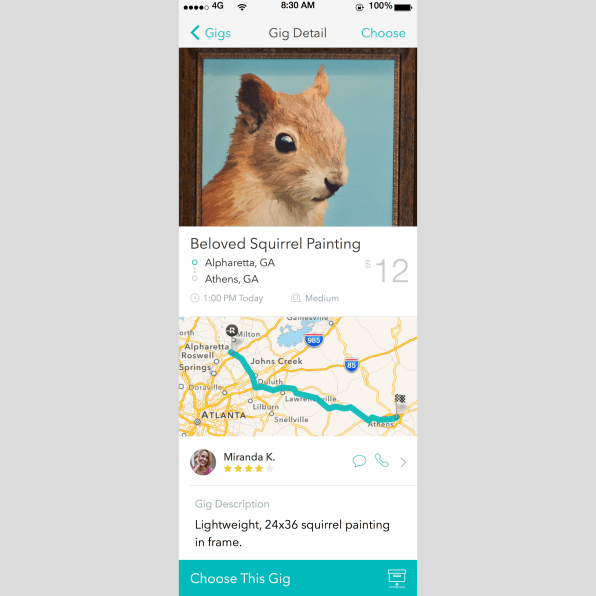 That's the "everybody wins" mantra Gorlin emphasizes about Roadie: By snagging someone who is already headed where you need your stuff to go, you save on shipping costs and time–while the world saves on packing peanuts and shipping truck emissions. While that base fee ($8 to $150, depending on your location) plus mileage isn't currently enough to make a living off of, it's pretty great to pocket $50 for a little extra shlepping effort on a drive you'd make anyway. And by only taking 20% of the fees (about average for an app service in the sharing economy), Roadie keeps the lights on and the costs low.
There are other benefits to being a stuff-shlepping Roadie: The app team has begun to line up restaurants and gas stations as Roadhouse Partners who will give Roadies discounts and a clean, safe, well-lit place to drop stuff off with their respective users–a neutral space helps bypass the scariest step of Craigslist exchanges. Roadie also offers free roadside assistance to its drivers, and as of 2015 Roadies can multiply each mile by 57.5 cents and write that off their taxes.
Roadie is launching with $10 million in Series A funding from an impressive lineup: UPS Strategic Enterprise Fund, Eric Schmidt's TomorrowVentures, Warren Stephens, Square cofounder Jim McKelvey, and Mellon group. But Roadie isn't based in Silicon Valley or New York City–it's headquartered in Atlanta, Georgia and only launches today in nine Southeastern states: Georgia, Florida, Alabama, Mississippi, Louisiana, Arkansas, Tennessee, and both Carolinas.
Launching a brand-new app with no functionality in the Northeast or the West Coast cuts out the vast majority of app users–but Gorlin says it's all part of the plan.
Like any app relying on user participation, Roadie needs its service areas saturated with enough drivers to live up to its promise of shlepping your stuff faster and cheaper than traditional shipping methods. If enough users and Roadies download the app and sign up in a new area where Roadie isn't already in service, Gorlin says, they'll flip the switch and let people set up "gigs."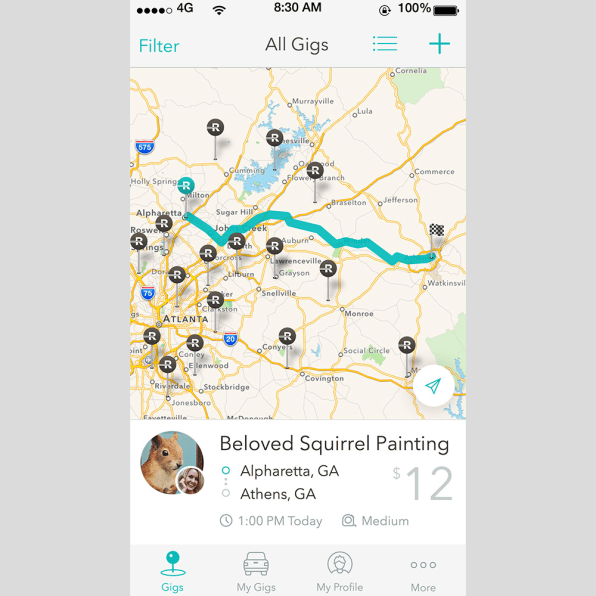 But focusing on the South has not only let the Roadie team iron out their game plan in a closed beta–it has also let them spread Roadie by word of mouth to a demographic they're expecting will form a core chunk of Roadie's users and drivers: college kids. Not only do college students drive a lot–including back and forth from campus to their parents' houses–but they also are often in need of extra cash (yes, we're talking about beer money).
From festivals to football games, Roadie promoters have handed out swag and spread the app's good word to young adults who actively drive across the Southeast. By making an appearance at universities across the Southeastern Conference and Atlantic Coast Conference, Gorlin reckons they got feedback from 115,000 college students.
"There are literally 70,000 people with Roadie shirts in their laundry," says Gorlin.
Despite its downsides, Gorlin believes in the sharing economy. Roadie is modeled on a trust game of mutual benefit between Roadie and user. The Northeast and West Coast might be very skeptical of contracting a stranger to haul valuable stuff, but Roadie was born in the convivial spirit of the South.
"I think Roadie is authentically Southern at its roots, but everybody needs to get stuff from point A to point B. Facebook and Twitter are littered with items that people need," says Gorlin. "Right now I guarantee that people in the Northeast would love to get some extra snowblowers."
But channeling Southern Hospitality doesn't mean Roadie isn't serious about personal and item security: One Roadie advisor set up the trust and safety regulations at Airbnb. Roadie insures all items up to $500, which is five times regular shipping insurance according to Gorlin, and every "gig" begins with a "before" photo of the user's item, so damage in transit will be discoverable. They're also checking up on every Roadie:
"We verify that each Roadie has a valid driver's license and is current in their respective state as well as collect insurance information, vehicle information, and bank account information (so we can pay them)," says Gorlin. "We will soon be implementing our own proprietary background check technology. Once they're in the system, the community continues to check up on them as with many sharing companies, through feedback, ratings and reviews. If they fall below four stars, they are out of the system."
While the investment by UPS Strategic Enterprise Fund seems like a surprising move by a traditional shipping company, the UPS Strategic Enterprise Fund previously invested in four rounds of fundraising for Kabbage, Gorlin's previous startup. Kabbage is a tech and data company with an automated method to lend money to small businesses and consumers, one of Fast Company's Top 10 Most Innovative Companies in Finance in 2013. UPS Strategic Enterprise Fund also repeatedly invested in Shutl, a startup that connects online retailers with same-day couriers (Gorlin is not connected to Shutl). If someone is going to disrupt the traditional shipping model, for both businesses and consumers, UPS Strategic Enterprise Fund has an investment in several alternative methods that might upend that paradigm.