Let's start with a simple fact: More people have downloaded Serial than have watched Girls, Mad Men, or Louie.
But enough about Serial: the podcasting world will produce bigger hits in the years ahead. What's most interesting about the series is that it is but the most prominent example of an experiment that could reshape business models throughout the entertainment industry. "We're at the very beginning of how [podcasting] is enabling innovation," says Alex Blumberg, a This American Life veteran who struck out on his own in 2014 with a venture-backed startup podcast network, called Gimlet Media. Adds Jake Shapiro, CEO of PRX, which distributes popular podcasts such as the design show 99% Invisible and Criminal (a nonserialized true-crime program): "Content production, marketing, the technical distribution, the audience experience, and then the business model: There's innovation at every one of those layers."
As moviegoing wanes, cable bundles crumble, and TV ratings wither, those businesses will have to increasingly diversify their revenue models. The experience of podcasters may offer many useful lessons. Podcasting is built on the very assumptions that older media have been forced into making, due to technological advances that have ruined their historic pursuit of a mass audience gathered at a single, scheduled time. Podcasting is a niche entertainment by definition. The primary way of listening is via headphones connected to a smart handheld device. And there never was any "appointment listening," because podcasts are designed to be consumed whenever the listener chooses.
Knowing that podcasts are a particularly intimate experience, creators have tried to cement deep relationships with their audiences, primarily by offering truly distinctive programming. "Every time we roll out a show with an inventive format, it surprises us at how well it does," says Adam Sachs, CEO of podcast network Earwolf, which scored a hit with The Andy Daly Podcast Pilot Project. Each of that show's nine episodes is presented as a pilot of a new show, with Daly (a comedian known from Comedy Central's Review) playing a different character in each. On another Earwolf podcast, called With Special Guest Lauren Lapkus, the guest of the week interviews Lapkus (who played a corrections officer on Orange Is the New Black) as one of her alter egos. "There is no TV show where the star is playing a guest of a talk show," Sachs says. "There is no TV show where every episode is a pilot. It doesn't exist anywhere else." That creative freedom—from format, frequency, and length—is why talented performers increasingly want to do podcasts. It's a more extreme version of what makes showrunners and stars want to work with Netflix, Amazon, and HBO.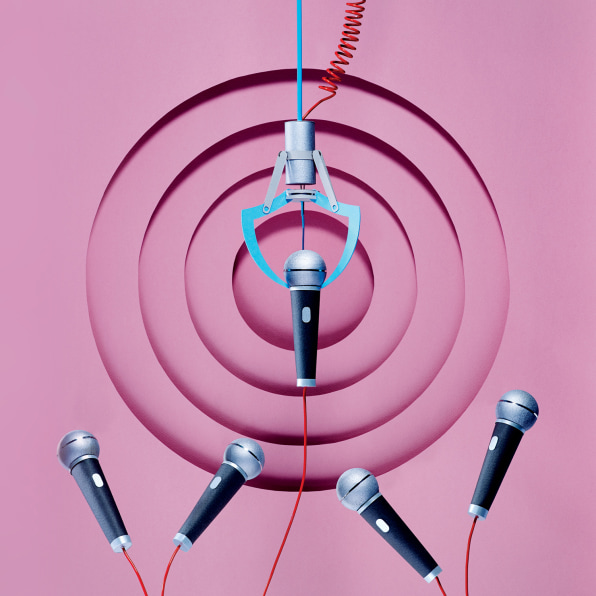 Podcasters have figured out a range of ways to monetize their engaged audiences. The primary one: advertising, in the form of spots read by the podcast's host. And the payoff for advertisers is huge—one survey of 300,000 podcast listeners found that 63% bought something a host had promoted on a show. Brendan McDonald, the producer of WTF with Marc Maron, says, "Advertising has really exploded within the last year and a half." WTF can guarantee advertisers 325,000 downloads an episode. According to McDonald, if WTF is charging the ad rates that other popular podcasts can get—$18 to $25 per thousand listeners—its average spot costs around $8,125. That's not network TV money, but it's about five times greater than the average radio spot.
Podcasters feel the freedom to experiment in this arena too. Gimlet Media is trying to produce ads that "feel authentic and fun," Blumberg says, "the same way that the editorial content feels." Some are so good that the documentary podcast StartUp has received fan letters about them, putting the entertainment value of its ads on par with the best Super Bowl commercials.
But advertising is not enough for most podcasts. "We really want to diversify the revenue sources," says Gimlet's cofounder Matt Lieber. "There are a lot of experiments in providing things for the audience to buy, whether it's subscriptions, events, or collaborations between host producers and their audiences." Some of those experiments play out on Kickstarter, but that can be complicated: Celebrities such as Veronica Mars creator Rob Thomas, Zach Braff, and even Serial host Sarah Koenig have caught flak for crowdfunding.
Live touring can be another meaningful revenue stream. It has been a boon for stand-up comedians including Doug Benson and Greg Proops, who now tape their podcasts on the road; Slate, which has made a business out of live performances of its Gabfest shows; and more theatrical productions such as Ben Acker and Ben Blacker's Thrilling Adventure Hour and Commonplace Books' Welcome to Night Vale. The latter, a comedic radio drama set in a small town beset by demons, sold about 800 tickets a night for its 76 performances in 2014, with most tickets going for $25 or $30. Live events make up 57% of Night Vale's revenue, with another 27% coming from online merchandise. Even a few TV shows, including It's Always Sunny in Philadelphia, have toyed with live readings.
Still, the podcasting business faces one major roadblock to expanding its own success: There's no Netflix-style service that tells you what you'd like based on what you consume. SoundCloud, which lets users comment at particular moments during an audio track, could possibly fill that hole, and is hosting more podcasts of late. BuzzFeed, another possible contender, announced late last year that it, too, would start podcasting,
But the leading candidate to play such a central role is Apple, whose music player gave the industry its name 10 years ago. The hottest revenue source for podcasting—and potentially for all media—is content delivered via an app. An app, downloaded most often from the App Store, of course, lets podcasters get better demographic details on their audience, allowing them to sell more targeted—thereby, more expensive—advertising. Apps also get superfans even more involved. Fans can participate in a live chat. They could log in via their social networks and learn which of their friends are also fans. They can take part in the commentary around a show. In-app purchases are always a possibility, and some apps could even include a "Donate" button.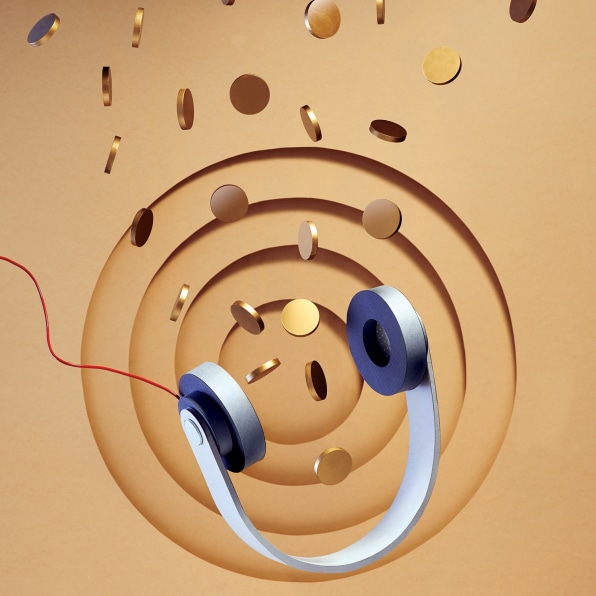 WTF has an app, through which it sells subscriptions for access to its extensive back catalog. Producer McDonald says it has been successful. "The popularity of the app and the way we utilize it has grown along with the audience," he says. About 10% of WTF listeners, or 35,800 people, pay between $1.99 and $8.99 for a premium membership, while more than half of its total audience uses the WTF app to listen to new episodes.
Despite being an early supporter of the podcast format, Apple has done little with the medium. But lately, "there are lots of signals that they're taking it seriously," says PRX's Shapiro. In iOS 8, for example, Podcasts is a default app included with every upgrade. Listening to audio programming on an iPhone has never been easier because of iOS improvements that enable auto-syncing and background downloading. Furthermore, says Shapiro, "they've got the one-click payment infrastructure."
Embracing podcasting might be a way for Apple to ingratiate itself with a growing class of new-media creators. The rise of streaming services for TV and movies will put further pressure on Apple's $4.6 billion iTunes franchise (for fourth quarter 2014), which depends on selling downloads. If it can help podcasters create a thriving business within apps, it could help other entertainment producers connect and make money from their best customers. Coming in late to an industry and yet redefining the way it generates income—that's what Apple did with iTunes and the iPod. How appropriate if it could replicate that success with podcasting.