"This is a little embarrassing, but I was really fond of Charlie St. Cloud. I had to look like Zac Efron."
Unable to find the "amazing" T-shirts worn by Efron in the film until two months later, Casper Daugaard was inspired to create a business that would bring fellow film fashion fanatics the products they wanted without the hunt. And thus Spylight was born–ready for its close-up.
Prepared by the previous experience of founding a nutritional e-commerce business in his native Scandinavia, at the end of 2012 Daugaard flew to Los Angeles to meet with executives at 20th Century Fox and pitch them his idea: he would build an e-commerce site to make the clothing that appeared in their shows and movies shoppable, completely at his own risk. All they had to do was give him access to their production sets and designers. A few months later, a deal was made
The idea was incubated at the Yale Entrepreneurial Institute in 2013, the summer before Daugaard's senior year. After graduating in 2014, he moved out to Los Angeles with his four co-founders from Yale to start the business. They've since added on a fifth partner.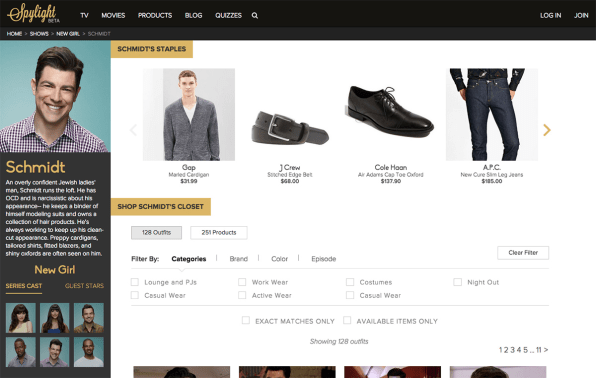 Currently, the company has a "small army" of 50 fashion experts who work with production teams and costume designers to identify the clothing worn on shows and movies. If the item is sold out or beyond the average Efron fan's price-range, they scour the Internet for similar looks.
The clothing is placed in the site's data base and then paired with one of many online retailers, including millennial favorites ModCloth and J.Crew.
By working directly with the shows, Spylight has added tech savviness (and a monetization strategy) to something fashion bloggers have been doing for years, and trumps other image-recognition based sites, such as Slyce, that often rely on imperfect crowdsourcing or require knowledge of the brand.
The company is currently negotiating partnerships with several other major studios. Meanwhile, entertainment industry stars and personalities have taken note—Ivanka Trump gave the company a shout-tweet just the other day—and the site has gained traction by advertising on local college campuses. And earlier this month, after landing on the Reddit homepage, Spylight received so much traffic, the site temporarily crashed. The team has since brought in a tech expert to fortify the server from additional surges.
"We have had close to half a million page views in the last three weeks," Daugaard says. "Thousands of new users are joining the platform every day."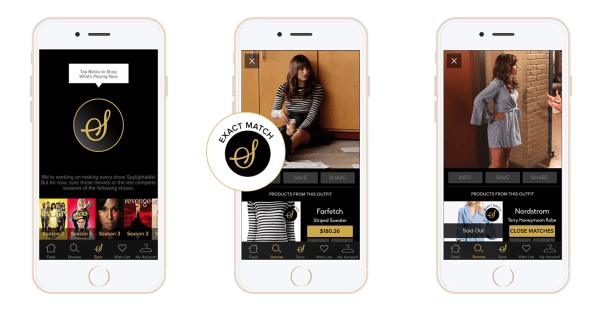 Now Spylight is looking ahead. The company is slated to release mobile app for iOS in February, which will allow users to shop on their phones. Using a combination of in-house and licensed technologies, the app has the added feature of helping users identify the exact scene and the products featured it in simply by recording the audio of a show for a few seconds. They're working to release the app for Android later this spring.
Being in Los Angeles isn't the only thing that makes the young startup stand out from the Silicon Valley crowd–80% of the companies employees are female, a number almost unheard of in the tech world. "It wasn't by design," says Daugaard. "They just happened to be the best people for the job."
The high value Daugaard places on bringing in the best talent is underscored by a recent trip he made from Los Angeles to State College, Pennsylvania, to track down one talented designer and project manager who didn't have time to fly out for an interview during her last semester of college.
Spylight isn't just helping their fashion-obsessed consumers either–it's revolutionized the way clothing brands look at television partnerships. According to Daugaard, retailers are often not even aware when their products appear on television shows. Spylight makes the placement more "transparent (to consumers) and more lucrative (to retailers)."
Daugaard believes Spylight could change the way retailers approach their placement in film and television and even cause them to start adjusting their designs to what viewers find popular.
"I love that we are building a product we want for ourselves," Daugaard says. "Spylight cares more about fashion in movies and television than anyone else."
By now, even Zac Efron himself might know that.