Microsoft CEO Satya Nadella isn't one to shy away from reality.
Speaking at the end of Microsoft's Windows 10 event on Wednesday, Nadella seemed to acknowledge that many of Windows' 1.5 billion users merely tolerate the operating system. "We want to move from people needing Windows, to choosing Windows, to loving Windows," Nadella said.
Thinking it over, I wonder if Nadella was including himself among the unenthused. Under Nadella's "cloud-first" directive, Windows is supposed to be the home base for Microsoft services. Instead, it's served as a breeding ground for the competition. It's a place where people use Chrome to access Google services, chat with friends on Facebook, and play games on Steam, all at the expense of Microsoft's alternatives. While other services have made themselves at home, Microsoft has just been running the plumbing.
In Windows 10, there's lots that looks like it might be lovable, including the virtual assistant Cortana, Xbox One game streaming, and the all-new "Project Spartan" browser. And of course, Microsoft is bringing back the pop-up Start menu that vanished in Windows 8. But Windows 10 isn't just tacking on features and correcting missteps, it's trying to take back the operating system from competitors who've claimed it as their own.
Nothing epitomizes Microsoft's cloud service struggles on Windows quite like the web browser. While Internet Explorer commands respectable market share among desktop browsers (NetApplications has it in the lead; StatCounter says otherwise), it has a nagging reputation for being a browser adopted mostly by people who don't know better. Even Microsoft has admitted as much in past ad campaigns.
When people decide not to use Internet Explorer, most of them choose Chrome instead, and over the last six years Google has wielded its browser as a weapon against Microsoft. On a basic level, Chrome keeps more people using Google Search instead of Bing, and gives them faster access to services like Gmail and Google Drive through a single sign-in. But more importantly, Chrome has blossomed into its own platform, piggybacking on the open web with its own offline apps and powerful extensions.
When Google began building a Chrome-based operating system in 2009, it did so with the assumption that people spend the vast majority of their PC time in a browser. These days, it's not unusual for developers to create Chrome apps instead of native Windows versions, and it's rare to see new Windows software emerge without a web-based equivalent. For some users, living without Chrome could be a bigger hardship than living without Windows.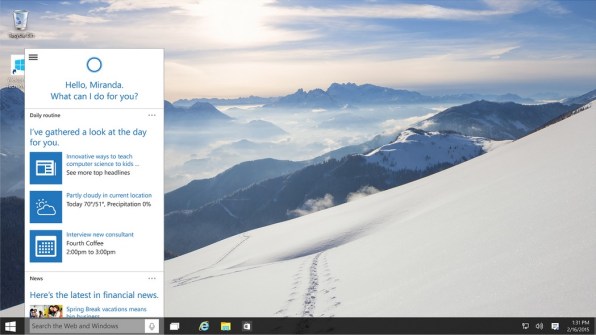 Google isn't the only company that has eclipsed Microsoft's own services on Windows. In PC gaming, Microsoft has failed to gain any traction in online multiplayer and digital distribution with its now-dead Games for Windows Live service. The PC gaming business is instead dominated by Valve's Steam platform, which now has more active users than Microsoft's Xbox Live service. It's not that Microsoft has ignored PC gaming entirely–it fills a supporting role through tools like DirectX–but it missed a huge opportunity to control the premier gaming platform on its own operating system.
Some other examples of missed opportunities come to mind: While Microsoft's Skype is still a desktop video chat powerhouse, its relevance has faded as it missed the mobile messaging boom that gave rise to WhatsApp and Snapchat. Microsoft's OneNote now faces fierce competition from Evernote, which has been used by 100 million people. (Microsoft doesn't reveal OneNote usage, but has seen fit to remind its 1 billion Office users that the note-taking software exists.) And it's unclear whether Microsoft's news and information apps can ever find their place in the world, having just undergone a rebranding from Bing to MSN.
Why rehash Microsoft's past failures? Because many of Windows 10's new features are an attempt to set things right, and re-establish Microsoft's own services as fixtures of the operating system. But in trying to do so, Microsoft underscores just how steep of a hill it has to climb.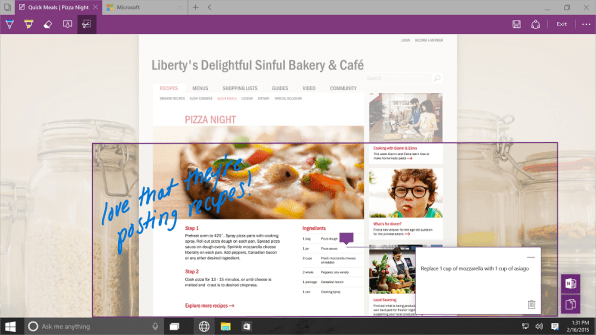 For the browser, Microsoft is relegating Internet Explorer to legacy status and building something new, code-named Project Spartan. The new browser has some intriguing features–including a way to annotate web pages and sync the clippings to OneNote–but its very existence is an admission that Microsoft has failed to make Internet Explorer relevant again.
Microsoft is also trying to win back developers with "universal apps," allowing them to write a single program that runs across phones, tablets, PCs, and the Xbox console. It's an alluring idea in theory, but in many ways these modern apps still aren't capable enough to replace traditional Windows software. Uniting desktop and modern apps will be no small feat.
On the gaming front, Microsoft isn't even trying to take on Steam in earnest, probably because it'd be a Herculean task. Instead, the Xbox app is getting some new features, including a way to stream Xbox One games to a PC over a local network. It's a convenient perk for console owners, and a sign that Microsoft is finally attempting to bridge the console-PC gap. But it's still not a genuine pitch to the PC players that Microsoft has lost.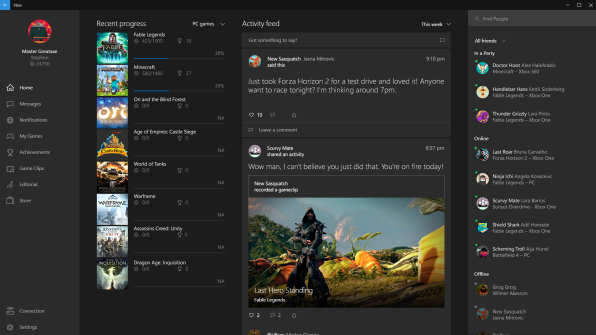 And what about Cortana, the virtual assistant whose query box will sit directly on the Windows 10 taskbar? It's Microsoft's most conspicuous attempt yet at establishing Bing as a vital part of Windows, but it'll have to contend with old habits of opening a browser and using tried-and-true Google search instead.
During Microsoft's press event last week, Operating Systems Group vice president Terry Myerson said that one goal of Windows 10 is to have a unified, always-updated ecosystem, so the "question 'what version are you running' will cease to make sense."
But on some level, that's already true today. Chrome and Steam don't particularly care whether you're running Windows Vista, 7, or 8. Neither do the websites you visit. The ecosystem is already unified; it just exists outside of Microsoft's control. This is the biggest thing Microsoft is looking to change in Windows 10.
The risk, then, is that users will reject any attempts by Microsoft to introduce new concepts, just as they did with Windows 8. Users already have a good browser, a good gaming service, a good search engine, and so on. In Satya Nadella's nightmare scenario, Spartan fails to make inroads against Chrome, universal apps are ignored by the user base, everyone tries to banish Cortana from the taskbar, Bing doesn't win any more market share, and Xbox never escapes its console origins.
What's left, then? A reasonably decent operating system that runs the programs you like without too much hassle, and whose performance is ultimately defined by the caliber of hardware you decide to buy–in other words, the same old Windows you've been using for years. That could be the operating system you need. But it's unlikely to be one you'll love.