If you're crossing the street in Dhaka, Bangladesh, and you're hit by rickshaw or a minibus, you can't call 911, because it doesn't exist. Without emergency services, injuries that are theoretically treatable can be fatal–for every one or two people in the U.S. who die in road accidents, 160 die in Bangladesh.
That may soon change, thanks to a new app that connects trained volunteers with accident victims. When someone pushes a button on the app or calls a new emergency number, the app quickly locates the nearest volunteer to help.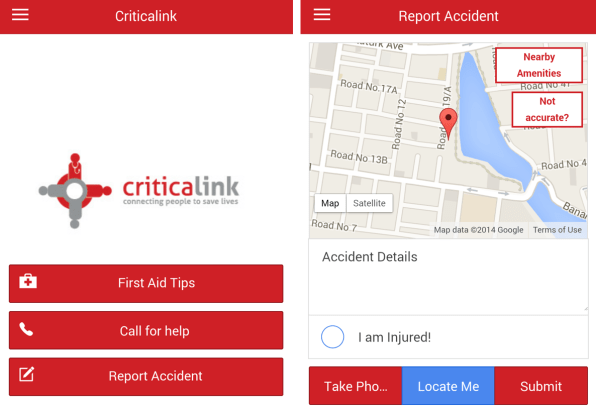 Called CriticaLink, the app was designed by a young American doctor named Jennifer Farrell after she spent time working in Dhaka.
"If a bus hits a rickshaw, you can snap a picture, click send, and it geo-locates automatically and sends it to a call center agent, who will send a dispatch," she explains.
On the other end, volunteers get a push notification with a map of the accident and any important details. If they're free to help, they push a button, and when they arrive, they push another to check in. Volunteers can share details with each other through the app, and it also maps out the nearest hospital.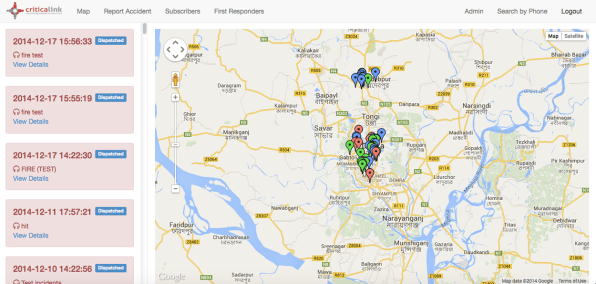 Farrell created the app after working with a program to train a large group of first responders–and then realizing there was no way to coordinate actually getting them to the scene of an accident.
"I think in that trip we may have trained 1,500 people," she says. "It was good, but I guess I come from a generation that really tries to maximize impact with the work you're doing. Volunteers were coming up to me and saying, 'Jen, how do I use my skills? I'm actually waiting for an accident to happen.' I said, "That's a really good point.'"
After Dhaka's garment factory collapse in 2013, Farrell's volunteers self-organized on Facebook and via text message to help the victims. Farrell realized that she could use technology to build a streamlined system to connect the volunteers with any accident.
The app also helps volunteers find the nearest hospital for the victim. "Ambulances don't really exist," Farrell explains. "There are private ambulance services that don't have trained medical professionals, that are generally used as glorified taxis. They take four hours to get there. Most people go on auto-rickshaws."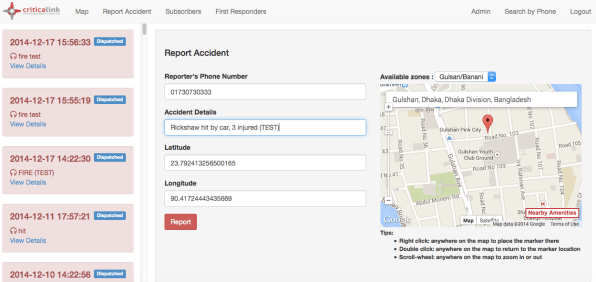 At the hospital, the volunteers are trained to act as advocates for the patient. Until recently, accident victims could be turned away from hospitals, and because medical staff may have little training for emergencies–doctors don't even learn CPR–the volunteers can also assist in making sure someone gets the best care that's possible.
The pilot began in Dhaka in November, and after developing the program more, Farrell hopes to launch it in other parts of the world that also lack emergency care.
"There's a huge movement of volunteerism that makes this possible in Dhaka, as well as a very reliable mobile infrastructure," she says. "But once we have this model worked out, and this system worked out, I could go tomorrow and put this in Nairobi, or I could take it to Nepal. 80% of the world doesn't have access to medical services."
Some aspects of the technology might even be useful in the United States. "Most EMS systems in the U.S. are running on radios and paper," Farrell says. "I think we could incorporate this technology."