A few years ago, as his health-food chain Freshii began to expand internationally, Matt Corrin started traveling a lot. Corrin had always been an energetic guy, requiring often as little as five hours of sleep, but even on the domestic front, Freshii was demanding Corrin try new strategies to stay on top of things. "I never had a sip of coffee before I opened the first Freshii location," says Corrin, now 33. "Now I basically have 10 shots of espresso a day."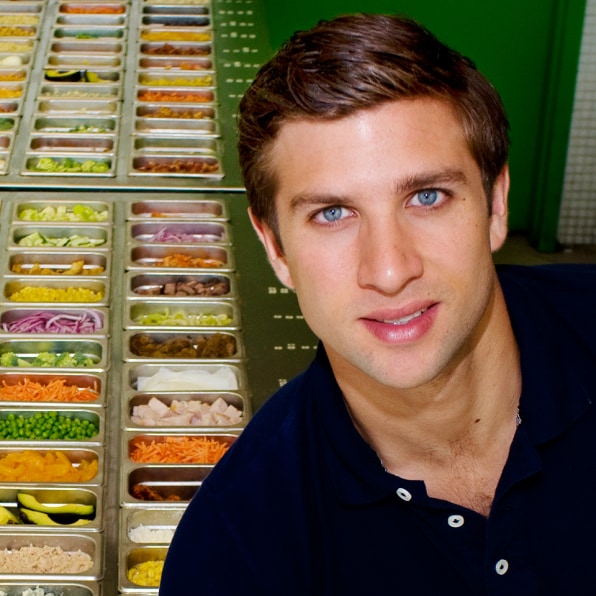 Corrin decided to grow internationally pretty early in his business, which meant whenever he traveled abroad, he still had to keep a remote eye on his small team back in the North America. In 2010, Corrin made his first trip to Dubai. But if Corrin wanted to stay in communication with folks in his Chicago stores while in Dubai, that meant he was staring down the barrel of a 10-hour time difference.
So Corrin came up with a wild idea. "I basically decided to split my day in half," he says. "Instead of one 24-hour day, I'd have two 12-hour days." And in each of those 12-hour days, he'd try to achieve the same amount of work he typically achieved in a 24-hour day.
"I was actually tricking my body, brain, and my circadian rhythm, by doing things I was used to doing during the morning, afternoon, and night," he explains. It all hinged on his sleep patterns. Corrin knew he had a lucky advantage in being someone who didn't need tons of sleep. Now the challenge was just being strategic about exploiting that advantage.
Corrin could get by on four hours of sleep total in a 24-hour period. His experiment, then, would be to divvy up those four hours into two two-hour stretches.
A typical day would go like this: Corrin would sleep from 2 a.m. Dubai time until 4 a.m. He would get up and follow a normal routine: a post-sleep workout (Corrin exclusively stays at hotels with 24-hour gyms); a breakfast of almonds, water, and coffee; a shower, and a fresh set of clothes. Then from the early morning hours until 4 p.m., Corrin could focus entirely on his Dubai partners, without worrying about an onslaught of emails from back home, since everyone there was asleep. "I could focus on local partners, take meetings, and be very engaged," he says.
At 4 p.m. Dubai time, Corrin would have another "night's" sleep–again, two hours' worth. He'd rise again at 6 p.m., do another workout; another breakfast of almonds, water, and coffee; another shower; another set of clothes. Through the Dubai evening, he could do the informal networking, dining, and socializing expected of a traveling businessman–while also keeping a close eye on his email (since the home office was now teeming with activity). "I'm sitting at the dinner table, or transporting between events, or going to cocktails, and I'm basically working through all that." He'd get back to the hotel, and by 2 a.m. he'd be asleep again for another two-hour stretch.
Then he'd repeat the whole process.
The first time he pulled this stunt, he wasn't sure it would work. But he found that by being very good to his body on every other count–eating well, drinking copious amounts of water, getting in those workouts–he was able to pull it off. "I can do it for about five days," says Corrin (he almost never schedules business trips for longer than that, feeling it's essential to be home with his family on weekends). "I've done it about a dozen times now."
To mess with your sleep schedule, of course, is risky. Corrin remembers what happened the one time he made the mistake of trying to power through his "second sleep," the one from 4-6 p.m. He was at a dinner meeting in the restaurant of Dubai's Atlantis hotel, a dark room with a live band playing music reminiscent of a belly dance. "I literally fell asleep at the table," he says, something his Dubai partners still rib him about. You have to learn your threshold. "I can't get by with two hours of sleep," says Corrin. "I know what's too much, and I know what's just right."
He has two members of his team going to the Middle East soon. "I almost don't want to tell them about this," he says. He admits it's not for everyone, and he knows his unusual ability to thrive on little sleep makes it possible. "It's not for the faint of heart," he says. He says he often feels like he's the first person to wake up in the city he's traveling to, and the last to go to sleep. "I don't wish it on my worst enemy," he says.
But even if you can't function on what amounts to a pair of naps in a 24-hour period, if you're a business traveler who needs to keep an eye on the home front while abroad, you might want to Corrin's strategy of reconceiving the 24-hour day as two 12-hour ones. When in Europe, Corrin says, the less severe time distance allows him more fluidity; he often will grant himself the "luxury" of two three-hour stretches of sleep while in that region.
Corrin figures that the key to a healthy life amounts to four things: eat well, stay hydrated, get exercise, and get enough sleep. You're bound to lose sleep on a business trip anyway, so why not toy with your schedule further?
"I figure three out of four ain't bad," he says.