Joanna Weidenmiller is an anomaly in Silicon Valley.
The 32-year-old founder and CEO of 1-Page, a San Francisco-based recruiting technology company opted to go public this past October rather than continue raising funding from venture capital firms. That the company was just three years old, was radical enough. For comparison, Facebook and LinkedIn were both operating for eight years before their first appearance on the NASDAQ. But Weidenmiller led the IPO down under and used an unconventional method –a reverse merger with an existing company–to list 1-Page on the Australian Stock Exchange (ASX) Doing this, Weidenmiller's startup became the first Silicon Valley company to list on the ASX. The gambit paid off. The stock has gone up over 600% Weidenmiller tells Fast Company, making the company's valuation soar to over $160 million.
Yet as Weidenmiller fills in the details about her life and career, it's easy to see why she'd make such an unorthodox decision to grow 1-Page.
An elite college athlete (she was a nationally ranked rower at the University of Virginia) who earned straight As majoring in Foreign Affairs, Weidenmiller was recruited by the FBI to train and work with police in the Middle East and Africa on drug and crime scene investigations.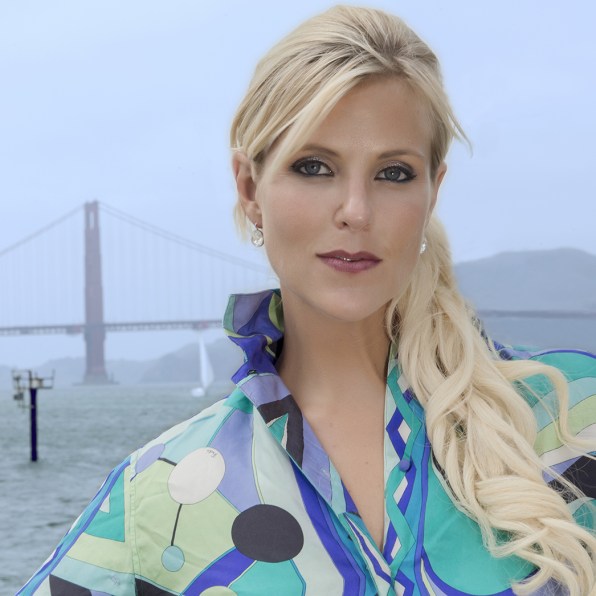 Though she'd dreamed of being a secret agent, it didn't take long for Weidenmiller to understand that the FBI's bureaucracy wasn't a good fit for her naturally entrepreneurial spirit. No matter how long you wanted to work, Weidenmiller says, after 25 years employees have to retire. Promotions are not based on merit, but rather the length of tenure, something that Weidenmiller says was shocking. "As somebody who could apply myself, put my head down and get it done, while I loved what I did I knew I wouldn't be able to hold back this drive and this passion I had," she says.
So Weidenmiller bid farewell to the Bureau and set out to apply herself to a task that was more aligned with the way she envisioned success. A short stint as a salesperson, where she quickly climbed to the top of the ranks paved the way for starting her own company. At the age of 22, she and two others, began building a sales and marketing outsourcing firm.
Within a couple of years, Weidenmiller says it was one of the nation's largest, and had multiple offices across the country, thanks to serving such clients as Visa, Mastercard, and Staples. "What was incredible to me was how fast you can grow when you apply yourself," she says.
Despite the fast pace, Weidenmiller elected to sell the company rather than keep growing it herself. At the age of 24, she found herself back in her hometown of San Francisco, itching to build another company in the locus of tech. She didn't anticipate that falling in love would put her on a different track. Weidenmiller met the man who would become her husband and after a whirlwind romance, the two moved to China where he was building a venture capital firm. Weidenmiller set to work immediately and eventually wound up as managing partner of Hubert Burda Media, a German magazine publisher, to lead the company's expansion into China.
After five years in China working for others, the entrepreneurial itch was demanding to be scratched again. This time, Weidenmiller recalled something else that was close to her heart.
She remembered how her father, Patrick Riley, had compiled his "secrets of business success" into a copy shop bound book to give her just before she decamped for college. The book was discovered by a friend of her mom's who just so happened to be connected with Harpercollins. Despite Riley's initial protesting, the book was published. The One-Page Proposal would become an international best seller.
Over the course of a decade, Weidenmiller had observed how often her father was contacted by interested readers. But not just any interested readers. "He was getting calls from big companies offering to pay him between $10,000 and $70,000 to write a proposal for them," she recalls. "I'm like, Dad, there's a $12 book in bookstores," Weidenmiller explains, "And he said, 'I guess it is harder to do than I thought.'"
The wheels started turning. Weidenmiller proposed starting a tech company based on building a platform for anyone to be able to write their own one-page proposal. Realizing this would be a rather massive undertaking, Weidenmiller refined her pitch to her father. "Let's focus on the demographic that has the biggest communication problem in the world: job seekers."
Weidenmiller believes the resume no longer works for either the applicant or the recruiter. "They have to hire to build things for the future," she asserts, so why not allow an applicant to show what they could do for an employer rather than be evaluated solely on past accomplishments. A one-page proposal would allow the job seeker to pitch the potential manager and not be judged on age, experience, or gender.
Her father agreed, so Weidenmiller began learning to code ("in my pajamas in my apartment in China," she notes) to build a prototype. She says it wasn't long before 60% of users were getting job offers within two weeks of sending their one-page proposals. At the time post-recession, when unemployment could stretch out as long as two years, Weidenmiller says, "It was obviously working."
Soon, corporations started calling and asking how they could request applicants to send in one-page proposals instead of resumes. "I had no idea," she says with a laugh. But she was determined to find out.
Moving back to the States with her husband, Weidenmiller launched 1-Page in earnest, raising an initial $3 million from VCs to scaling it across companies with thousands of employees. The recent acquisition of Branchout expanded 1-Page's reach to over 800 million job seekers.
Now companies can put out "challenges" and candidates compete to solve them with a one-page proposal. The 1-Page platform scores and ranks based on the company's needs. It also pulls in data from candidates' social graphs, says Weidenmiller, so a hiring manager has the ability to see a fuller picture of the candidate, which is especially helpful when recruiting through existing employee referrals.
As for further expansion, Weidemiller says the move to list on the ASX should also facilitate that. "Huge global enterprises are nervous about young, private tech companies," she contends, because of their failure rate. The IPO allowed 1-Page to play on a more level field despite its relative newness.
All of Weidenmiller's life and career, she's worked to overcome bias, pioneer, and persevere. It's why 1-Page staff is nearly 45% female (with three new women joining this week). It's why she says, she's committed to break down recruiters' barriers and allow candidates to show off their skills regardless of gender. "I drink my own champagne," Weidenmiller enthuses. "Everyone writes a one-page proposal and if someone pitches the right solution, you can get a job."