Reuters is reporting that Samsung has offered to pay $7.5 billion for BlackBerry. And it reminded me of a story I'd been meaning to write up for some time.
In 2014, BlackBerry launched a new phone. It was called the Passport. BlackBerry shared details under embargo with Co.Design, urging us to report on the phone from a design snob angle (an angle to which we are no strangers, alas). According to the press materials, the phone was "influenced by modern architect Ludwig Mies van der Rohe." What we saw was a square-screened BlackBerry, a nicely produced novelty that wouldn't save a smartphone company that had been obsolete since the first iPhone arrived.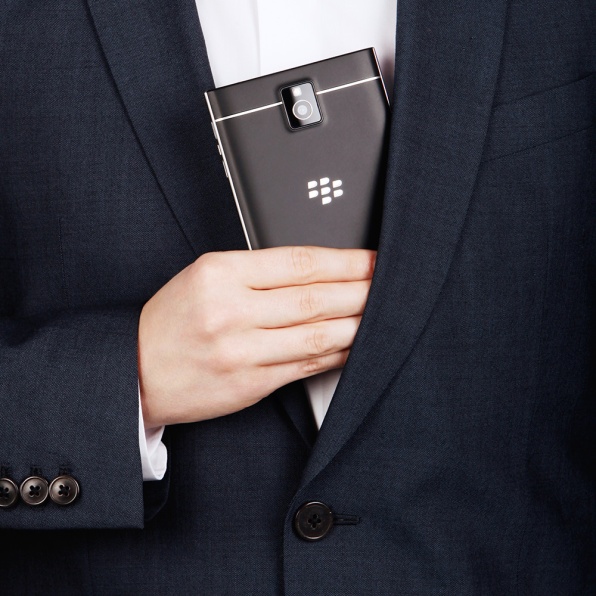 So I offered an alternative idea. I'd let BlackBerry pitch me on why the Passport is great–to expound on every last reason a square screen is better than a rectangle. If I was convinced, I'd smash my iPhone on the spot and adopt the Passport. Here's the email I sent:
For us, we want to be transparent about where we're at with BlackBerry as a brand. It's against the ropes. From the renders I've seen, the latest design–even if it's an unconventional square–isn't radical or disruptive enough to change that. And so to frame the conversation around the industrial design alone would be a bit disingenuous for us.

In this case, we'd be interested in writing this story:

If anyone at the company can convince me to switch to the Passport, I'll smash my iPhone. I take your best sales pitch, basically, your most loquacious VP, and I hear them out.

I imagine we might run content Q&A style.

Anyway, a bit unconventional I know! Let me know if you're interested.
And this is what I received back from BlackBerry's external PR firm:
Hi Mark…if you don't mind, could you pass along your phone number? BlackBerry would like to arrange a brief call this week or next.

Also, as background, Passport is not meant to be an iPhone replacement for the masses, rather it's geared towards a very particular market segment, namely "power" professionals who would benefit from better mobile viewing and usability as it relates to spreadsheets, PPTs, etc. (the 60-character wide view of text will make reading/editing documents much easier).

BlackBerry will follow-up with you directly with additional information.
After that, I talked to BlackBerry PR on the phone. They reiterated the same idea: The Passport isn't meant to appeal to everyone, just people who really need to do important work on that screen–as if any professional doesn't consider himself a "power" professional, or that the "power" population is different from anyone else using a smartphone every day. For whatever made-up reason, they assured me a square is the better shape for these power tasks than a rectangle–as if spreadsheets and X-rays are crafted as squarely as your Instagram feed.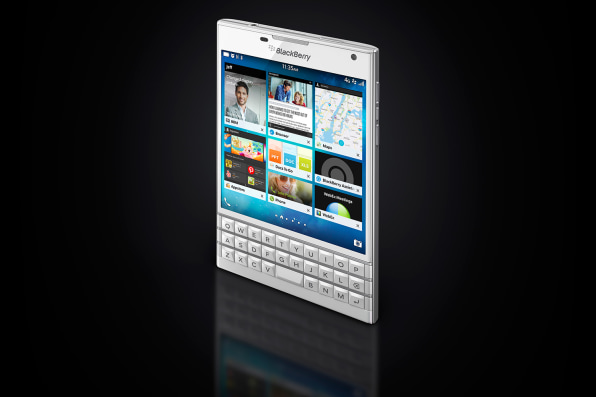 BlackBerry would decline the opportunity when I expressed my intention to stick with my smash-my-iPhone idea.
That conversation, and even this article, might seem like a waste of time, given that we didn't get to giggle at BlackBerry's (or hey, maybe Apple's!) expense. But in fact, I walked away confirming an important fact about the company: Even in 2014, with the battle between touch screens and solid keyboards long settled, with the arguments that "iPhones are good for play but not for work!" mooted, BlackBerry was still trudging forward, blinders up, refusing to believe that the "enterprise professional" is also a dude who changes into sweats at night when he plays Angry Birds.
Good industrial design, and good user experience, are often dependent on context and specific use cases. But not in smartphones, not now. One size does fit all. The iPhone is a solved design problem. What we've seen is design Darwinism, in which the big touchscreen phone took over the world because it was what worked best for most people in all aspects of their life. I offered BlackBerry the chance to prove me wrong, and the company passed.
So as Samsung likely acquires BlackBerry for somewhere between 38% and 60% over its current market value, I hope it's a strategic business decision to nab BlackBerry's patent portfolio (the estimated value ranges from $200 million to $5 billion on that). Because if Samsung thinks BlackBerry has value left in its design, they might be right, assuming BlackBerry has the patent on time travel.
Update: Blackberry has cooled but not fully denied rumors of Samsung's buyout offer, stating they have "not engaged in discussions with Samsung with respect to any possible offer to purchase BlackBerry. BlackBerry's policy is not to comment on rumors or speculation, and accordingly it does not intend to comment further."