Earlier this month, social-media upstart Tsu announced that it had surpassed 2 million users. The upstart, which has a revenue-sharing deal with its users and calls itself a "payments platform," launched in October with $7 million in VC funding, and has quickly become a virtual gathering place for some of the coolest people in the world. Make a profile on the site and you could be digitally rubbing shoulders with 50 Cent, Timbaland, LL Cool J, William Shatner, and Russell Simmons, among many others.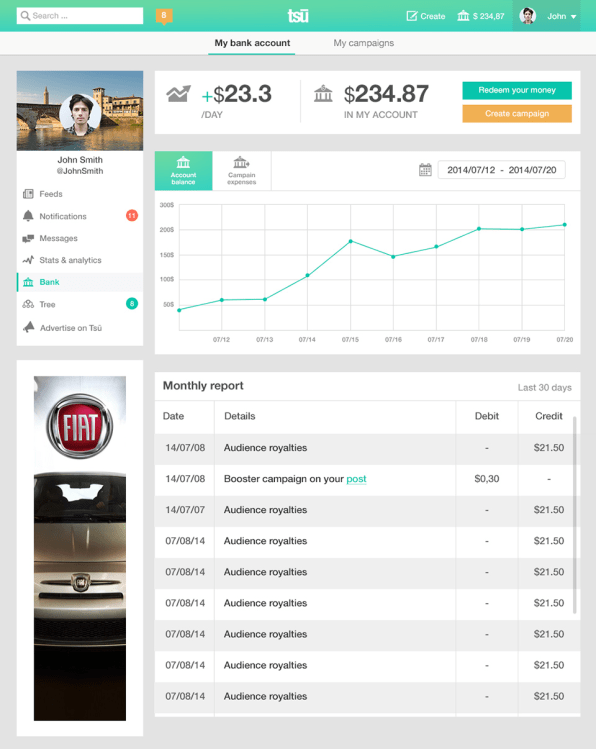 Sebastian Sobczak, Tsu's founder, never meant to make the platform Facebook's creative cousin. His big idea was to create a social network where users could make money from the content they shared. (The site keeps 10% of ad revenues for itself.) Sobczak believes artists are flocking to Tsu simply because are so few other spaces on the Internet where people can be fairly compensated for their work.
And artists on the site seem to be very happy with their newfound earning potential. Andrew Fromm, a well-known songwriter who has crafted lyrics for Selena Gomez, The Backstreet Boys, NSync, and Marc Anthony, was payed more than $100 on Tsu in the first three weeks he was on the site. If that seems like a small amount, you should see how much he makes elsewhere: his most recent co-written song only earned him $18 in royalties on Pandora in that time, he says, and it was played 1.5 million times.
Artists have been struggling to make money as long as art has been existed, but it's been a particularly tough task in the Internet era. The downward spiral began around 1999 when Napster made a splash, prompting college students around the world to start swapping music with one another in nifty new MP3 format. The service quickly moved into the mainstream, amassing 70 million users. After two years, Napster was sued for copyright infringement by music industry groups and musicians like Dr. Dre and Metallica, forcing it to fold. But by then, consumers felt that paying for music was a ripoff. In recent years, Pandora and Spotify have stepped in to fulfill our demand for free music while still paying artists royalties. But it's impossible to earn much through those streaming services: Spotify, for instance, pays between $0.006 to $0.0084 in royalties every time a song is played. "It's a joke how much streaming sites pay musicians," Sobczak says. "If you've written the most popular song in the world, you're still only getting a few dollars in your royalty check. If you're a new up and coming artist, you're screwed."
The music industry agrees. Last month, Taylor Swift–an artist who happens to write the most popular songs in the world–removed her entire catalog of music from Spotify as an act of protest, arguing that that free music diminishes the quality, hard work, and love that goes into creating songs. But while Swift is so popular that she will be just fine without Spotify, most musicians don't have the luxury to rage against the machine: they rely on free streaming services to build an audience.
While Tsu is still young and experimental, it seems to be giving artists a glimmer of hope that fair compensation for social content might be on the horizon. The tone on the site is still hard to grasp: a wide range of people are posting everything from original music to calls for charitable donations to crass YouTube videos. But all of this content has provided Sobczak with a great deal of insight about what creative people are looking for on the Internet. Here are some of his observations:
The Internet has developed a sophisticated way to monetize content through ads. Sobczak points out that every status update or photo we post on Facebook earns Mark Zuckerberg money, though new research shows that brands don't get much juice out of all the time they spend on the platform. "As someone who lives in an expensive city like Manhattan, I am making Zuckerberg a few hundred dollars a year through the highly targeted expensive ads that are delivered to me. When you post a picture of your baby on the site and all your friends comment on it, Facebook is profiting on your content," says Sobczak. "Artists or entertainers who create content as a profession have to live by the same rules; Facebook retains all the value of the content."
Sobczak believes this model of monetization has a limited lifespan. He's watched content creators flock to Tsu in order to get a slice of revenue from the content they create. "Tsu mimics the advertising models of other social media sites," Sobczak says. "The only difference is that the majority of revenue goes back to users who have created content and users that have invited others to join the site." He believes that digital advertising norms are ready for disruption. Once social media sites realize that they stand to lose users who don't want tech companies alone to profit from their funny tweets, creative posts, or viral videos, the entire system will have to change.
We are already beginning to see this transition happen on more established sites: YouTube, for instance, allows people to sign up for the YouTube Partner Program and earn 55% of ad revenue on their posts. The catch, however, is that a Partner's videos need to have had 75,000 cumulative watch hours over the past three months to be eligible, which makes it inaccessible to content creators who have smaller, niche followings. Tsu, on the other hand, allows users to make money from the start and grow their earnings based on how much content they share or followers they have.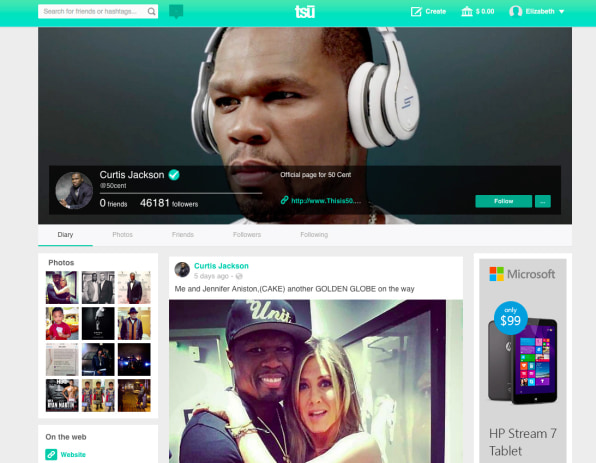 Throughout history, there have been extensive debates about what actually constitutes art and how you determine whether a work of art is good. Sobczak says that those questions are becoming increasingly irrelevant. "One good thing that has come out of easy content creation is that it has truly democratized art," Sobczak says. "The democratization of art has almost become a cliché, but with new models of profit sharing, anybody can be compensated for an intriguing work they share: it doesn't matter if you're Axl Rose or Liz." (That's me.)
On Tsu, the people who are making the most money from their content are not always big celebrities, but also creative, enterprising people who haven't yet made a big name for themselves. "They're just people who are passionate about their voice who are eager to turn their hobby into their career," Sobczak says. As an extreme example, he points to a homeless man who discovered he had a skill for offering people life advice. He now makes several hundred dollars a week on Tsu posting videos that are eagerly watched by his 30,000 followers. At the same time, mainstream musicians and songwriters, like Andrew Fromm, are similarly able to build their network on the site and making money off the bat.
Other social media sites have also had a track record of drawing stars out of obscurity. Justin Bieber's homemade YouTube videos landed him a deal with Island Def Jam Recordings, and Bo Burnham's weird comedy songs on YouTube got him noticed by the bigwigs at Comedy Central Records. Vine and Instagram stars have been courted by big advertisers and paid handsomely to put their creative skills to work for brands. But through this process, a large corporate entity still decided what was considered worthwhile. With Tsu, artists don't have to be acknowledged by an established company to start earning a living: they just need followers who appreciate their work.
Sobczak argues that social media has fundamentally changed the way we think about copyright. We now live in an age where many people sign away the rights to their content by joining a social network. These sites, in turn, earn money from our data and the creativity that goes into these platforms, much the same way copyright holders earned annuities from the commercial use of their work. While small groups have been protesting these breaches of intellectual property rights, the vast majority of the population is more or less willing to trade their rights for the ability to find all their friends online in a single platform. After all, the average Facebook user is sharing selfies and other people's cat videos, which do not seem particularly valuable.
Artists are not just keen to be earning money from the photos, videos, and music they are sharing online; they want to retain the rights to their work. However, most social media platforms reserve the right to license anything a user posts on the site royalty-free. Sobczak believes that content creators are increasingly going to abandon mainstream social media platforms for sites like his that compete for users by protecting their copyright. "This is an important nuance we discovered," Sobczak says. "Digital content creators want to be seen as a true copyright holders who own the annuities of their work. It's actually very powerful. It's like shoving free content-sharing back in the bottle."