The hotly anticipated Apple Watch is expected to go on sale this year. Whether it successfully creates a mass market for wearable devices, as the iPhone did for smartphones, remains to be seen. But one thing is certain: Companies will rush to capitalize on it.
What might that look like? We spent some time exploring how companies could extend their existing apps for the Apple Watch, and what new types of applications could be available in the future. The Apple Watch is not like existing interfaces. Its potential lies in its limitations: It is accessible because it's tiny and convenient because it's only meant for seconds-long interactions. Features such as native voice control, haptic feedback, and a digital crown that can be used to magnify, scroll or zoom within apps crack open a whole new world of design requirements and opportunities (see more in sidebar). The smartest companies will do more than offer facsimiles of their existing apps; they'll create custom experiences that exploit the watch's unique interface.
Existing Apps
Uber

Possibilities:
Voice command for requesting a car.
Real-time car tracking.
Quick notifications for messages from the driver.
How it will work:
As a time- and position-dependent application, Uber can take full advantage of the watch's notifications to keep the user updated on a car's location and estimated time of arrival. Users will be even more inclined to call an Uber on the watch than on the iPhone.
Foursquare

Possibilities:
Suggestions based on the user's position and time of day.
Voice search for places the user might like.
Simple check-in with a tap.
How it will work:
The watch could be ideal for a quick voice search for nearby places, returning options based on habits and location. It will be easy to scroll through recommendations using the digital crown.
Chase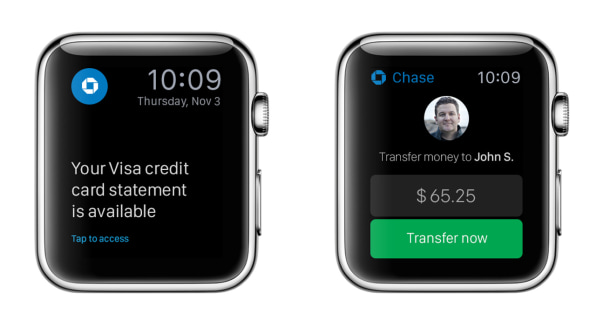 Possibilities:
Instant transfers to other account members.
Relevant alerts when bills are due, a deposit has been made, or account statements are ready to view.
Quick balance updates.
How it will work:
The watch offers limited but real conveniences for online banking. Apple Pay, which authorizes transactions using the thumb sensor on the iPhone, will use an easy double-click on the side of the Apple Watch.
Fandango

Possibilities:
Electronic ticketing.
Notifications of movie times and screenings nearby.
Quick theater searches.
How it will work:
Scannable tickets are definitely a must for an app like this, but Passbook, which stores boarding passes, movie tickets, and coupons on the iPhone, will probably have an alternative that's native and ready to use.
Instagram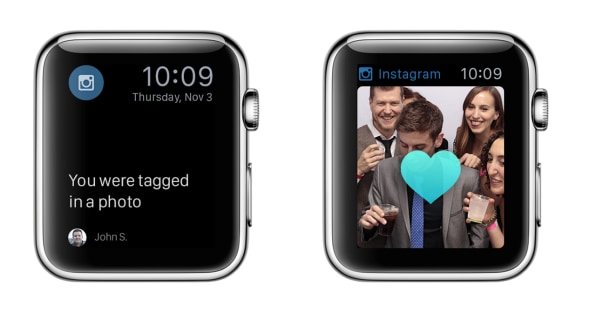 Possibilities:
Notifications of new interactions.
Photo browsing with the digital crown.
How it will work:
It will be difficult to edit photos on such a small screen, so Instagram will have limited functionality on the watch. But users will still benefit from instant alerts, messaging, and viewing.
The New York Times

Possibilities:
Instant news updates.
Live coverage of elections and other special events.
Live video broadcast.
How it will work:
Every news outlet could benefit from the direct reach that watch alerts will enable. Live event coverage will be the most robust new capability on this platform.
New Use Cases
With the next release of WatchKit, the API that extends iOS applications so they can run on the Apple Watch, developers will start creating native Watch apps. We need to start planning for that today. Here's what we think they'll look like.
iBeacons

With iBeacons, Apple uses Bluetooth technology to determine the precise location of your iPhone or Apple Watch.
Possibilities:
Location-based reminders.
Location-based promotions.
Coupling with task-tracking apps.
How it will work:
There are countless uses for stores, retailers, and even smart appliances. For example: your fridge is running out of milk, so the watch reminds you when you pass a grocery store.
Personal budgeting and finance

Possibilities:
Spending tracking and updates.
Easy access to financial information.
Syncing with financial institutions to view finances.
How it will work:
Many users, especially the young and digitally savvy, already use some kind of budgeting tool like Mint. The watch has the potential to make budgeting even more manageable.
To-do lists

Possibilities:
Actionable, time-based reminders.
Instant updates when tasks are completed.
Geographically contextualized suggestions.
How it will work:
The watch would make reminders easier than ever to use, so it's possible that people will use task-tracking apps more often.
Sports scores and fantasy leagues

Possibilities:
Real-time alerts and notifications.
Easily accessible game details and stats.
How it will work:
Most sport fanatics already follow their favorite teams and athletes in real time, so the challenge here would be to create simple and engaging ways of visualizing the data at a glance.
Navigation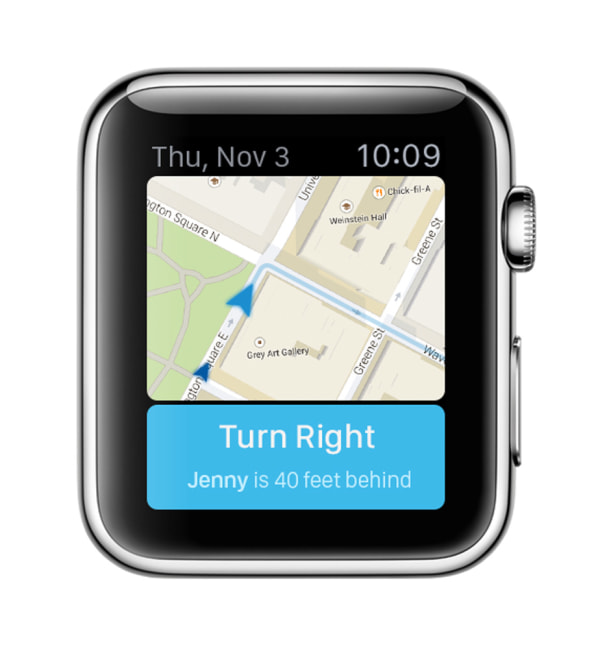 Possibilities:
Haptic feedback guides users to the best route.
Pairing with other devices enables proximity data.
How it will work:
Google Maps is already an invaluable feature of the iPhone. With truly immediate guidance that doesn't create visual distraction, the Watch will make life easier for drivers, bikers, hikers, and anyone else who needs to get from point A to point B. For example, the watch might use haptic feedback to buzz only on its left side to signal a left turn, or twice to tell you that your companion has stopped.
Kitchen assistant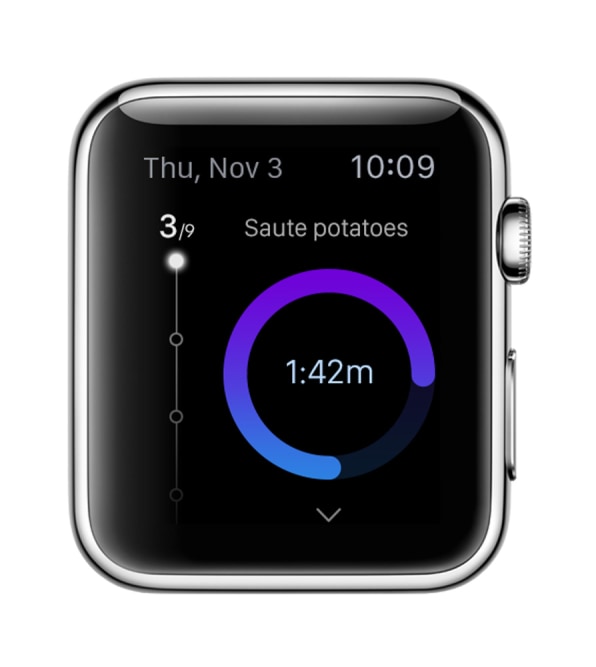 Possibilities:
Easy access to shopping lists.
Step-by-step instructions and reminders.
Quick recipe consultations.
How it will work:
The kitchen has always been a place for gadgets of all kinds – and the hands-free interface of the Watch makes it a natural addition to any chef's repertoire. For example, voice command could help a cook with flour on his hands to set a timer.