That's the implicit question everyone from retailers to social media sites wants to ask. Apple has a new patent for mood sensing technology that it may incorporate into its upcoming iWatch. Researchers have used Twitter to predict fluctuations in the Dow Jones Industrial Average, while Microsoft has tested a mood bra that warns women when they're emotionally overeating.
Even Facebook, which is sitting on more data than it knows what to do with, is interested in how you feel. The company infamously conducted a secret 2014 mood study that many critics called "a new level of creepy."
Now, a new app wants to measure your mood at work. Niko Niko, which launched in 2013, tracks employees' moods and puts the data into a dashboard that managers and HR can use to track (and, they claim, improve) team morale, productivity, and performance.
Max Webster, 24, co-founded the company with friends Alex Bea and Dilyara Scerazutdinova. He says positive psychology, a new area focused on helping people achieve happiness and fulfillment, inspired him to create Niko Niko.
"What will a world look like where people are tracking what actually makes them happy and fulfilled?" Webster says. "We know from research in positive psychology and cognitive science what actually makes people happy and fulfilled day-to-day and long term. A world that has this kind of metrics base is a society that's far more sustainable."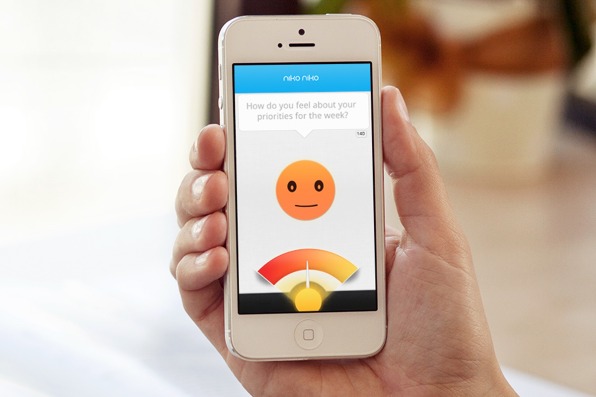 Niko Niko, an ideophone for "smile" in Japanese, mimics in app form a happiness calendar that many agile development teams have used to measure moods. Whereas employees might draw an emoticon on an actual calendar, Niko Niko's app allows them to choose from questions such as "How encouraging was your manager today?" or "How do you feel your voice was heard today at work?" Responses can be open or anonymous, and the data is displayed in line graphs within an analytics dashboard viewable to HR or to managers.
With more teams working in different locations, managers are often challenged with how to engage employees, especially if some of them work remotely. Webster says technology can help close this gap.
"The workplace is fundamentally changing and more companies are looking to get these emotional indicators," says Webster.
Niko Niko currently works with 50 teams. Aside from workplace teams, the technology also has useful applications for sports teams, student groups, therapy groups, and nonprofit organizations, he says.
Webster says the most successful use cases for Niko Niko have been with companies that have someone dedicated to employee engagement.
"When you have someone using this to actually drive change in their organization and saying 'hey, here are problems that we need to improve,' if employees actually see action on that, then they view this [Niko Niko] as a way to drive positive change and are excited to participate."
Ursula Adams, director of employee engagement at United Way Southeastern Michigan, says her company's 140 employees began to use Niko Niko in September. It has made the app part of its new hire orientation and its leadership team meets weekly to evaluate a scorecard that tracks the average employee happiness index (its goal is to increase this number to 80). Only three people on Adams's team view the data, but some employees have chosen not to participate because they don't believe it's completely anonymous. Even though the data is self-reported, Adams says, it's still a valuable tool for her organization.
"We know that some people just don't honestly report—some will say they're having a 100-point day every day no matter what," she says. "Twenty percent won't participate at all. Twenty percent aren't going to be honest, but it's the other 60 percent that I'm looking at that are giving us very valuable feedback."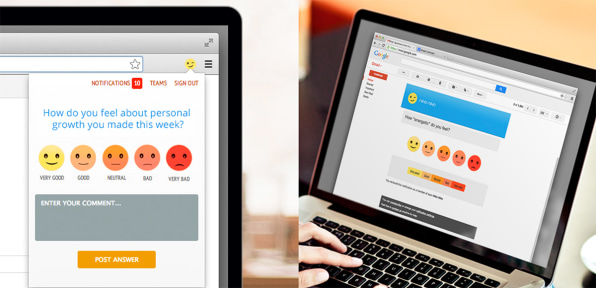 "There's no way to regulate this, other than as an organization taking that feedback and really living up to what it's telling us."
Studies show that happier workers are substantially more productive, and that team members with negative emotions can sour the entire group dynamic. Using technology to pinpoint these feelings early could help organizations improve the culture at their firms and increase employee retention.
Donald Gibson, a business professor at Fairfield University in Connecticut who has studied the impact of mood on productivity for more than 20 years, says people are more comfortable with expressing their emotions—which should be obvious to anyone who's looked at their social media feed lately—and this cultural shift has become apparent in the workplace.
"It's made it into mainstream management, not surprisingly, this whole idea that people's feelings matter and that they can't leave their feelings in the parking lot when they come to work," he says.
Though apps like Niko Niko can raise the profile and importance of emotions at work, Gibson says they're only effective in the hands of the right person.
"A good manager with a decent level of emotional intelligence doesn't really need an app," he says. "But with many tools of this sort, if you have an effective manager who wants another way to add dimension to teamwork, this can be a good tool."