We live in the golden age of subscription services. Music, movies, TV, cars, books, beer, meat, cheese, it's all there for a conveniently priced monthly or annual fee. So why not puppies?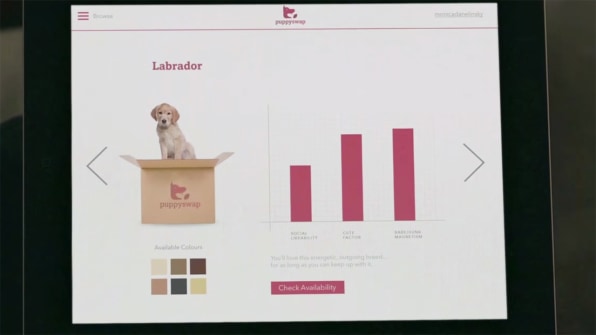 This new ad for PuppySwap by agency Grip Limited outlines the new pet sharing service that gives users the joy and fun of a new puppy without all the hassle of long-term commitment. Sounds great, right? Of course it doesn't you sociopath you. PuppySwap is a fake ad for the Toronto Humane Society to raise awareness of the very real problem of animal abandonment. According to the spot, more than 180,000 animals go into Canadian animal shelters every year, 40% of which never leave.
Some things are better with less commitment (meat! beer!), pets just aren't one of them.