This week at the Consumer Electronics Show, Samsung unveiled a giant TV named the S9W (to no surprise) that was designed by Yves Béhar's Fuseproject (a huge surprise).
Never before has a television manufacturer enlisted a major designer to craft a TV set–not publicly at least. And according to the press release, the S9W marks the beginning of a "long-term partnership" between Fuseproject and Samsung to "shift our paradigm of the television from something that needs to be hidden to a piece of art that demands formal presentation, and televisions that create the most beautiful, magical, autonomous, and immersive experiences possible."
Samsung signs Yves Béhar, and all they do is launch a new TV. What a waste.
Now look, there's nothing wrong with the S9W. It's a very nice television, with a cinema-wide, curved, 82-inch screen that sits atop a sculptural cube pedestal. Electronics are actually hidden inside the block to reduce screen depth–a trick used by early flatscreen iMacs–and the effect is really pretty nice. If you could find a subtle way to manage cords, a set-top box, a Blu-ray player, and maybe some speakers, it's easy to imagine the S9W as the centerpiece of a high-end home theater system in a modernist living room.
But even still, what a waste.
I mean, think about it. You're Samsung. You've been copying Apple design for a while, found some success doing it, got in trouble a bit for doing it, and now find yourself potentially losing marketshare to a competitor copying your copy Apple strategy cheaper and faster. So you look around for a solution to buy your way out. And you find Yves Béhar.
Great score. Yves Béhar is the closest thing industrial design has to a household name (outside the walls of Cupertino, at least). His studio, Fuseproject, is behind massive hit, landmark products which include Jawbone's line of headsets, portable speakers, and fitness trackers; the SodaStream household water carbonator; the Ouya game console; the crazy cup that can identify the liquid inside; and the the OLPC laptop. He runs a rare workshop that can transform electronics into approachable, even lustable, appliances. And he's not a one-trick pony, making him the perfect fit for Samsung, which competes in televisions, smartphones, home appliances, and wearables.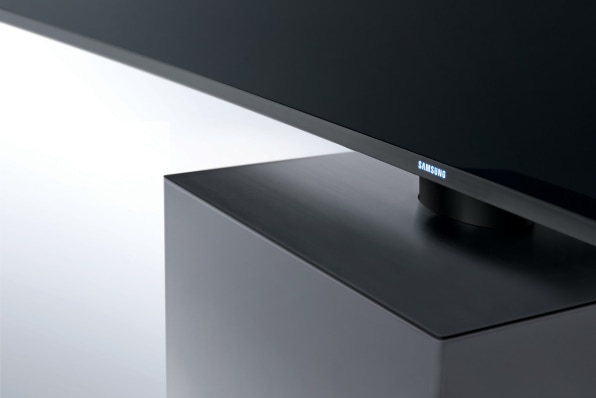 Of all these sectors of business, however, televisions are the most impossible to disrupt with design because their parameters are so set. Due to the nature of broadcast television and film, a TV needs to be a rectangle with video inside it. You can curve the rectangle, and you can place it on a pedestal like art, but that's about it. And that's why, as much as manufacturers like Samsung will go on and on at CES press conferences that they've put so much design emphasis on their TVs–now in red! now with a thinner bezel!–all journalists and consumers really care about is the ratio of picture size, to image quality, to price. Because more than maybe any product on the market, the ultimate TV design would really be no TV at all. (We call that solution a projector! And we'd all use them more if the image quality and installation could reconcile with our domestic lifestyles better.)
I'd love to eat my words on this, and to watch Béhar blow us away with the next Fuseproject/Samsung collaboration; to validate the counterpoint that TVs are traditionally a low-margin product, and that's just the sort of product category that design can swoop into, reinvent, and charge a premium for in return (again, see what Apple did in computers, media players, and phones).
But if you're Samsung, and you woo Béhar for a long-term partnership, get that guy to take a look at your hideous smartwatch line, or your me-too Galaxy smartphones. Get him to reskin Android to feel special and empowering on your devices. Develop novel interactions across your portfolio of products that makes the brand name "Samsung" resonate with consumers like Sony once did or Apple does now.
Want to know why Apple never made a TV for you to copy, Samsung? Because design can't win at TVs. Choose your battles more wisely.