Last October, an obscure report from a newspaper in India made waves on the Internet when it suggested that a Philips television set with Apple TV capabilities built into it was on the way. Which, if true: Ajksdfhkjdshasdjfhkasdjhf!!!
After all, the real Apple TV has been little more than a mythical tech-world unicorn. And if it was real this time, it didn't even look like an Apple product. It was a regular ol' Philips.
The excitement was warranted: Most built-in "smart" TV navigation options are awful. Movies, TV shows—all would be a breezy jaunt through iTunes. The news seemed to jolt even weary tech bloggers to life: If Apple was indeed partnering with third-party TV manufacturers, it would portend a new ecosystem war taking place inside your TV set, and Apple had a head start.
Unfortunately, it was too good to be true. The Apple/Philips partnership turned out to be bunk, the result of a bad translation in the news wire. But the excitement over smart TVs that looked just like normal TVs was warranted. In fact, the roadmap to the future that the erroneous report sketched out wasn't actually far off the mark, as we learned today.
At CES on Monday, Roku TV announced that it was partnering with a few up-and-coming hardware manufacturers to have its streaming technology built into their TV sets, no box necessary. The company actually announced its first two partners—China-based TCL and Hisense—at CES 2014, and began shipping (quietly) in the fall. But now it's expanding in a big way.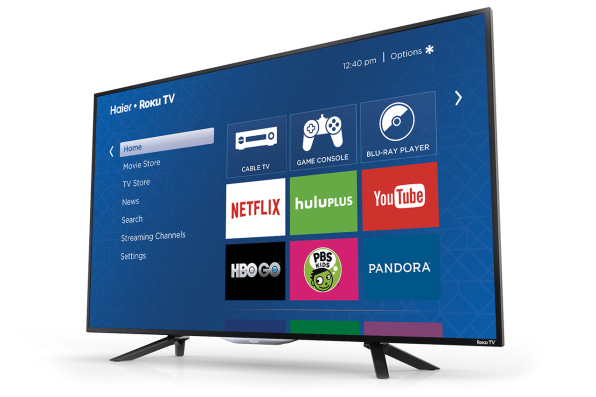 Roku and its boxes are already No. 1 in the streaming-media market, with 29% marketshare, according to research firm Parks Associates. (Chromecast is No. 2.) Although it hasn't disclosed how many TCL and Hisense TVs it has sold, it has sold over 10 million media streamers to date.
Now, there's a chance you might not recognize the names of Roku's new partners in passing: There's Best Buy's in-house Insignia brand, which will incorporate Roku into a few TV models come spring. (Having Best Buy as a distributor? Let's just say that isn't an accident.) And there's Haier, which plans on launching a few smart television sets with Roku guts in Q3.
Also, Roku announced a 4K reference design for its manufacturing partners. "This means that our TV OEM partners can begin development of Roku TV 4K models that merge the latest in TV viewing technology with the Roku operating system and experience," the company wrote in a blog post. TCL will be its first partner that will attempt to bring the next wave of Roku-compatible 4K TV sets to market, although a time frame for release wasn't announced. And at least for the time being, the only thing you'll be able to watch in 4K is Netflix.
Roku sees the big potential in sneaking its platform into a wide selection of televisions for customers to snatch up. It wants to hook you before you have a chance to consider a competitor. Put another way: Platform-agnostic televisions could be on the way out; built-in ecosystems may be moving in. Roku is amassing a small army of televisions with which you infiltrate your living room; the TV is a Trojan horse.
"We want Roku TV to be widely adopted and available at a bunch of different price points," CEO Anthony Wood told Fast Company last February. "There's a long list of apps that don't come to [smart TVs]" because of the different platforms, but Roku's robust ecosystem helps solve that problem. It wants to own the content ecosystem before Apple, Google, and the rest have a chance to swoop in.
Let's look at Samsung as an example. The company has been building its own proprietary user interface into its Smart TVs for a few years now, which makes it easier to access things like Netflix, YouTube, and Pandora. With all those features already baked into your TV, there will be no need to rely on third-party media centers like Roku, Chromecast, Xbox, or PlayStation. (Or at least that's the hope.) Samsung provides the TV and the portal to content, which it can monetize.
Roku is essentially doing the same thing and taking it a step further. The company understands that, for the majority of people, televisions are big, expensive, once-(or twice)-in-a-decade purchases. Whoever infiltrates your family's home first has a better chance of locking you into its media ecosystem for years at a time. Indeed, it looks like the TV platform wars of the near future won't be openly fought over shelf space, or which Wi-Fi dongle deserves an HDMI slot. It'll be waged quietly inside the TV before you buy it.