In Amsterdam, like many cities, it's hard to find an affordable place to live, especially for recent college graduates who would rather avoid moving in with roommates or their parents. A new movable house is designed to make living in the city center cheaper for single millennials by making use of temporarily vacant land.
The one-bedroom homes, which can be set up in a single day and moved just as quickly, will be built in parts of the city where construction has been delayed for years because of the economic crisis.
"Because of the delay, these locations get a bad image, which makes future development even harder," says Anneke Timmermans, project lead for Heijmans, the real estate developer that designed the homes, which are called Heijmans ONE. "By placing Heijmans ONE houses on these plots for temporary use, the landowner gets residents to guard the land, and a positive image for free. Because of this, we don't have to pay any fee for using this land, which would be vacant anyway–and that helps us keep the rent for the homes low."
The houses will rent for 700 euros a month, or about $900. It's a little less than someone might pay for a cramped single room in the city, and it comes with a full second-story loft bedroom, a private yard, and soaring windows.
"Which of your friends has a free-standing house, with personal terrace in the city?" says Timmermans. "It's very challenging for young people to find affordable, quality housing in the city. Heijmans ONE provides a home for themselves–no sharing facilities anymore–in the city, for a reasonable price. They still have money to spend on the nice things in life."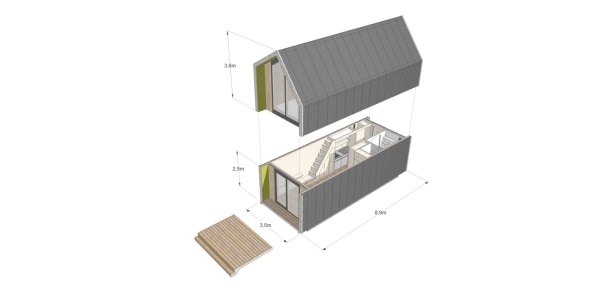 The homes are also designed to be as environmentally sustainable as possible. The first wooden houses will use solar panels to provide power, and though they'll hook up to the city's water and sewer services, the goal is that they'll eventually go completely off the grid.
The company finished building two prototypes in Amsterdam, and a "test resident" is living in one of them for the next few months to give feedback on the design. Thirty more homes will be built next fall in Amsterdam, Rotterdam, and Den Bosch, and then the company will start looking for opportunities to bring the design to other countries. Here's hoping they come to San Francisco.