Giving every child a laptop or tablet is a good idea, until you lose power. Then, the smart device becomes dumb very quickly.
In the last few years, thousands of schools in the developing world have been equipped with such technology. But San Francisco-based electric engineer Shiv Rajendran says these gadgets are not used as much as they could or should be. The biggest limiting factor, he says, is patchy electricity.
"The idea is to take technology from the developed world and make it affordable, so we can pass on the benefits to the next generation," he says. "But [the schools] lose electricity six to ten hours a day, because there's not enough, and the government prioritizes factories and other high-paying customers."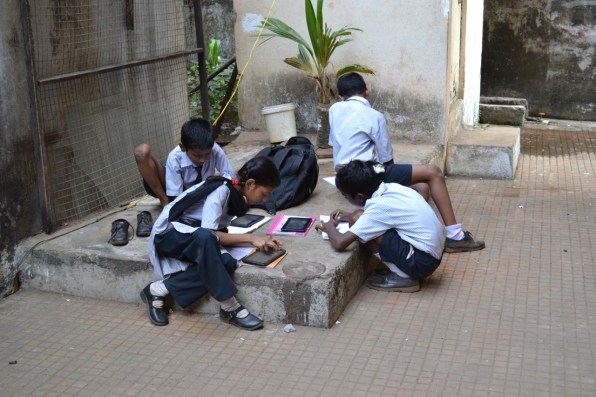 In designing his new battery to help get around that problem, Rajendran has a particular type of school in mind. It's a modern, private school, probably started by a foundation, international agency, or social business. It has distributed technology as a founding principle and investment. But it's limited by intermittent power supply.
Rajendran's battery, called the Jupiter6, is derived from an old electric vehicle pack. He takes one of the 30 to 60 "modules" inside, adds his management control system, and repackages it as a power pack. "The giant battery is actually not one battery, but a collection of these smaller batteries," he explains.
Schools use the pack as a backup power supply. The unit sits at the side of the classroom collecting power when the grid's available and powers up to 20 tablets at a time. That means a whole EV battery could help as many as 4,000 students, Rajendran says.
Rajendran has prototypes working but is now looking to raise $40,000 through an Indiegogo campaign to get a product on the market this year.
There's certainly no shortage of old batteries in the world, mainly because EV batteries lose their ability to recharge relatively quickly. A Nissan battery, for example, is guaranteed only for 60,000 miles at 70% capacity. After that, you need to think about replacing it. The industry is therefore sitting on a growing mountain of defunct equipment. Rajendran has arranged a free two-year supply with one Californian manufacturer, ensuring he'll have plenty of modules for re-manufacturing.
While the battery may no longer be any good for driving a car, it's good enough for charging electronics. Rajendran's battery needs only 3% of the car's demand, meaning it will last four to five years, he says.
Rajendran has been working with EVs for a while, though his previous involvement was very different. He was part of the Kleenspeed team that builds super fast electric cars. They broke the EV speed world record several times.
Now Rajendran is being more practical, and it looks like his battery pack could help lots of schools.