Lauren Bigelow always loved to bake. She didn't know, at first, that it would transform the way she did business.
Bigelow grew up in Westchester County outside of New York City, and some of her earliest memories are of visiting her next-door neighbor. Mr. Damsteeg was a retired German baker, "a little white-haired old man," recalls Bigelow. Her first memories of baking are in Mr. Damsteeg's kitchen, where he and his wife would pull delicacy after delicacy from his oven: puff pastries that looked like angel wings, cookies stuffed with chocolates and jams, lemon curds, and Linzer tortes–"an outrageous variety of things," she recalls.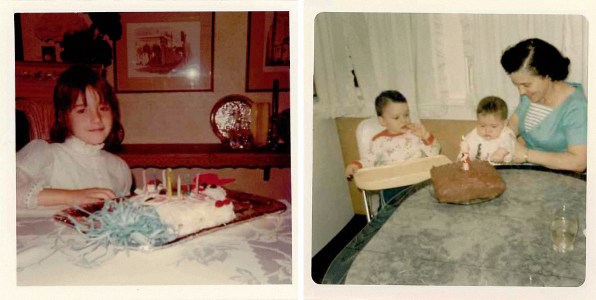 Bigelow was hooked. Soon, her mom taught her the basics of cakes, cookies, and pies. "I have good memories of Saturday afternoons spent rolling out dough and measuring flour," Bigelow recalls. She loved, too, the chemistry part of it: experimenting with the different ingredients–the yeast, the baking powder, the baking soda–to see how they affected the final concoction. And the results were delicious.
In college, Bigelow began to learn the social benefits of baking. She had her own apartment and a "football-playing boyfriend who needed fattening up," so she started baking regularly. Since the building's boilers ran hot, she often kept the front door open just to cool the apartment, and the aroma wafting out began to attract neighbors, who became friends. When Bigelow graduated in the '80s, she worked part time in a Washington, D.C. restaurant whose pastry chef taught her advanced baking techniques, like how to use springform pans. She made her first mocha mousse torte in those years, bringing her baking skills to a new level.
This was around the same time that Mrs. Fields cookies were becoming popular. A friend had secured a bootleg version of the recipe, so she and Bigelow decided to try their hand at it. The two planned to make a few extra cookies to share with the small teams they worked with at their respective offices, so they doubled the quantities listed. As they began creaming butter, Bigelow became daunted by amount of the ingredients and asked asked her friend how many cookies the recipe yielded. "She looks at me and says, 'What's a gross?'" They were baking till 4 a.m.
The next day, Bigelow grasped the business case for making a gross of cookies (that's 144, to be exact, even when you're not Mrs. Fields). She brought cookies to her brokerage-firm colleagues well beyond her own small working group. "It was actually a really interesting ambassador," she says of her baked goods. A 22-year-old rookie employee, Bigelow suddenly had a great excuse to knock on the doors of mid-level and senior management and say, "Hey, we over-baked last night. Would you like the spoils of our stupidity?" People who might have never noticed Bigelow now had her on their radar.
"There was no plan. It was completely random," she says. "It's not Machiavellian in its intent." Yet it's certain that her habit of baking for colleagues and partners–which persists today–has opened doors for her career, and helped her out of tight professional spots.
An example of the latter: in the '90s, Bigelow took a detour away from business and into academia, pursuing a doctorate in prehistoric archaeology. Bigelow gravitated very naturally to the empirical side of archaeology–the part revolving around numbers and data–but she had a terrible time with the theoretical side: navigating dense cultural anthropological thinkers like Bourdieu, Derrida, and Hegel.
One week, Bigelow had to do a presentation on Bourdieu, whose texts talked about "doxa," "reflexivity," and "symbolic capital." Navigating those ideas was like "walking through molasses," she recalls, but she knew her classmates reveled in the stuff. So Bigelow hatched a plan. In class, she showed up with a mousse torte and a pot of espresso. Her classmates were "sugared and caffeinated beyond the moon," and Bigelow hardly had to speak at all. "The discussion was incredibly lively," she says. And she wound up getting a solid grade. "I squeaked by on that class based solely on my baking ability."
When Bigelow re-entered business in 2000, first working for a Michigan incubator called the IT Zone, she again used baking to get to know her colleagues, this time with a twist–she asked everyone for special requests, like a favorite cake from childhood. Among her favorites: a "hummingbird cake" with pineapple, banana, cream cheese frosting and pecans. She also acquired old family recipes that she found amazing in their simplicity, like a delicious lemon custard that had just four ingredients.
From 2004 to 2008, Bigelow had to travel a lot for her job at a firm called The Cleantech Group, and her baking schedule had to be drastically reduced; where she once baked two to three times a week, now she was baking two to three times per month. While abroad, she would sometimes buy baked goods to present to colleagues, but it wasn't quite the same.
By 2010, she had taken a new job that let her stay home more, with a firm called Growth Capital Network in Michigan. Baking is again central in her life–and continues to get her out of scrapes. She recently bartered pies for help judging a startup competition. "I was baking for hours, but all my companies got judged," she says.
And because she still "over-bakes" routinely ("I'm Italian! I cook for the masses!"), she sometimes find her reputation precedes her, in cases where she gifts a massive cake to a small team at a partnering firm, and the slices make their way around the entire company. Months later she might meet someone else in the company who tells her, "Oh my God–you're Lauren! I love your dark chocolate almond brownies."
Sometimes, that over-baking gets her into trouble–as was the case the week before Christmas, when she made a "blueberry buckle" that could feed 25, only to have the meeting she baked it for postponed until after the holiday. But to a born entrepreneur, an excess of baked goods really represents an opportunity. "I'll probably go and meet some new neighbors that just moved into our office complex," she says. "People don't turn that down."