As we sit hunched over our desks, staring at computer screens, cell phones, and tablets throughout the day, ergonomics is usually an afterthought (until carpal tunnel or back pain sets in). But the interaction between our electronic devices and our bodies is almost all that Justin Young, a professor at Kettering University, thinks about. These days, Young is concerned about something that every business with desk-bound workers could one day be considering: What happens when touchless gesture control devices–gadgets that let you control what's happening on a screen without any physical contact–invade the office?
Young's interest in ergonomics emerged while studying biomedical engineering in college.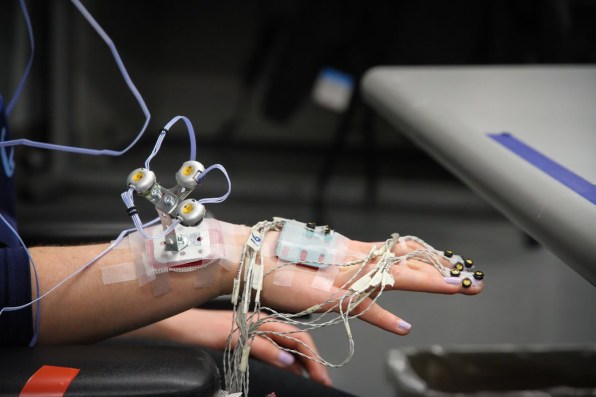 "You can stare at a petri dish for a long time, but for me, I was more interested in the entire person type of interaction," he says. While getting his PhD at the University of Michigan, Young started looking at the biomechanics of grasping in the upper limbs in an attempt to come up with ladder designs that help a person hold on if they slip. Then, during his postdoc at Harvard, he got into the nitty gritty of tech ergonomics, examining what happens to the upper limbs, shoulders, neck and wrist when people switch between tablets, desktops, and laptops.
But just as device manufacturers and office furniture makers have figured out the ergonomics of the average worker's tech set-up, everything might change again. Gesture control technologies that let users manipulate a screen with their fingers, arms, and facial expressions, have already made their way into the video game world. Soon, they're expected to migrate to the working world. In June, HP announced that it's selling a keyboard with integrated gesture controls from Leap Motion–a manufacturer of motion controllers for games. The company already sells a PC embedded with the technology.
Gesture control probably won't become mainstream for years, which is exactly why Young thinks it's important to study it now.
"If we all switch to that kind of interface before we start to evaluate it, then we can run into a situation like in the late '80s and early '90s when everyone had carpal tunnel syndrome because keyboards were designed in such a way that they required a lot of force to press down on the keys," he says. "Once you teach someone a new interaction modality like pinch to zoom–once you learn that, it's hard to switch. It's at the development stage of new interfaces that we want to make sure people are learning something that will be easy to use, productive, but also not create problems with tendonitis, carpal tunnel, or injuries."
Gesture control is a goldmine for an ergonomics researcher. Try sticking your arms out in front of your chest for three or four minutes. Feel the burn? Now think about waving your arms around all day with a gesture control device. Without proper office furniture, that could lead to some serious shoulder problems.
Even if gesture control goes mainstream, some workers will still switch throughout the day between gesturing, typing on a keyboard, tapping a smartphone, and using a tablet. That means office furniture can't be as one-size-fits-all as it is today. "An arm rest for gesture control is not the same comfortable position that's been designed for keyboards, a mouse, and a desk–the typical paradigm for office furniture," says Young. "At this point, it's early in coming up with an interface that's easy to use. We're looking at what the potential places are where we can change the design for a chair armrest to get used to gestural control instead of a keyboard. It will have to be adjustable to both."
In Young's lab, a stream of test subjects help determine the future of gesture control ergonomics. They are given the ability to adjust the direction, height, and angle of an armrest while using gesture control technology; Young measures their movements and the muscle activity in their shoulders. Afterwards, subjects are given questionnaires on what they liked or didn't like about the setup, and whether they were fatigued.
The results of this work won't stay walled off in academia-land. Some of Young's work is funded by the Office Ergonomics Research Committee, a consortium of companies–including Apple, Microsoft, Steelcase, Herman Miller, Genentech, ExxonMobil and HP–that have a vested interest in ergonomics. Most manufacture electronics or furniture, but some are just interested in best practices for their desk-bound workers. Look at the usability of gesture control is one of the organization's four current priorities, according to its website.
Using a gesture control device with an ergonomically disastrous office setup isn't likely to give you carpal tunnel, but it will probably cause pain and fatigue. In the short term, it's a comfort issue, but constant pain can lead to real neck, shoulder, or wrist problems down the road. Those types of injuries can take years to develop.
So are OERC members taking Young's work seriously? "It takes several years to accumulate enough published research to make a concrete recommendation," he says. Still, Microsoft took a serious look at work done by Young and his former colleagues at Harvard around ergonomic tablet design (looking at things like the angle that people use to set up a tablet when watching movies or typing on a table, for example). He believes that the research was used when Microsoft designed the Surface.
As for Young's own office setup–well, it's not much different from the typical academic's workspace. There are papers, books, and assignments strewn about, a desktop computer with two monitors, a standard mouse and keyboard. Young did, at least, get to pick out his own office chair. "So I guess my situation is not different from many workers in that what office setup I have is largely governed by what's available," he writes in an email. "Unfortunately, a nice ergonomic setup for everyone is just not in the budget."