This past year was a big one for fans of six-second video. Two years in, the format and its best practitioners have grown by leaps and bounds, both in quality and cultural impact. Over the last year, Vine introduced new features like the Vine camera and loop count. According to one study, 25% of American teens use Vine., more than 100 million people are watching Vines every month, with more than a billion loops every day.
Considering those stats, it's no surprise the brand stampede continues with more marketers getting serious about their six-second strategy. Which is, frankly, a win-win for consumers–if it's good it's good, if it's terrible, it's only six seconds long. HP even made a TV commercial starring Viners made completely of Vines. With millions of followers, top Viners have crossed over into the mainstream, working with brands and mingling with more traditional entertainment celebrities. KingBach gets comedy stars like Key and Peele to be in his bits and has made appearances on TV shows like House of Lies.
To the extent that it's possible to pick from the infinite amount of source material, here are Co.Create's picks for the best Vines of the last year. Some are based on the collective quality of a particular creator, others' brilliance is distilled in a single Vine. As both the platform and producers' skills continue to evolve, we can surely look forward to Vine continuing its mobile video onslaught and to seeing how the medium's best and brightest evolve past the six-second format. Weigh in with your favorites in the comments below.
Comic performer and writer Monsen delivers a hilarious, lightning round of nonsensical emojis for when your state of mind is best described by, say, a Wizard on a Skateboard or Clown Declaring Bankruptcy.
Ian Padgham "The 9-Month Vine"

Because why not watch the miracle of life on a six-second loop.
TJ Steez "How Thugs Pronounce Items"

Many of Steez's readings join the pantheon of spelling pronunciation comedy.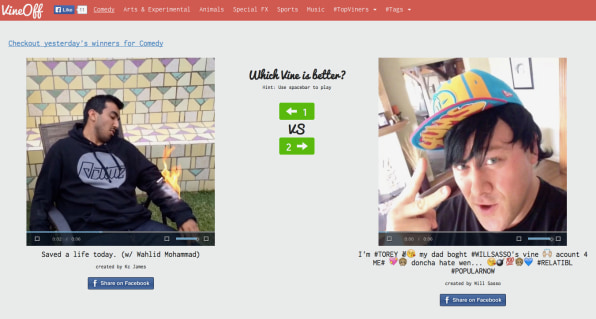 Not a Vine video, per se, but still. This Hot-or-Not for six-second aficionados deserves a year-end high five. Watch two Vines on the same page, then click the one you like better and it tells you what percentage of other users agreed with you. A fun and orderly way to get dragged into a Vine-inspired time-suck wormhole.
Reid Wiseman "First Ever Vine From Space"

Astronaut Reid Wiseman posted the first-ever Vine video sent from space–a six-second time lapse view of from the International Space Station (ISS), representing a 92-minute orbit around the Earth at 17,500 mph.
HP, with agencies 180LA and NIche, is giving it a go with a full 30-second TV spot created with a collection of Vine videos. The video compilation stars well known Viners like Jessi Smiles, Brodie Smith, Robby Ayala and Zach King, creatively passing an HP Pavilion x360 notebook/tablet around.
Hudson Kuykendall "Club Going Up On a Tuesday"

It's like normcore-meets-John Hughes with a funky beat you can dance to.
Dylan McQuaid "Cat As Obama"

No big deal, just a house cat delivering a presidential address on the threat of ebola.
Thomas Sanders "Story Time"

Sanders takes the always-on social mobile life to new heights by approaching random people in public with his camera and narrates whatever they're doing at that moment.
Brandon Bowen "Blocking out the haters"

This 16-year-old from Georgia managed to parlay this Vine into 135,000 likes and an appearance on Good Morning America.
ASDA "This Is How To Decorate a Christmas Tree"

The U.K. retailer shows us the quickest way to get the holiday season underway.
This former animation professor and caricature artist has more than 678,000 followers and 52 million loops and consistently serves up her quirky comic sensibility in just a few seconds.
KingBach
With 8.5 million followers, Andrew Bachelor, aka King Bach, has made Vine into an entertainment career, worked with major brands like and been tapped as the next big thing in comedy.
Jethro Ames "Ford Mustang Bullitt Car Chase": for Ford Mustang Vine (Ford Europe)

Ford scores big with this stop-motion recreation of the legendary car chase scene in Bullitt.
Mancuso has attracted more than 6.6 million followers by bringing lift to characters like Spanish Batman, Spanish Superman, and Hispanic Santa.
He's done Vine deals with brands like Ubisoft, JBL, and Hanes, all clambering to use Paul's squeaky clean bro humor–and more than 6.2 million followers–to their advantage.
Lowe's and agency BBDO New York figured out how to make home improvement easy, interesting and, perhaps most importantly, just six seconds long with this series of DIY tips. You may never look at walnuts and mayonnaise the same again.