We've surely covered our share of both, but these are some of the most exciting and–we hope–most viable of the projects that asked for regular folks to help get them off the ground this year. The big theme is, of course, fish. Yes, fish. One project wants money to make fake fish out of tomatoes. Another wants money to deliver fresh, sustainable fish right to your door so you can skip the sushi bar entirely (last year was all about scanners).
There are also newfangled bikes, recycled plastic skateboards, and a cookbook for fancy pot recipes. There's even a chance to move to Detroit. All the crowdfunding deadlines for these stories are long past, but not to worry, you're still finding out about them very early. If they hit their goal, they should be just about available now. You can still be an early adopter.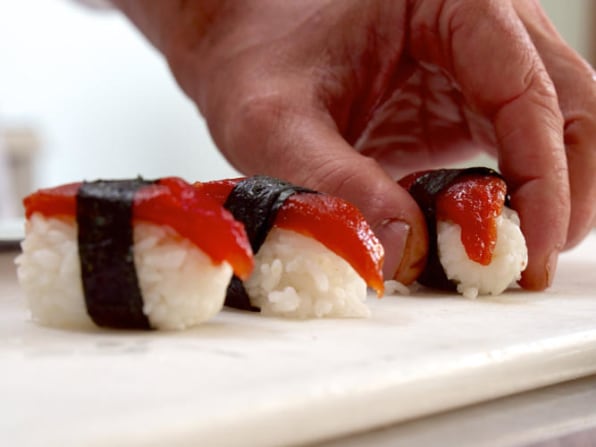 1: This Tuna Sushi Is Totally Tuna Free: It's Made From Tomatoes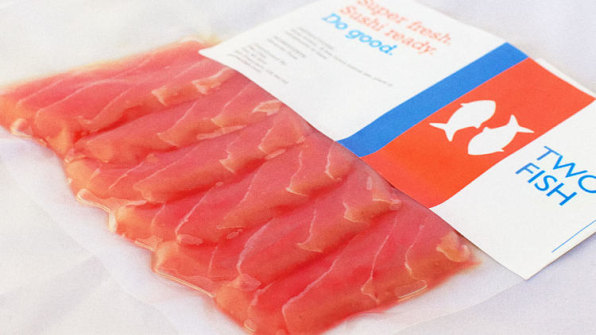 3: This Sustainable Sashimi Is Delivered Fresh From The Boat And To Your Door

I want my guilt-free sushi, and I want it now.
4: These Beautiful Recipes All Have One Common Ingredient: Pot
Serve a fancy meal, complete with "medicated butter nut squash soup," and get your guests extra giggly.
5: This Grocery Store In Berlin Will Have Zero Packaging
Original Unpacked won't have any plastic containers or paper wrapping—but tell that to the line of other package-free grocery stores that have tried that, and failed.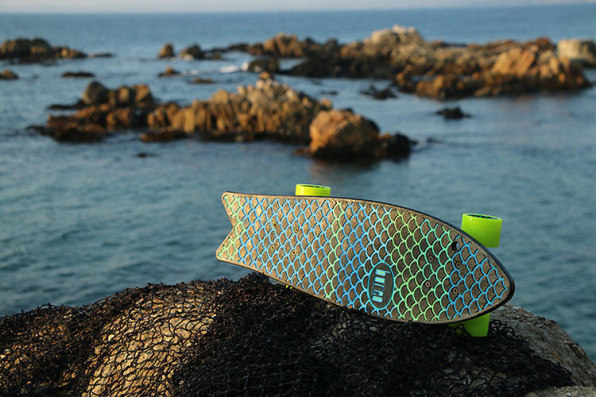 6: These Skateboards Are Made Out Of The Plastic Clogging Our Oceans
The "Minnow" is a fish-shaped skateboard made of pulverized fishing nets from the Chilean coast. Can a trio of surfer dude engineers turn excess plastic into a local commodity?
7: These Solar Roads Could Power The Entire Country
The founders of the Solar Roadways project want to cover every highway in thick, LED-lit glass.
8: Never Bike In The Dark Again With These Fender-Mounted Lights
The newest version of Revolights popular Tron-like bike lights lowers the price point so everyone can glow as they ride.
9: This Cheap, Strong Cardboard Standing Desk Will Let You Ditch Your Deadly Office Sitting
Have you always wanted to try out a standing desk but didn't want to commit? This recyclable model is assembled without any glue or fasteners and costs only $65.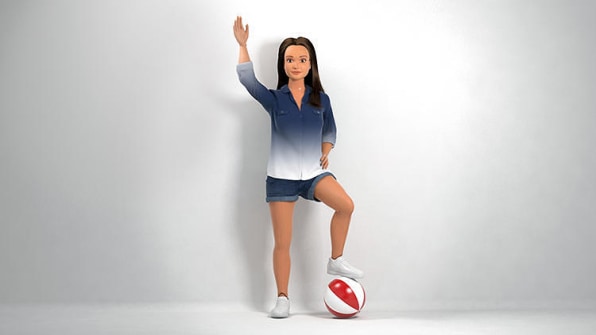 10: Meet The Barbie With An Even More Perfect Body
The "Lammily" doll has the proportions of an average American 19-year-old. Can she beat Mattel for a slice of the toy market?
11: Calling All Writers: Move to Detroit, And Get A Free House
In hopes of building a literary scene in the downtrodden city, a new nonprofit aims to rebuild vacant homes and just give them away. Can't get better than free.
Read more of our best stories of the year, in these categories: Most-read, photos, infographics, lists, videos, maps, buildings, robots, transportation, bikes, food, collaborative consumption, cities, energy, environment, health, education, crowdfunding, innovative workplaces, and privacy.