Fast-forward to 2018. That year, according to the U.S. Department of Commerce, the country will have 1.2 million unfilled jobs in the disciplines of science, technology, engineering, and math, known by that increasingly inescapable acronym STEM.
Look at those positions now and the lack of women—a group who make up more than half of the workforce—isn't a problem just for women. The whole economy feels it. And without question, changing gender stereotypes and breaking down what scientists and engineers should look like is a long overdue transformation. The good news is, it's all happening.
Female leaders in STEM are shedding light on a means to a solution by being the solution themselves. While the numbers are in need of multiplying, there are monumental strides being made among women and girls in STEM.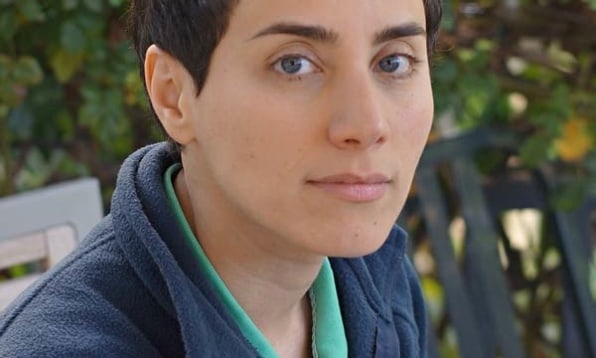 No doubt the most publicized achievement was the awarding of the Fields Medal to Maryam Mirzakhani, an Iranian math professor at Stanford University, who became the first female winner of the prestigious award—often described as the Nobel prize for mathematics—in its 80-year history. "It's an extraordinary moment," Christiane Rousseau, vice president of the International Mathematics Union, told the Guardian. "Marie-Curie had Nobel prizes in physics and chemistry at the beginning of the 20th century, but in mathematics this is the first time we have a woman winning the most prestigious prize there is."
It may have been the most noticeable milestone for a woman in science this year, but it wasn't the only one. I've collected nine other important highlights below.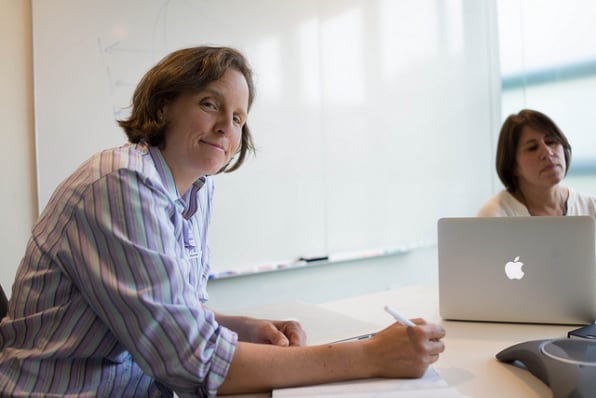 On September 4, the White House appointed Google veteran Megan Smith, 50, as the country's third-ever CTO, giving women everywhere a new tech titan role model to follow. Directly assisting President Obama, the MIT graduate will be in charge of guiding the federal government's use of technology and its IT policies. Over the summer, she led Google's Made with Code initiative, a campaign aiming to get young girls excited about computer science. No stranger to tech innovation, Smith worked for Apple and a number of startups before joining Google in 2003.
Italian Air Force pilot Samantha Cristoforetti, 37, landed at the International Space Station on November 24, marking the first time Italy has ever sent a woman astronaut into space. Joining fellow female astronaut Elena Serova of Russia, Cristoforetti is conducting experiments on how microgravity affects sleep. When she arrived at the station, where she'll remain until May 2015, reporters asked if she'll be wearing makeup while she's in space. Suffice to say, she'll have other things to keep her busy, such as live tweeting spectacular images of the cosmos.
On July 16, Cynthia Breazeal, the 47-year-old CEO of the social robotics maker Jibo Inc., launched a crowdfunding campaign to finish the development of "the world's first family robot."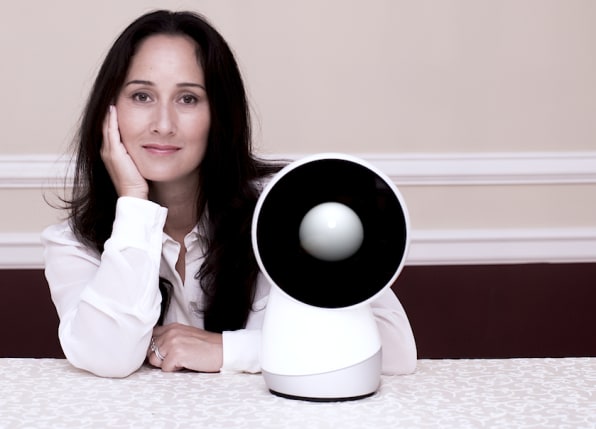 Originally set with a goal of $100,000, the campaign raised nearly $2.3 million in two months, making it the most successful technology campaign ever on Indiegogo. Built to engage with people, and take on tasks normally handled by apps or personal assistants, Breazeal's family robot is designed to treat its users like humans, unlike other devices. An MIT professor and long-time robotic pioneer, Breazeal is best known for creating the wide-eyed, social robot Kismet in the late '90s.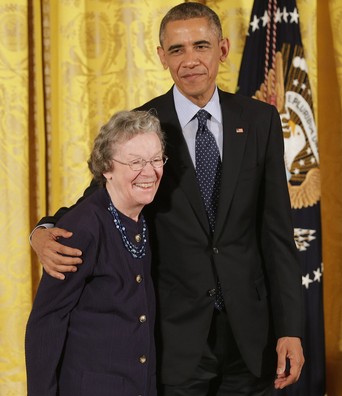 On November 20, President Obama honored 85-year-old chemist Edith Flanigen with the National Medal of Technology and Innovation, the nation's highest award for inventors. Most recognized for her work in molecular sieves—or crystal compounds that can be used to break down crude oil and reduce energy costs and industrial waste—Flanigen's 42-year career at Union Carbide allowed her to develop a new way to manufacture gasoline more efficiently and safely.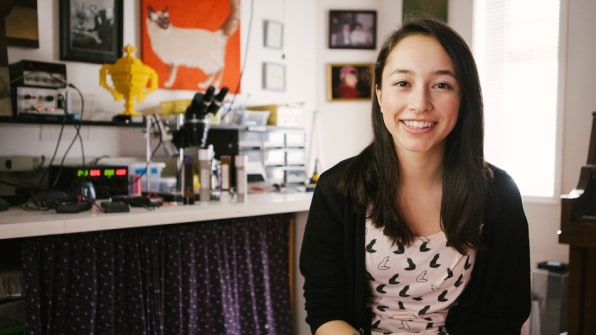 As part of GE's "Fallonventions" segment on The Tonight Show starring Jimmy Fallon in February, the series featured 17-year-old teen inventor Ann Makosinski, who built the Hollow Flashlight, which can light up through the warmth of the human hand. She began to develop the project when she learned that a friend couldn't do homework at night in the Philippines because electricity was scarce. Her illuminating invention won her the top prize at the Google Science Fair in 2013.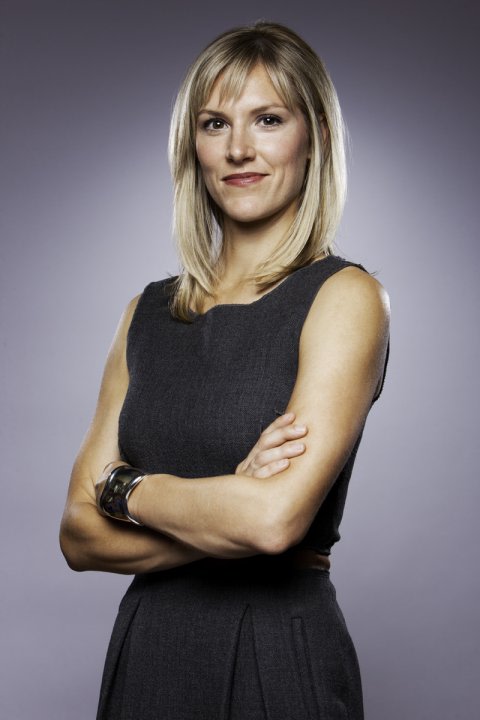 In November, the home solar electricity provider Sunrun unveiled an interactive kiosk that allows consumers to see if their houses are suitable for solar energy systems. Under the leadership of the company's 35-year-old CEO, Lynn Jurich, Sunrun was recently awarded $1.6 million by the U.S. Department of Energy's SunShot Initiative fund. According to the company's website, Sunrun and its partners build a solar system every 10 minutes. Jurich and her cofounder, Edward Fenster, dreamed up Sunrun while attending Stanford University, and launched the company in 2007.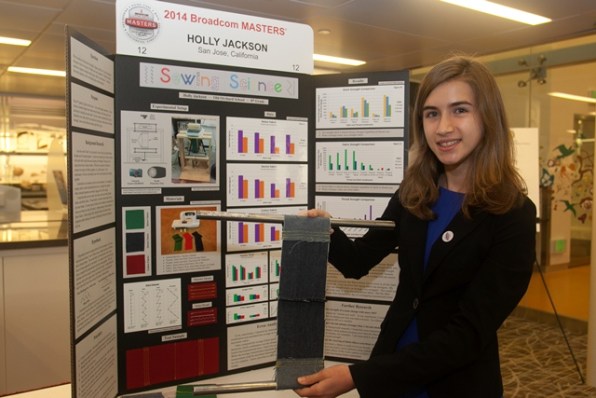 On October 28, 14-year-old Holly Jackson won the Broadcom Master's Competition top prize of $25,000 for her project Sewing Science, an engineering device that measures the strength and capacity of fabric and threads. From fashion designers to protective-gear manufacturers to everyday people learning to sew, Sewing Science findings are of wide-ranging interest, and it all came together because of a hobby.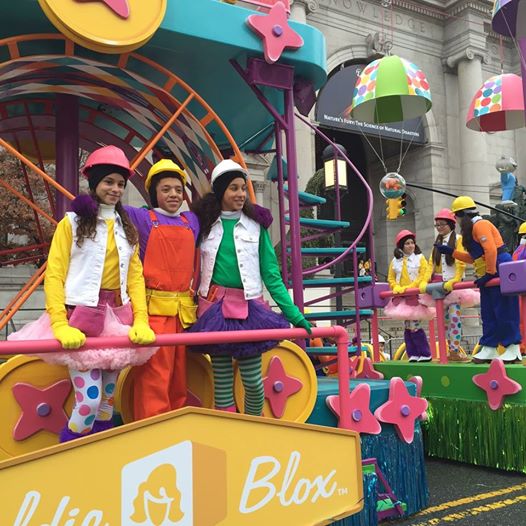 After a controversial launch in 2012 due to a lawsuit over parodying the Beastie Boys' hit "Girls" in a viral video ad, GoldieBlox showcased its engineering-inspired float, The Girl-Powered Spinning Machine, in the Macy's Thanksgiving Day Parade. This is the second surprise marketing hit for the toy company, which was created to encourage girls to take an interest in STEM. In January, GoldieBlox was featured in a $4 million Super Bowl ad seen by 111.5 million viewers. Founded by 31-year-old founder Debbie Sterling, GoldieBlox's first two products were top-selling items on Amazon last December.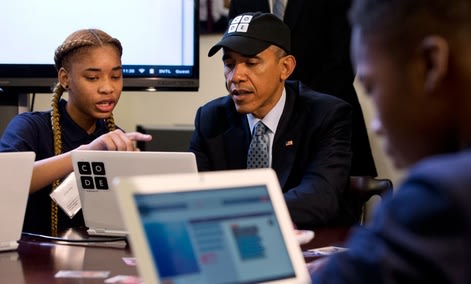 On December 4, the 2014 National Christmas Tree Lighting took place on the Ellipse at President's Park with the help of thousands of girls across the country, who participated in Google's Made With Code campaign and programmed the flickering of the tree lights down to the second. The campaign is running through the holiday season, as the White House trees continue to add more programs from girls (and boys!) who contribute to the site. During the "Hour of Code" event at the White House four days later, one middle-school student—Adrianna Mitchell, from Newark, N.J.—showed the Coder-in-Chief himself how to write his first line of JavaScript ("moveForward(100);").
From Megan Smith's appointment as CTO of the U.S. to her initiative Made With Code, we have come full circle in spotlighting some of the biggest moments for women and girls in STEM this year. But as more attention is brought to this league of women and girls and to moments like these, stereotypes will change, culture will change, and the playing field at incubators, in labs, and in government will look more like the rest of the world does.